Shinedown
House Of Blues, Chicago
Wednesday, December 17, 2008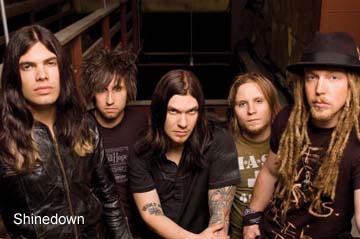 Night Two of Q101's three-night "Twisted XV" holiday cavalcade of bands was a beefy cut of rawk from the station's playbill.
Jersey boys The Gaslight Anthem started out the evening at a family-friendly 6:30 p.m. as the room was filling. Recalling some Detroit bands a decade or so ago, they packed a dichotomous blend of piss-and-vinegar punk and nostalgic melody.
Next was Saving Abel, a young band from small-town Mississippi who have had success in the past year with their self-titled debut, stemming primarily from the addictive first single, "Addicted." They are unmistakably similar to 3 Doors Down – perhaps 3DD after a six-pack and a whole lotta time pumping iron in the garage. While the Southern-flavored guitar rock gets crisp and deliberate production on the record, the live show comes across a bit bar-band-ish, with "New Tattoo," the next single in the hopper, the prime example – a tad juvenile lyrically and failing to leave the same stamp in your brain that the first two singles have. They played only a couple of the handful of pumped-up boy ballads from their record, including "18 Days," which frontman Jared Weeks prefaced with a tribute to the U.S. troops. They ended with "Addicted," of course, and the crowd ate it up.
Though The Sound Of Madness is their third record on Atlantic and the previous two sold well, Shinedown's latest is a shining moment for the hard-working Florida band. Two new guitarists, the hand of veteran rock producer Rob Cavallo, and a dream that wouldn't die resulted in an LP of commanding, infectious metal that has been an invigorating jolt to the airwaves. The current lineup is a tight machine, churning out the steely riffs while staying engaged with each other and the crowd.
They played most of the aforementioned LP as well as a handful from the previous two, including "I Dare You" and "Burning Bright." Brent Smith dedicated "If You Only Knew" to his infant son, Lyric, and also paid tribute to the troops briefly. Introducing their big, gutsy ballad "Second Chance," he told the crowd they all looked like leaders not followers, and that if they ever had a dream, they need to hold onto that dream and never give up. Then he pointed out veteran Atlantic Records radio rep Rick Sudakoff up in the balcony and thanked him. It was obvious Smith couldn't hit the high notes that are such a big part of Shinedown's sound, but guitarist Zach Myers' harmonies helped to make up for it. Smith did push his cords to their limit, however, for the last couple of songs. Nonetheless, the crowd at HOB left into the cold night with warm blood.
— Penelope Biver
Category: Live Reviews, Weekly