Civet
Subterranean, Chicago
Thursday, December 4, 2008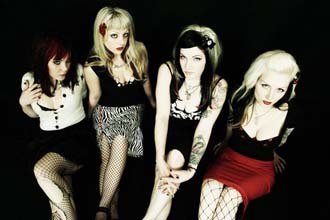 Judging from Hell Hath No Fury (Hellcat), Civet is awfully fond of The Distillers. Let's hope that's the case, at least, because the Southern California quartet is surely hearing plenty of comparisons.
Maybe it's too easy to simply say "Civet sounds like Distillers," but not to make the statement would be ignoring the obvious. Very. Fucking. Obvious. Guitarist/lead vocalist Ms. Liza Graves doesn't do Brody Dalle as well as Dalle does Courtney Love, but she still howls with a glass-gargling rasp on "You Got It," "Pay Up," and "All I Want," a song co-written by Rancid's Tim Armstrong. Whom did he used to be married to? What record label did he co-found? Hellcat? You don't say. Didn't The Distillers release an album or two on that label?
Simply put, Graves, guitarist Suzi Homewrecker, bassist Jacqui Valentine, and drummer Danni Harrowyn sound like a CosmoGirl version and look like a Suicide Girls version of The Distillers. Of course, because we no longer have The Distillers (though Dalle and Tony Bevilacqua now play Spinnerette together), maybe that's all you can ask for.
Civet, God Or Julie, and Silent Sirens open for Aiden.
–Trevor Fisher
Click here to download Civet's "Son Of A Bitch."
Category: Stage Buzz, Weekly