Cedarwell
Subterranean, Chicago
Wednesday, May 7, 2008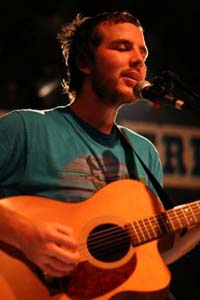 If you believe everything Wikipedia says (and we do), NCAA basketball coach Rick Majerus, comedian Jackie Mason, and death metal band Morbid Angel are all from Sheboygan, Wisconsin. And those are the highlights! Sheboygan native Erik G. Neave should be optimistic his name might someday be included on such an illustrious list. It can't take much to bump professional baseball prospect and Sheboygan North graduate Brandon Magee, can it?
The Toronto Blue Jays drafted Magee in the fourth round of the 2006 Major League Baseball draft (though his Wikipedia entry is obviously self-penned, we did our Google research – he isn't fibbing); Neave's band, Cedarwell, perhaps trying to pull even, hope to have their fourth release (second full-length) ready by summer 2008. By "they," we mean "he." Neave's band, for all intensive purposes, is him. Cedarwell used to be a duo back when Joel Philip Stokdyk was playing drums, but now Neave goes it alone, though he, according to his bio, "plays live and [records] with musicians from all over the map." Probably true, but even when Neave had a bandmate on 2006's Gamboge Cedarwell still sounded/felt/played like a one-man show, probably because he wrote all the material — 11 delicate, acoustic folk pop songs — himself. The album isn't spectacular, but decent, and solid, or decently solid. Solid enough to knock Magee from "Notable People With Ties To Sheboygan"? That depends on on who — the pitcher or Cedarwell — makes it to the big leagues first.
Cedarwell, JP05, and, Like The Birds, open for Rue Royale.
– Trevor Fisher
Click here to listen to streaming Cedarwell samples.
Category: Stage Buzz, Weekly