Sonya Kitchell, Ben Taylor
Schubas, Chicago
Saturday, December 2, 2006
Sunday, December 3, 2006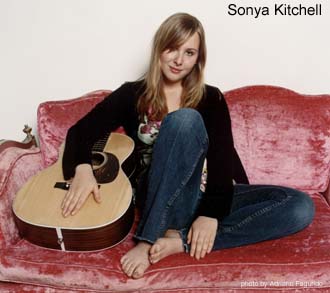 Heaps of expectation have been poured on Sonya Kitchell and Ben Taylor (he of The Ben Taylor Band), but so has skepticism. Kitchell has the approval of Herbie Hancock, the first deal signed with coffee empire Starbucks imprint Hear, and is the latest songbird tagged with the "next Norah Jones" curse. Taylor, though he spent the first 20 years of his life avoiding music, is the child of James Taylor and Carly Simon.
Kitchell's debut, Words Came Back To Me, was re-released in April (originally out in 2005 on Velour) and has slowly gained adult-contemporary traction. With the comparisons to the ubiquitous Jones, you can easily imagine her sound: smoky, slightly sensual, and teetering on the brink of ethereal and anaesthesia. The fact she writes all her own material is exhaustively repeated throughout her accompanying press materials, as if to underscore "She's a girl, so that really means something."
The proof, we're told, should be found in the pudding, but the case with Words Come Back To Me, at least in the way it was recorded, is the particular batch is sugar free. Her band is extraordinarily professional, displeasingly so, but the real joy hides in Kitchell's voice. In the verses of "Train" she unveils a sassy curl at the end of each phrase, part laughter and part vulnerability. On the gentle (though overproduced) "Too Beautiful" her harmonies dance on the water in contrast to the lustful teasing of "Can't Get You Out Of My Mind." More than half of Words is spent ignoring this talent, but Joss Stone and Rachael Yamagata didn't get it right off the bat, either.
It's amusing how long Taylor spent trying to do anything but be a musician like his famous parents, yet his style (see "Nothing I Can Do" from last year's Another Run Around The Sun) bears the hallmarks of father James — something he admits. Acoustic guitar strings pop while Taylor's gentle voice sounds too next-door to be coming out of stereo speakers. The most curious portion his latest EP, Deeper Than Gravity (Iris), is the covers, notably Macy Gray's "I Try" and Portishead's "Glory Box." Stripped of their studio arrangements, he effectively neuters both cuts ("Glory Box" was originally based on an Isaac Hayes sample, also used on Tricky's "Hell Is Around The Corner") and makes them safe. There's no grit or aenima, just a shadow. He says he learned music from his dad and lyrics from mom, but it takes more than genetics and friendly lessons to turn them into something. Just ask Jakob Dylan.
Kitchell and Taylor also make an appearance at the Apple Store on Michigan Avenune Sunday afternoon.
— Steve Forstneger
Category: Stage Buzz, Weekly