Bow Wow, Dem Franchize Boyz
Allstate Arena, Rosemont
Thursday, December 22, 2005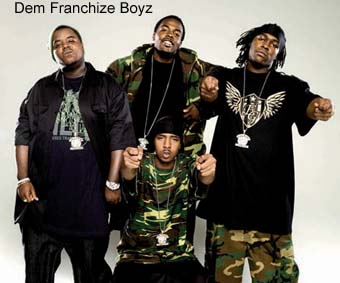 Dem Franchize Boyz
are the new hot hip-hop quartet out of Atlanta. Their single, "I Think They Like Me," is climbing the Billboard charts with a full album,
On Top Of Our Game
, slated for release in February. DFB will open at WGCI's Big Jam 6 for some hip-hop and R&B "at the moment" heavyweights.
The group was signed to Universal in 2004 after releasing a string of independent albums and mixtapes in Atlanta. The self-titled debut was adequately recieved, with minor hit single "White Tees". But they didn't get much recognition until Jermaine Dupri signed them to So So Def/Virgin and subsequently landed the quartet a spot on the Jermaine Dupri Presents . . . Young, Fly, And Flashy compilation with a remixed version of "I Think They Like Me."
DFB churn out a traditional Southern rap aura with club-oriented dance beats and vocal hooks. The style has recently been deemed "snap" music, along with tracks by Ying Yang Twins and D4L also falling into this new genre.
Also representing So So Def will be the "all grown up" Bow Wow, no longer "Lil'" Bow Wow. We were first introduced to Bow Wow in 2000 with the hit songs "Bounce With Me" and "Bow Wow (That's My Name)." The now 18-year-old rapper has seen recent success with Wanted, especially with the single "Like You," a collaboration with R&B songstress Ciara, who has been rumored to be his girlfriend.
Ciara, Omarion, Chris Brown, Trey Songz, and Marques Houston are also scheduled to perform.
— Jill Haverkamp
Category: Stage Buzz, Weekly