Bob Dylan
Shadow Kingdom
(Columbia/Legacy)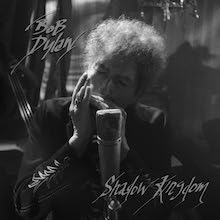 The pandemic lockdown finally brought Bob Dylan's Never Ending Tour to a halt in 2020 after 31 years on the road. A few short months before resuming band travel in late 2021, the Bard gathered a stripped-down ensemble of trusted players for a streamed concert in July as a way to reboot. The performances are now available as a soundtrack album to Alma Har'el's surrealist-noir film Shadow Kingdom: The Early Songs of Bob Dylan, with formats including a 2xLP vinyl set. The bulk of these songs are drawn from albums between 1965's Bringing it All Back Home and 1974's Planet Waves, with a weighty and anxious interpretation of "What Was it You Wanted" as an outlier from 1989's Daniel Lanois production Oh Mercy.
Singles with mass appeal like "Subterranean Homesick Blues" or "Like a Rolling Stone" are avoided, but most any of these adventurous selections would have been considered a welcome surprise on recent tours supporting albums including Tempest, standards set Triplicate, or 2020's Rough and Rowdy Ways. Only five Shadow Kingdom tracks were performed when Dylan and his band performed at the Auditorium Theatre on November 3, 2021. The set's less-traveled songs, such as "Queen Jane Approximately," are often the most captivating.
As is typical for Dylan's live outings, the arrangements are tailored to the players with little need for connection to the durable songs' familiar studio counterparts. "The Wicked Messenger" is recast from its John Wesley Harding version with a twist on the song's twanging Telecaster line and Dylan's harmonica fills.
"Forever Young," "It's All Over Now, Baby Blue," and "When I Paint My Masterpiece" are arguably the best-known songs on Shadow Kingdom. The material is presented with a feel blending ageless country folk, pop, and cabaret that aligns with the film's speakeasy setting in the dusky and fictional Bon Bon Club. The music is grounded by reedy accordion, acoustic guitar, and double bass. Mandolin and the aforementioned harmonica add additional colors. Understated electric guitar provides Bakersfield twang on "Most Likely You Go Your Way and I'll Go Mine," and "Just Like Tom Thumb's Blues." "Pledging My Time" intensifies the lyric's uncertainty with a deeper and lonelier blues than heard on Blonde on Blonde.
There's no percussionist in the lineup, but Dylan and his cohort raise a rowdy rockabilly ramble for "Watching the River Flow" and borrow from Roy Head's soul-pop classic "Treat Her Right" during "I'll Be Your Baby Tonight." The players, by the way, go uncredited and are masked in the film. The ensemble has been reported to include producers Don Was and T Bone Burnett, pedal steel player Greg Leisz, and Oingo Boingo guitarist Steve Bartek and his bassist bandmate John Avila.
At the other end of the spectrum, the Vietnam War protest "Tombstone Blues" is altered from the rollicking Highway 61 Revisited rocker with suitably grim and bare-bones accompaniment as Dylan speak-sings his descriptions of desperate characters. One new song, a wary and evocative new instrumental called "Sierra's Theme," concludes the performance.
Shadow Kingdom offers the listener a front-row seat to an intimate living-room concert, zeroing into Dylan's unmatched lyricism and timeworn voice. Naysayers be damned; Dylan's a very fine and well-seasoned interpretive singer, as heard here. He's likely to rock a bit harder when appearing at Cadillac Palace with his longtime road band for three nights in October, playing fresher material from Rough and Rowdy Ways. Both experiences will give credence to the acclaim Dylan has earned for the depth of his catalog and rarefied experience while speaking to generations of popular music fans.
– Jeff Elbel
9 of 10
Bob Dylan appears at the Cadillac Palace Theatre on October 6-8, 2023.
Category: Featured, Spins, Stage Buzz