Pete Townshend
Empty Glass
Pete Townshend and Ronnie Lane
Rough Mix
(Universal Music)
Two extracurricular albums from Who Mastermind Pete Townshend are now available in remastered vinyl editions.
1977's Rough Mix was written and recorded in collaboration with Ronnie Lane of The Faces. The album often seems loose, unfocused, and unambitious, but its unpretentiousness becomes the source of its appeal. The album is best remembered for Townshend's cheeky rocker "My Baby Gives it Away." The song includes a noodling Jerry Garcia-styled guitar lead, a jaunty guitar hook, and the unmistakable propulsion of Rolling Stones drummer Charlie Watts. Townshend's brash, cheeky, and not-too-subtle lyric describes the low-brow virtues of his beloved. Townshend and Lane were both followers of Indian spiritual leader Meher Baba, and other fare, including the devotional anthem "Keep Me Turning," point toward less carnal pursuits. The renewal-seeking characters inhabiting "Heart to Hang Onto" follow suit as Townshend and Lane trade vocals. Faces roots and Dylan's influence are evident on the loping "Nowhere to Run."
Lane's raspy voice is accompanied by his own nimble bass, Rabbit Bundrick's shimmering organ, Peter Hope Evans' harmonica, and Townshend's sparkling banjo. Lane offers the winsome and reedy Scottish folk/shanty of "Annie" and acoustic strummer "April Fool," both featuring Eric Clapton. The personnel list for Lane's rollicking blues-boogie "Catmelody" includes King Crimson saxophonist Mel Collins, Watts, and Stones linchpin Ian Stewart on piano. Lane's wry lyric paints the portrait of someone who burned too hot and flamed out but had a wild time before swearing to walk the straight and narrow. The album's lone Townshend-Lane co-write is the chugging instrumental title cut, recalling the rootsy energy of a Delaney & Bonnie jam while led by Bundrick's ecstatic organ and Clapton's economical blues guitar.
Townshend's minimalist "Misunderstood" finds him longing to be an inscrutable and revered artiste. "I want to be feared in my neighborhood," he sings. The urban observational "Street in the City" is the album's production outlier, with Townshend's tumbling acoustic guitar accompanied by classical orchestration. The questing "Heart to Hang Onto" features Who bandmate John Entwistle's bombastic brass arrangement sparring with Townshend's guitar, setting aside folk-style arrangements and recalling the dynamic that fueled the Who's Quadrophenia. Rough Mix concludes with the country music tones of Don Williams' "Till the Rivers All Run Dry," offered in tribute to Townshend and Lane's guru (dedicated in liner notes "to the Old Man"). Rough Mix arrives in a gatefold sleeve with an anti-static liner.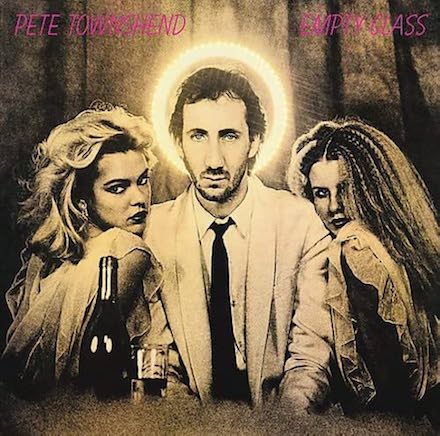 1980s Empty Glass found Townshend's solo work emerging as a viable commercial enterprise and threat to a shaken Who's relevance. It was Townshend's first release following the death of Who drummer Keith Moon. The album followed 1978's Who Are You, and many fans will call Empty Glass a stronger effort than 1982's It's Hard if not 1981's Face Dances (some of which was written concurrently) as well.
The motivating idea behind the album again reflected Townshend's search for spiritual enlightenment. Townshend explained in interviews that he drew inspiration from 14th-century Sufi poet Hafez. If a weary soul approaches God as a bartender and seeks refreshment, the patron must offer his heart as an empty glass and allow the divine to fill it. Singles include the synth-driven and pop-savvy #9 Billboard Hot 100 single "Let My Love Open the Door." The upbeat song functions on the surface as a sweet love song, even as it subtly urges listeners to embrace divine love. "There's only one thing gonna set you free," sings Townshend as the voice of heaven. "Rough Boys" is a slash-and-burn guitar rocker with homoerotic undertones that reappear during the cinematic "And I Moved."
Although it charted only at #72, the vulnerable and confessional "A Little is Enough" is retrospectively considered to be among Townshend's finest songs and his premiere attempt at an actual love song. The song was written as Townshend's marriage was fraying. Meher Baba's secretary told Townshend that if his wife only loved him a little, the limitless nature of love made that small amount sufficient. The song features drumming by Mark Brzezicki and bass by Tony Butler, who would soon be known as the ace rhythm section of Big Country.
The album's remaining tracks include ample thrills for any Townshend fan to indulge, as the songwriter and guitarist examines the tumult in his life in songs like the arresting "I Am an Animal" and attempts to transcend issues including alcohol, drugs, the loss of Moon, and marital unrest. The title cut, "Empty Glass," leads with an angry and cathartic guitar while reaching toward a higher power in search of change and rebirth. The hot-blooded "Jools and Jim" slings barbs at the music press and reacts to a callous comment about Moon's death. Hope-Evans' harmonica wails alongside Simon Phillips's shuffling and stomping beat during "Cats in the Cupboard." The relentless Who Are You leftover "Keep on Working" finds Townshend hoping for future days as a granddad. Townshend has claimed that the song was an attempt to write in the style of the Kinks' Ray Davies. Empty Glass ships with a lyric sleeve and a 12"x24" poster.
These limited-edition anniversary pressings were remastered by producer and Who engineer Jon Astley and half-speed mastered at Abbey Road Studios onto heavyweight vinyl platters at 45RPM for superior stability and fidelity. The basis for comparison in this review was a well-maintained 1980 pressing of Empty Glass. The remastering effort is respectful of the original work, with subtle improvements to body, depth, clarity, balance, and presence. Some distortion previously evident during the vocal of "A Little is Enough" is improved by virtue of the new pressing's heavier vinyl. The differences are more audible during the single "Rough Boys." The old master is more compressed and louder, primed for FM radio play (Et tu FM98, The Loop). The new pressing isn't as loud but is open, dynamic, and detailed.
– Jeff Elbel
Rough Mix 6 of 10
Empty Glass 9 of 10