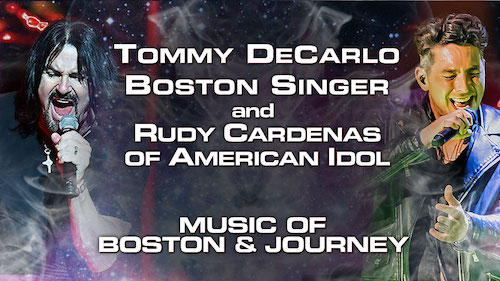 Tommy DeCarlo, lead singer of the band Boston since 2007, arrives at Rosemont Theatre on Saturday, December 18 at 8 PM for a night of Boston's classic hits, with Rudy Cardenas of American Idol singing the classic hits of Journey.
Tickets start at just $17.50 all the way to $125.00 for very limited VIP Photo tickets with Tommy DeCarlo.  Tickets are on sale now.
Tommy has performed on every Boston tour since 2007, playing to sold-out audiences all over the world. This show closes with a full set of Boston classic hits from the 1970s and '80s with a top band of touring professionals, including August Zadra on lead guitar/vocals (Dennis DeYoung Band), Walter Ino on keyboards/vocals/guitar (Survivor/The Babys), Mike Morales on drums (Dennis DeYoung Band), Tommy DeCarlo Jr. on guitar/vocals and Payton Yelligan on bass/vocals.
The two-show package starts with Rudy Cardenas of American Idol and a full set of Journey classics, including the hits from both the Steve Perry and Gregg Rolie eras. Rudy had had a long relationship with Journey music starting in 2007 when he debuted on Season 6 of American Idol singing "Open Arms" on National TV. He covered two Journey songs on albums Fly in 2012, "I'll be Alright Without You," and Son of a Gun in 2016, featuring "Separate Ways."
Category: Advertiser Message, Featured, Weekly