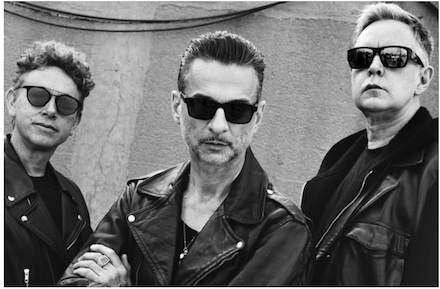 Rock Hall of Fame inductees Depeche Mode remain a touring force 40 years into their career. No stranger to selling out massive stadiums around the world, the band embarked on their longest trek yet with the Global Spirit Tour. To commemorate the outing, the final date in Berlin was filmed for the 2019 documentary Spirits in the Forest, which also chronicles the stories of six devoted fans. But if you don't want to learn about the passionate fans, you can experience the concert with the LiVE SPiRiTS Soundtrack.
Clocking in at nearly two-hours, the show is a testament to the band's longevity. The setlist spans their expansive catalog featuring songs like "Precious," "World In My Eyes," "Walking In My Shoes," and "Enjoy the Silence." The best of their 2017 LP Spirit is highlighted with "Where's the Revolution," "Cover Me," and "Poison Heart." Though nothing sounds as good as classics like "Stripped" and "Never Let Me Down Again," diehard fans will love hearing deep cuts like "Useless" and "The Things You Said" – the first time they've been performed in over a decade. The band even pays tribute to David Bowie with an excellent "Heroes" cover. And no matter how many times they play "Just Can't Get Enough" hearing that iconic synth riff is always a thrill.
Though it's a fun show, it's not Depeche Mode at their best. Being the final concert of the tour, the band seems tired. Dave Gahan's voice is hoarse and shaky at times, while Martin Gore disorients certain tracks by missing his cue. Luckily, these moments are rare. Gahan's familiar velvety baritone returns one he hits his stride and Gore can still make the crowd soon with ballads like "I Want You Now" and "Insight." Their exhaustion can be forgiven considering they played over 100 shows on this tour. It's impressive they had this much gusto at the tour's end.
LiVE SPiRiTS isn't the definitive live Depeche Mode experience – that honor goes to 101. It's not even their best performance, but it's still a blast for fans. The band still know how to command the stage. Their larger than life presence is as strong as ever and they sound damn good aside from some minor hiccups. A lot has changed for Depeche Mode over the years, but one thing remains the same, even when they are not at the very top of their game: they still kick ass.
– Ashley Perez Hollingsworth
7 out of 10                                                               
Read our Depeche Mode Cover Story from 2017