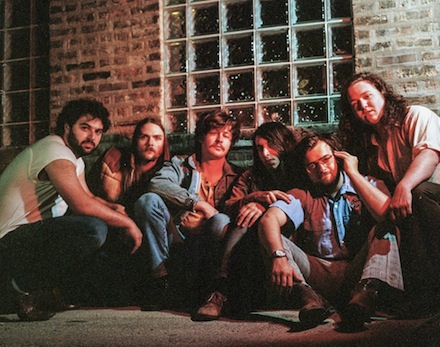 Margo Price hits Nashville's Brooklyn Bowl stage for a pair of full-band, audience-free performances on September 9th, and September 10th at 7 PM. Get tickets and tune in at fans.com.
Singer/songwriter Devendra Banhart kicks off his "OLA: Devendra Banhart Sings Songs In the Order They Were Written" livestream series on September 9th. This week features songs from Oh Me Oh My, Rejoicing in the Hands, and Niño Rojo. The show will air three times starting at 8 PM, with the rebroadcast available for 24 hours. Find tickets here.
Join Baroness for a livestream performance of their 2019 album Gold & Grey on Thursday, September 10th, at 7 PM. The band will play the album in full, reconstructing it from front to back for a new experience from the Culture Lab LIC at The PlaxallGallery in Long Island City, New York. Get tickets here.
Rookie brings their modern take on good 'ole fashion rock n roll to Lincoln Hall on Thursday, September 10th, 8 PM as part of Audiotree's new "Staged" virtual experience. Show your support for the Chicago Independent Venue League and get access to an awesome concert by getting tickets here.
Lacuna Coil will perform their new album, Black Anima, in full during their livestream special, "Live From the Apocalypse" on September 11th. Premiering on A-Live, the band will perform from the Alcatraz Club in Milan. The event features never before played songs, backstage footage, and more. You can still get tickets here.
Barenaked Ladies will broadcast their 2015 at "Summer on Earth Performance" from the Red Rocks Amphitheatre on Saturday, September 12th, 6 PM. Make sure to get tickets here.
Legendary rock icons The Who continues their Join Together @Home series this Saturday with "The Who: Live in Locarno Part 2." The concert series supports Teenage Cancer Trust and Teen Cancer America. While the band asks that you donate, if you can, you can watch the show for free on YouTube, September 12th, at noon.
The 20th Annual Modern Drummer Festival is going virtual this year and will pay tribute to Rush's Neil Peart. Taking place on September 12th, Peart's birthday, the event features performances from drummers like Foo Fighters' Taylor Hawkins, Red Hot Chili Peppers' Chad Smith, Todd Sucherman of Styx, Anthrax's Charlie Benante, Mike Portnoy, and more. See the full schedule and buy tickets here.
Big Black Delta performs new songs and old favorites from his living room in Laurel Canyon for his "Live From the Living Room" virtual concert on September 12th at 9 PM. Grab tickets here.
Last month, Shawn Colvin launched the "Live from These Four Walls" concert series featuring three shows in August, September, and October – each with its own theme. The series continues Saturday, September 12th, with the "My Favorite Movie Songs" show. You still have a chance to grab tickets, along with access to a special Zoom session with Colvin here.
– Ashley Perez Hollingsworth
Category: Featured, Livestreams, Stage Buzz