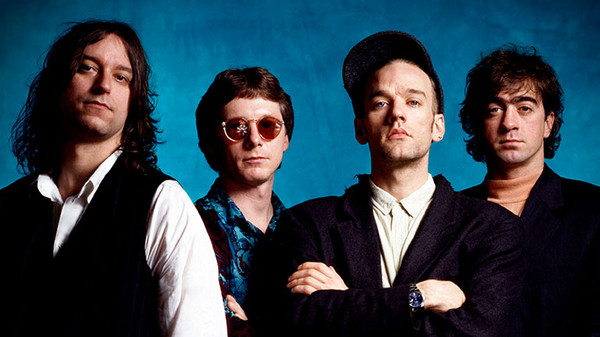 REM will stream its 1999 Glastonbury headline set for the first time on August 6th. The show will be available to watch for 72 hours on the band's YouTube page following its premiere at 2 PM.
Godsmack's charity livestream, "Life from the Living Room," premieres Thursday, August 6th at 7 PM via Sully Erna's YouTube Page. The event will feature performances by Godsmack, along with Staind's Aaron Lewis, Brent Smith and Zach Myers of Shinedown, Papa Roach, Sevendust's Clint Lowery, Adam Gontier and Mike Mushok of Saint Asonia, and Extreme's Nuno Bettencourt. Godsmack will also be offering up several signed instruments to benefit The Scars Foundation.
UK rockers Ride will perform a livestream concert "from an intimate, secret location" in London on Thursday, August 6th at 2 PM. They'll also host a live Q+A following the performance. Purchase tickets here. There's also an option to donate to the Stephen Lawrence Charitable Trust organization.
Slaves are holding a livestream record release party for their new album, To Better Days. The show takes place on August 5th at 8 PM at the Whisky a Go Go in Los Angeles. You can still grab tickets here.
Rock band Clutch will host their "Live from the Doom Saloon Volume II" performance on August 7th at 7 PM. The band will perform 14-songs chosen by their fans. Get tickets here. Proceeds from the show will benefit the Innocent Lives Foundation.
The Weeknd goes digital for a special augment reality concert livestream featuring songs from his latest album, After Hours. The singer will perform as a digital avatar exclusively on TikTok this Friday, August 7th, at 7:30 PM.
On August 7th and 8th, Between the Buried and Me will perform their 2007 album Colors in its entirety on their Twitch channel. Taking place at drummer Blake Richardson's parents' house, the show starts at 7 PM and 2 PM, respectively.
Tune in to K-pop group's Monsta X's global livestream concert "Live From Seoul With Luv" this Saturday, August 8th at 10 PM. The band will perform songs from the new album, All About Luv, as well as screen behind-the-scenes footage. Grab tickets here.
Elton John's Classic Concert series continues this Saturday, August 8th with a broadcast of his 2001 concert at The Great Amphitheater in Ephesus, Turkey. Head to his YouTube page to check it out.
Bjork kicks off her new series of orchestra livestreams this Sunday, August 9th. Performing at Harpa Hall in Reykjavík in front of a live audience, she will be accompanied by the Hamrahlíð Choir. The shows are raising money and awareness for Kvennaathvarfið, a women's shelter in Reykjavík, which will receive 20% of the livestream proceeds. Find the details here.
-Ashley Perez Hollingsworth
Category: Columns, Featured, Livestreams, Weekly