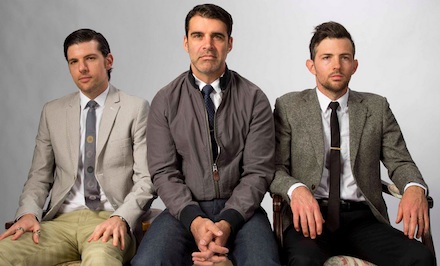 Ellie Goulding presents The Brightest Blue Experience, a one-off virtual performance from London's historic V&A museum featuring to-be-announced special guests on Wednesday, August 26th, at 2:30 PM. The singer will perform songs from her latest album Brightest Blue along with other fan favorites. Tickets are on sale now.
Dave Matthews Band continues their DMB Drive-In series with a broadcast of their 2011 Atlantic City show. Tune in here on Wednesday, August 26th, at 7 PM.
Catch Lil Uzi Vert's virtual concert filmed at "a historic concert venue" on Thursday, August 27th at 5 PM. There's only one way to tune in, so make sure you pick up tickets here.
Tune in this Friday, August 28th for Angel Olsen's Cosmic Stream 3 virtual show in celebration of her new album Whole New Mess. Get tickets and merch bundles here.
Dawes is holding a special live performance from a rooftop in LA straight to your living room on August 28th at 8 PM. Get tickets and merch bundles here. Proceeds will benefit independent music venues.
Outside Lands brings the festival straight to your living room with Inside Lands. The free virtual festival features a mix of live and archival performances from Gorillaz, Cage the Elephant, HAIM, Leon Bridges, Jack White, D'Angelo, alt-J, Anderson .Paak, and more. Tune in on Twitch August 28th and 29th at 6 PM.
The Avett Brothers will perform a drive-in show at the Charlotte Motor Speedway track on August 29th at 7:30 PM to celebrate the release of their new album, Gleam. The show is sold out, but you can get tickets for the live broadcast here.
The one and only VNV Nation will broadcast their "Coronation" concert as part of Worldwide Live on Saturday, August 29th at 1 PM. Check out the different ticket packages here.
Trivium are holding a special "The Deepest" cuts free show, where the band will perform various deep cuts from throughout their career. Tune in Saturday, August 29th at 2 PM on their Twitch channel.
Megan Thee Stallion is doing her first virtual concert Saturday, August 29th at 5 PM. Grab tickets here, so you don't miss out.
IDLES kick off the first of three livestream performances from the iconic Abbey Road studio on Saturday, August 29th at 2 PM and 2:45 PM. They'll follow this up with another performance on August 30th at 3 AM. Tickets are available here.
Blues legend Jimmy Johnson hosts his weekly livestream on Facebook every Saturday from 2-3pm. In the pandemic performing the blues is therapy for the 91 year old guitarist. "…It gives me consolation to play" he told Bert Lazar at New City.
Seether celebrates the release of their new album, Si Vis Pacem, Para Bellum, with their "Locked & Live" virtual event. The band will perform classics songs along with cuts from the new album. The global livestream takes place on August 30th at 2 PM. Get tickets here.
– Ashley Perez Hollingsworth
Category: Columns, Livestreams, Stage Buzz, Weekly