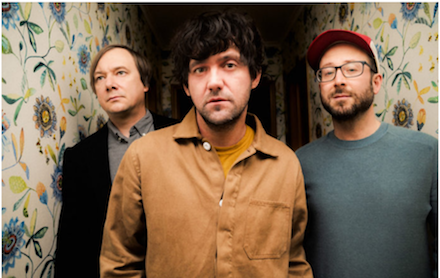 Punk rock icons Bad Religion are holding a virtual release party for their new book Do What You Want: The Story of Bad Religion on August 18th at 6 PM. The event features a discussion with all six members and co-author Jim Ruland, along with a fan Q+A. Space is limited, so register here.
Starting Tuesday, August 18th Phish will broadcast old shows "for a while" at 7:30 PM for their Dinner And a Movie: An Archival Video Series. Tune in this week to catch their 2018 show at the Allstate Arena.
Dave Matthews Band will be streaming classic concerts as part of their DMB Drive-in series starting this Wednesday, August 19th, at 7 PM. This week, they'll broadcast their 2008 show from Bristow, VA, in honor of the late LeRoi Moore. Tune in here.
Jake Owen teams up with Outback Steakhouse to bring you an exclusive virtual concert with special guest Larry Fleet on August 20th at 6 PM on Facebook Live. Find more details and RSVP here.
Canadian indie rock band Fast Romantics will stream their album release party from the Dakota Tavern in Toronto on August 20th at 8 PM. Joined by special guest Dave Monks of Tokyo Police Club, the band will perform cuts from their new album Pick It Up along with old favorites. Get tickets here.
Raine Maida and Steve Mazur of Our Lady Peace will perform songs from their 2000 album, Spiritual Machines, as well as preview songs from their upcoming release Spiritual Release II on August 20th at 8 PM. Tune in to the broadcast here.
Erasure's Vince Clarke and Andy Bell will hold a virtual album release party to celebrate their new album, The Neon. The event is free and features a livestream performance and a chat with the band, special guests, and more. Join the celebration on Friday, August 21st at 2PM on Facebook.
Bright Eyes will do a virtual in-store performance on noonchorus.com on Friday, August 21st for those who pre-order their new album, Down in the Weeds, Where the World Once Was. If you want in, make sure you get a copy of the album here.
Country superstar Tim McGraw is hosting a one-of-a-kind virtual event to celebrate the release of Here on Earth, his first album in five years. The event will give fans a look at how the songs were made and share stories behind the songs. McGraw will also do a special acoustic set featuring new tracks and old favorites. Tune in August 21st and get tickets here.
Acclaimed singer/songwriter Michael McDermott, buyoed by his latest album What The World is celebrating his birthday Sunday August 23 at 10am at Stageit.com. There's a "pay what you can" feature for tickets, but with local musicians idled by the virus, they could use a little extra help. Plus it's his birthday.
Join The Front Bottoms for a virtual listening party of their new album In Sickness & In Flames on Friday, August 21st at 4 PM. Fans can stream the album while watching an accompanying film the band created for the album. Get all the details and watch here.
OneMusicFest presents the virtual At The Crib Fest featuring some of the best emerging hip hop and R&B artists. The lineup includes Ari Lennox, Ro James, Lion Babe, Gemaine, Ye Ali, Yung Baby Tate, Kenny Mason, Chavis Flagg, Jade Novah, and Paige Shari' Addison. It all goes down Saturday, August 22nd at the OneMusicFest website.
Alt rock band Wallows continue their series of virtual concerts this Sunday, August 23rd with their show from The Roxy Theatre in Los Angeles. You can still pick up tickets here.
-Ashley Perez Hollingsworth
Category: Livestreams, Stage Buzz, Weekly