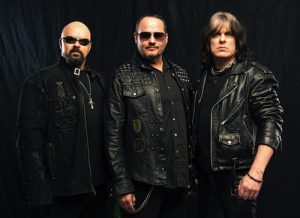 Although the Three Tremors concept was initially conceived in the early 2000s by Iron Maiden wailer Bruce Dickinson, Judas Priest screamer Rob Halford, and Queensrÿche belter Geoff Tate, it never came to fruition.
However, in 2018, Cage vocalist Sean "The Hell Destroyer" Peck began tossing the idea around with journeyman vocalist Tim "Ripper" Owens (ex-Judas Priest, ex-Iced Earth, ex-Yngwie Malmsteen) and they finally decided to make the idea a reality.
Soon after the duo's initial talks, Jag Panzer vocalist Harry "The Tyrant" Conklin joined the heavy metal vocal supergroup, completing the triumvirate of respected throat shredders.  On the band's 2019 self-titled debut album, the mighty trio delivered glass-shattering vocal histrionics, backed by equally impressive band members from Cage.
During a recent phone interview, Tim Owens spoke with IE about the band's formation, the debut album, and Owen's upcoming musical plans.
IE:  Although your musical style is obviously metal, you must have a great deal of respect for The Three Tenors, or at least what they've done for the opera world.
Tim Owens:  Oh, absolutely. I respect them all. The Three Tenors, those guys' voices were just amazing. You would sit back and listen to them and just think…  I heard somebody talking about opera singers the other day. Oh yeah, I know who it was – it was actually Bruce Dickinson saying that [a lot of opera singers don't read music] because they like to feel it inside of them[selves]. I just thought that was amazing.  Obviously you know that Halford and Dickinson started the Three Tremors. They came up with this idea to do it, and [what a brave] idea it was. Even Ronnie James Dio was talking about doing it. It was such a great idea, but it never happened. It was an urban legend, so why not take that and run with it? The Three Tremors' vocals are all over the place.
IE: After you and Sean Peck began discussing it, was Harry the next obvious choice? How quickly did it all fall into place?
T.O:  Sean started talking to me and said he had this idea of what he wanted it to be. He wanted us to record (new material), he didn't want us to go out and tour singing cover songs, or songs from our history. He wanted to do a full tour. He was talking about some different singers, but then he called and said, "Hey, how about Harry?" I had known Harry from Jag Panzer and then met him a few times in the past before that. What a great voice, it's a great style. I said I thought it was a perfect fit. So that's really how it all started rolling.
IE: With all of you spread out geographically – you in Ohio, Sean in San Diego, and Harry in Colorado – how did you find time together to write new songs and rehearse for the album?
T.O.:  The good thing is that the band we have are the guys from Cage, so they're all in San Diego. Sean had written the songs and done a lot of rehearsing with the guys – and rehearsal-wise, they're right there. Sean got them whipped into shape. When Harry and I flew out there, they were all ready. I record here in my studio in my house; it's a real easy thing to do nowadays. Sean would just send me the files, and I would [work on] them.
IE: Where did the idea of turning the band's debut album into three separate solo versions – one for each singer – come about? When were they recorded?
T.O:  I just recorded the whole CD. When I did my vocals of songs that Sean sent, I recorded everything. And then Sean went back and took sections out and things. They kind of made a script out of it and had us make the original record, and they chopped it up and said, "Let's do this, this and this." So, when Sean was listening to my version of  — here's an example: He would call me and say, "Your version of this song rocks, it's so good." And then he would say Harry's version of this song is killer. And so all of a sudden, he had the idea. It was pretty much there. I think Harry had to finish a few things, but I didn't sing anymore. There're a few lines that I didn't even sing that I knew he would do on the real record. So on the solo versions, it's not there. What people are actually hearing is what I laid down for the Three Tremors' (original) record.
IE:  I want to ask about your time in Judas Priest. Do you feel that albums Jugulator and Demolition don't get as much recognition as the other Priest albums in their catalog?
T.O:  I thought the records were great, but unfortunately, the records are not out there for some reason. You can blame whoever you want about why those records aren't out and in public, but you can't blame me. They're fantastic records. They are so good that I play a lot of those songs on my solo tours. I've always said to people, 'you're not going to hear them from Judas Priest, so, you can come to my shows' and I've played them all. We even play one in the Three Tremors' set. It is what it is. I get asked that question a lot, but I never bring that up. I never talk about it myself until somebody brings it up because people want to hear about it. Those are old records, and a lot of them are gone now. [People] don't have them, and they would love to go on iTunes and download. But it's a shame that you can't get them. Hopefully, someday they will.
IE: What's the word on the recently announced new KK Priest project?
T.O: I actually can't even talk about it yet because it's all going on now. So, I'll be doing a whole press tour on the KK Priest band. I've been friends with Ken (Downing) forever, and the other guys, we're all friends. So, Ken and I have been in communications. Soon we'll have everything coming out, and you and I will be talking again.
IE: What was the transition like coming from Priest to Iced Earth? What are you most proud of from your tenure with the band?
T.O:  It was great. Those were great records. I learned more about history doing The Glorious Burden album than I ever did in school. It's kind of crazy. And Framing Armageddon was even better – two great records. It was a good time. I was going from Priest to a band that was playing to almost the same number of fans. Some markets weren't as big. But you're playing big shows; you're headlining Wacken festivals and playing big festivals. So, it was great. If you think about it, I went from Priest to Iced Earth to Yngwie, so I mean, I did pretty good things right away after Priest. It's not as if I had disappeared. People still say to me, "Hey, what have you done since Judas Priest?" And I'll say, "What have you done?"
IE: You've been a very prolific singer throughout your career, and you keep extremely busy. What's left for you to conquer?
T.O:  It's one step at a time. All I want to accomplish is to stay busy, make music, make my living doing this. This is what I love to do. I love to sing on other people's projects, I sing nonstop on bands' albums — some that never even release stuff, they're just really small. But it's [for] the fun of it that I do it. So, all I do is [take it] day by day, week by week, and look forward to doing this. It's something I enjoy doing. I enjoy music; I enjoy touring. It's pretty nice when someone asks what I do for a living, and I say I'm a professional musician.
Three Tremors were scheduled to play The Forge of Joliet in April. This show will be rescheduled.
Category: Featured