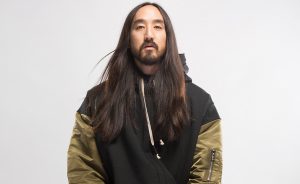 Steve Aoki
Friday March 13 (This Show Has Been Postponed)
Aragon Ballroom, Chicago
Steve Aoki, the founder of the Dim Mak label, is one of the most commercially successful names in all of EDM. Over the past decade, he's created tracks with the likes of Rivers Cuomo, Kid Cudi, will.i.am, Fall Out Boy, Machine Gun Kelly, Snoop Dogg, Linkin Park, Gucci Mane, T-Pain, Lil Uzi Vert, Louis Tomlinson, BTS, Blink-182, the Backstreet Boys, and many others.
Add a full-length Grammy-nominated documentary made about him in 2016 called I'll Sleep When I'm Dead. If nothing else, you will most likely be able to recognize his track "Delirious (Boneless)," the iconic bassline easily sticks with you and has been used in several movie trailers.
His Neon Future I and II albums, are entertaining and have their moments. (The third volume in that series not so much, but it has an epic-sounding opening track, and ends in a Bill Nye cameo). Aoki is coming out with the fourth volume in the series, Neon Future IV, later this year, and he's currently touring in promotion of that project with his "The Color of Noise Tour."
Tomorrow Friday, March 13, Aoki he will be making a stop at The Byline Bank Aragon Ballroom, accompanied by Timmy Trumpet, Gammer, Godlands, and Global Dan. There are still a few tickets available, visit the venue's website for more information as tickets were nearly sold-out at press time.
This show will be rescheduled
-Tommy Kaempfer
Category: Stage Buzz