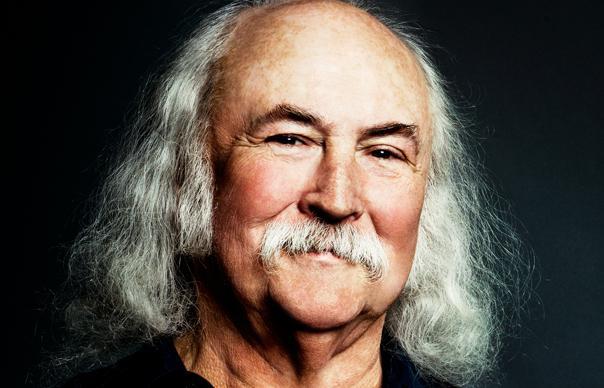 An Evening with David Crosby and Friends
Monday, May 13, 2019
The Arcada Theatre
There is something about being in the presence of David Crosby that is oddly reassuring. It's a bit ineffable to explain this irrefutable comfort the audience seems to be feeling as a result of the undeniably 'hip' vibe emanating from the stage. But yeah, it's reassuring. I decide that perhaps it's due to the fact this man is still with us at 77––after the unimaginable toll taken on his mind, body, and spirit through the trials, tribulations, and excesses of his storied life––it consoles us that we should easily be able to reach well into our seventh decade, relatively unscathed.
We may also feel reassured, as some of us (if not most of us) in the audience on this glorious evening in St. Charles were actually alive and well during the mid-'60s to late-'70s. We fondly remember when Crosby's monopoly on AM and FM radio displaying his instantly recognizable voice––garnering top hits like "Eight Miles High" and "Turn, Turn, Turn," along with "Helplessly Hoping," and "Suite Judy Blue Eyes" by his groups The Byrds and Crosby, Stills, & Nash respectively––were so ubiquitous. Crosby has been in the news of late as famed filmmaker Cameron Crowe has produced a new documentary about his life, directed by A.J. Eaton, entitled David Crosby: Remember My Name. The film seemed to be the hot topic of conversation for the loyal Crosbians nearby, adding to their expectancy for the show. Of the concerts I have experienced within the last year, no other had such a feeling of intense anticipation.
Known nationally as "The Sky Trails Tour" this current incarnation of Crosby began in May of this year, continues through June; then has another leg that wraps in September. The "Sky Trails" band, as Croz calls it, will also be featured at the cultural milestone known as The 50th Anniversary of Woodstock in August.
As the house lights came down and the show commenced, the stage lights focused on a surprising set––essentially a semicircle of musicians supporting a single microphone stand downstage––with Crosby's instantly recognizable acoustic and electric guitars on stands behind. In short order, Crosby led his sextet calmly onto the stage to tumultuous applause and an instant standing ovation. As the musicians sauntered to their respective areas, Crosby came downstage center and seemed to hesitate for just a millisecond. He then peered out at the audience, shielding the lights from his eyes and made a gesture that he repeated several times throughout the night: Tightly clenched fists of both hands, held up during a double 'fist pump'––which seemed to denote in Crosbian body language––"thank you."
After strapping on his illustrious Martin D45 acoustic, he began the opening notes of the hauntingly beautiful "In My Dreams" from 1977's CSN album, minus Neil Young (Young had joined Crosby, Stills, & Nash for their sophomore effort "Déja Vu). Vocal harmonies sounded absolutely spot on thanks to the chorused efforts of guitarist Jeff Pevar, drummer Steve DiStanislao, second keyboardist Michelle Willis, and first keyboardist & musical director James Raymond. That leaves bassist Mai Leisz who, sans vocals, very nicely rounded out what Croz refers to as his 'Sky Trails' band (not to be confused with Crosby's Lighthouse Band, which also includes Willis, and also features Becca Stevens as well as Snarky Puppy's bassist/composer/musical director Michael League).
You could easily have heard a pin drop in the 900-seat sold-out theatre for the rest of the first set. Songs ranged from Crosby's efforts with The Byrds through his CSN (and sometimes Y) masterpieces and included a few canticles from his recent incarnation as a member of CPR (Crosby, Pevar, & Raymond), a group born out of Crosby's chance reunion with his 30-year old son. No one in the audience quite knew that the counterculture and psychedelic pop anthem "Eight Miles High" had begun as the band's intro to the epic Byrd's song started with a different feel which was a bit funkier and jazzier, something that would perhaps have pleased the two musicians who heavily influenced it: Ravi Shankar and John Coltrane. Crosby was really into Shankar's sitar music (thanks in part to John, Paul, George & Ringo) as well as John Coltrane (thanks in part to the jazz aficionados in his life). As soon as the ethereal vocal harmony of "Eight Miles High" filled the theatre, the crowd immediately burst into applause as they prepared for the first in a series of returns to their youth.
A few minutes later, Crosby says to the audience: "So you guys know that I never actually wrote any of the biggest hits that all of my previous bands had, right?" After a stunned silence, he continued, "I just did what I always do––write the weird shit." Croz then began the opening fingerpicking pattern of his other-worldly "Guinevere," and with the slightest hint of a wry smile on his lip and twinkle in his eye, you can't help but wonder how he must feel, fully knowing he has effectively and collectively just blown 900 minds in one fell swoop. The love fest continued with "Long Time Gone," and "Déjá Vú" bringing the first set to a close.
The Crosby/Nash-penned "The Lee Shore," opened the second set, then morphed into an unreleased song by Crosby called "I Think I" which garnered a most favorable response from the faithful. Specific attention was placed on the guitar-playing of Jeff Pevar. It was the first time I had the opportunity to see Pevar, who is a well-known hired gun among celebrity artists including Rickie Lee Jones, Ray Charles, Bette Midler, Crosby, Stills, & Nash, Joe Cocker, and many others, in concert. Pevar's playing was remarkably tasteful, and he quickly lived up to his pre-eminent reputation. It was also incredibly cool to see how Crosby and Pevar would finish each other's sentences musically; the bond between Crosby and Pevar was a joy to witness.
Crosby made a point of stating how sorry he was that the sixties and seventies had such a "boys club" mentality when it came to rock groups. He also said he hoped that the audience was digging his 'great idea' of having a 'dual-gender' band. With his two ladies killing it in the Sky Trails Band, it appears that Crosby is making up for lost time. Thereupon he featured keyboardist Michelle Willis and one of her original songs, "Janet." Next Crosby told a fairly lengthy story about bassist Mai Leisz, whom he stumbled upon busking in the streets of Stockholm, playing 'badass bass' in a fashion he had not seen. Speaking of bassists, Crosby is now close friends with Michael League––bassist and musical director of the jazz-fusion collective known as Snarky Puppy. League produced one of the five albums the artist has released in the last four years.
In further musings with the crowd, the always outspoken political activist didn't hesitate to take a few jabs at the state of the US government and the current occupant of the White House. Just as a trilogy of CSN songs finished the first set, the outstanding second set culminated with a second trilogy: CSN's "Wooden Ships," CSNY's "Almost Cut My Hair," and the encore – "Ohio." The band's bow at show's end was not just a required piece of choreography––you could genuinely sense that this group of like-minded, über-talented musicians genuinely like each other and are all on the same page with their Maestro.
As a founding member of two of the most seminal bands in the pantheon of early rock, and a two-time Rock 'N Roll Hall of Fame inductee, Crosby has beaten the odds and appears to be enjoying a second chance at the rock and roll altar. In his reboot, Crosby's songwriting is nothing short of prolific, again. At 77, he is actively touring and has more creative outlets than ever before, and perhaps making some of the most exciting and timely music of his career. When one contemplates the events in his life, including a one-year stint in a Dallas prison, his extended time as a junkie, his rehab (not to mention his new liver) – it is apparent that if anyone ever had a Guardian Angel – it would be David Crosby.
There have only been a handful of artists whose compositions speak to generations, plural. Several of them were in Bethel, New York in August of 1969 at the defining moment of the counterculture and its musical expression––Woodstock. Crosby is one of the 500,000 who was there and is still here.
Regardless of the infamous feuds with his besties, his political assertiveness, and his innate ability to alienate just about everyone he holds dear, no one can ignore the sheer body of work that this driven man has created and produced. His songs have been epiphanies for his listeners. Perhaps tonight's concert was a mass Déjá Vu for the devotee's at the show. I certainly felt like I had 'been here before' as we all seemed to be recapturing those emotive experiences we had upon first experiencing the 'weird shit' Crosby refers to as his songs. I prefer to think of them as 'pure genius.'
-Steven Kikoen
Category: Live Reviews