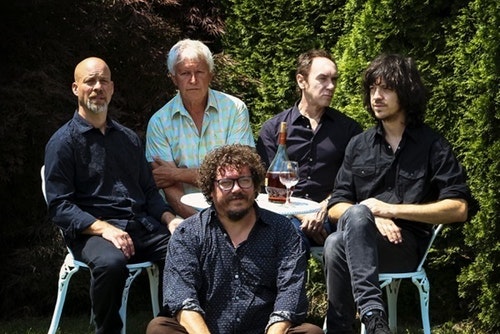 Guided By Voices
Monday, December 31, 2018
Bottom Lounge, Chicago
On Monday, Dayton, Ohio's Guided By Voices visited Bottom Lounge to add to its memorable history of New Year's Eve shows in Chicago. In 2004, the band played what was intended to be its final show at Metro, reeling through a four-and-a-half hour, career-spanning set overflowing with guests and alcohol. That gig was captured on film as The Electrifying Conclusion. Monday's performance at Bottom Lounge was, by comparison, a compact and energetic three hours, but it highlighted the resurgent band's current strengths with top-shelf material from its 25th album Space Gun (2018), while promising thrills to come with a clutch of songs from upcoming 2019 double album Zeppelin Over China.
With his GBV output counted alongside solo and side projects like Boston Spaceships and Cash Rivers, hyper-productive frontman and focal point Robert Pollard has more than a hundred albums and 2000 songs from which to draw. Even in a set boasting nearly 60 songs arriving fast and furious, that meant plenty of crowd favorites would be overlooked. Pollard mentioned the band's obligation to promote its current work, but there was little need to excuse the heavy dose of Space Gun material, thanks to the high-quality fare like the clarion call "See My Field," psych-rock shimmering "King Flute," two-ton thunder of "Hudson Rake," and the spiky adrenaline blast of Doug Gillard's guitar during "Daily Get-Ups." The newer material referenced GBV's favorite mod, British Invasion, and iconoclastic sources including the Who, Kinks, the Replacements, R.E.M. and Wire.
Pollard offered a fond send-off to many of these newer tracks as the band careened toward 2019 with two GBV releases planned. He commented about which songs he'd miss when moving onto the next batch, and even lamented the future loss of Zeppelin Over China's chugging and emotive midtempo rocker, "Charmless Peters" – and that album isn't even out yet.
Fan favorites peppered the show. Guitarists Gillard and Bobby Bare, Jr., drummer Kevin March and bassist Mark Shue dug into songs like the frenetic "Cut-Out Witch" with fervor, whether they played on the original LP versions or not. It seemed like everyone in the room was a GBV fan, including the players on stage. Gillard slashed through the beatific chords and riffs of "Tractor Rape Chain." March thundered with abandon through the chiming and ebullient "I Am a Tree." Bare's steady rhythm propelled "My Valuable Hunting Knife" as the crowded room became a full-throated choir. Muppet-haired Shue played breakneck bass during "Shocker in Gloomtown." "He's the youngest member of our band," said Pollard. "He's got a lot of energy, and he's a very talented individual."
Pollard was an affable emcee as always, pausing for anecdotes about old songs. "You remember this one from back when you were in junior high?" he'd say before uncorking a classic like "Gold Star for Robot Boy" or "Game of Pricks." He served as a provocateur, too. "How you doing with this Trump character?" he asked at one point, riling the crowd on both sides of the fence.
The singer told the audience that he was glad to host a fun night out where people were free to cut loose, but he also said he'd dialed back his notorious drinking habit to a slightly saner and more age-appropriate level. "I still drink a little bit, but not enough to ruin the show," he said with a smile as he pulled from a longneck bottle. "How much was this ticket, anyway? $35? $40?" When the crowd responded that the entry cost was $50, Pollard jabbed, "I'd give you back $10, but I'm a little short."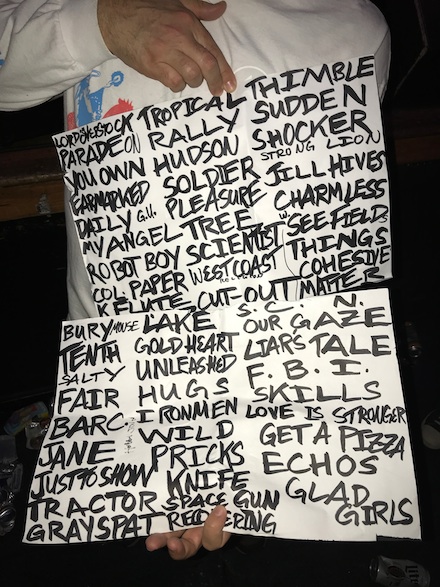 "We deliver the goods to you," said Pollard after charging through "I Am a Scientist." In addition to the music, Pollard also delivered bottles of Miller Lite to lucky fans up front and ran the rim of the stage to slap hands with as many people as possible. An eight-song encore included the band's pop-sheen pinnacle "Teenage FBI," and concluded with the cathartic anthem "Glad Girls" as all voices joined the band in a celebratory union.
Diehards and onlookers alike discuss GBV's fluctuating membership, and fondly remember the "classic lineup" that created albums like Bee Thousand and Alien Lanes. With the band's latest relaunch in 2016 and a consistent lineup producing three strong albums to date (with more in the pipeline), fans should not miss the chance to see new classics in the making. This incarnation does the band's legacy very proud, indeed.
– Jeff Elbel
Category: Live Reviews