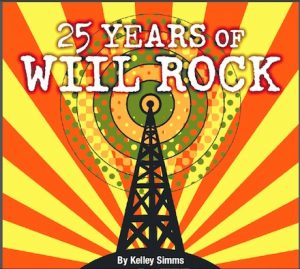 Celebrating 25 years in the radio biz is pretty impressive. Especially in the new-model digital age where Sirius, satellite stations and streaming services are competing for listeners.
Just turning on the radio and letting the current DJ decide your playlist can be refreshing. Terrestrial radio's 95 WIIL Rock is somewhat rare by today's radio station standards, as it's considered to be a fullblown active rock station. It's a musical format that most stations in the area aren't doing at the moment.
Amidst the rotation of modern rock acts such as Papa Roach, Theory Of A Deadman and Hollywood Undead, WIIL also spins classic tracks by The Red Hot Chili Peppers, Cheap Trick, Foo Fighters and Pearl Jam. Plus, you'll also hear '90s alt/Nu? metal regulars such
as Limp Bizkit, Korn and System of a Down. Every day, WIIL rocks north Chicago and its suburbs, as well as southern Wisconsin. One of the station's catchphrases is, "If it rocks, we play it."
Program Director and on-air host/DJ John Perry has been at 95 WIIL Rock since its 1992 formation. In the 25 years he's been with the station, Perry has seen several format
changes. However, since 2009 the station has been serving up its winning active
rock formula. "When we started, nobody was playing classic rock/classic hits, so we
went there," Perry said. "Then stations like 94.7 WLS and others came along. With all
these different stations, we would find our own pocket that no one was serving and we would go there. Same as we're doing now, we're doing what nobody else is doing in Milwaukee or Chicago."
To celebrate its 25th anniversary, the station is promoting two explosive shows this month. Night one will feature rockers Alter Bridge with All That Remains and more on Monday, Dec. 11 at Joe's Live Rosemont in Rosemont. Night two will feature modern alt-rockers Seether on Friday, Dec. 15 at Austins Fuel Arena in Grayslake.
Both headlining bands fit the station's format like a glove. " The station is huge with Seether and Alter Bridge [fans]," Perry said. "We were able to put both of these shows in the same week in December. So, we kind of made them our holiday show and our 25th anniversary."
Located on the border of Illinois and Wisconsin in Pleasant Prairie, WI, it's only natural that WIIL's call letters represent Wisconsin (WI) and Illinois (IL) respectively. "Eighty percent of our audience and our advertisers are in Illinois," Perry said.
"Our tower is Pleasant Prairie, but there's 7 to 8 million people in Chicago and the counties in which we serve, which are Lake, McHenry and Cook. There's just so many more people that live there verses Kenosha or Racine."
Perry is a journeyman DJ who first got his start in radio while in high school in Burlington, WI. "We had an on-air FM radio station," Perry said. "Also the morning guy here, Tom Kief, we both went to high school there. I've been here for 25 years; I've been here the entire time. Tom was here when it started, but he left for New York for a couple of years and then I hired him back to do mornings here. I've done every shift other than the morning show; weekends, afternoons, overnights. I started doing overnights in 1992 and I just kind of moved up."
Owned by Alpha Media — the fourth largest radio broadcasting company that owns 251 stations — WIIL's motto has always been to serve the local rockers. "The thing that we do, that we've always done, is we're 'live and local,'" Perry said. "Our jocks are here, and you can meet the jocks. Most of the stations in Chicago are all pre-recorded. They bring in jocks from other cities and voice-track their shows."
Perry and the station are excited to be presenting these two anniversary shows for their faithful listening audience. "These two shows mean a lot to us," Perry concluded.
"It's a celebration of doing what we do and what we love to do. And I know Illinois Entertainer does the same thing. You guys are in it because you love to do it.
And our audience is the same way. The rockers are active. They want to be involved in the radio station and the music. And you'll see it at these shows."
For details on 95 WIIL Rock's 25th anniversary concerts at the Fuel Arena (Seether) visit www.95wiilrock.com.
– Kelley Simms
Category: Uncategorized