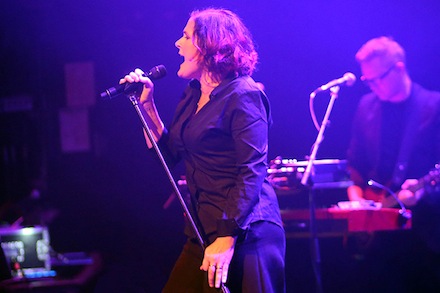 Alison Moyet
Park West, Chicago
Tuesday, September 19, 2017
On her first solo world tour in exactly 30 years, Alison Moyet caught Chicago faithful up to speed since Yazoo/Yaz reunited in 2008. Although she made sure to play several selections from the celebrated synthpop duo, the 21-track set was also stocked heartily with tunes off 2017's Other (the second consecutive collection returning to those electronic roots), along with a tune or two from pretty much everything in between.
Even at 56, Moyet's voice may as well have leapt straight off the MTV screen, though her 100-minute set went far beyond nostalgia. If anything, those deeply soulful pipes and brooding beats from all eras fit right in step with what's coming out of the alternative/indie/electro pop arena today, plus her status as a left of center legend has only increased.
In addition to exposing dark and mysterious sides, the singer/songwriter was also personable, explaining how she chucked every material possession and moved out of a massive house to downsize in the diverse town of Brighton. Moyet also recalled spending some formative years right here in the Windy City where she saw her first-ever concert (it was Crosby, Stills & Nash with Harry Chapin at the charming Ravinia), though given the engaging nature of such anecdotes and all the accompanying musical expressions, hopefully it won't take quite so long to return.
Set list:
"I Germinate"
"When I Was Your Girl"
"Wishing You Were Here"
"Only You" (Yazoo)
"Ski"
"Nobody's Diary" (Yazoo)
"Getting Into Something"
"Changeling"
"Beautiful Gun"
"The Man In The Wings"
"This House"
"Lover, Go"
"Right As Rain"
"Bring Your Love Down (Didn't I)" (Yazoo)
"The Rarest Birds"
"All Cried Out"
"Happy Giddy"
"Don't Go" (Yazoo)
"Alive"
"Love Resurrection"
"Situation" (Yazoo)
-Recap and photos by Andy Argyrakis
Category: IE Photo Gallery, Live Reviews