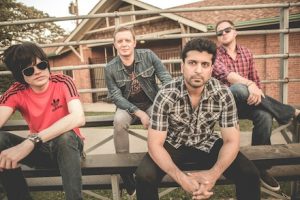 It's been 20 years since Lucky Boys Confusion first got together in a basement to write songs, playing their first party in the suburbs where they grew up. What happened between then and now is a story about triumph and tragedy, the roads between paved with the love of each other and the love of music.
It's debatable whether these boys are indeed "lucky," or whether it's always been their dedication to writing great songs and having so much fun playing them that has brought this band back together after a 10-year hiatus. It could also be up for debate whether they ever disbanded – literally, yes, figuratively, probably not. But in order to understand the impetus and passion behind the release of their new LP Stormchasers and the decision to play a 20th Anniversary show in the next few weeks, we have to look back at those roads they took to get here.
Those of you who are old enough will likely remember hearing "Dumb Pop Song" from their first 19-song LP Growing Out of It in regular rotation on Q101 back in 1998-'99. It had a very cheeky catchy chorus, "I'm gonna steal your girlfriend, I'm gonna steal your girlfriend." That airplay helped them grow their fan base beyond the suburbs, and soon they were headlining House of Blues and Metro. By 2000 they were signed to Elektra Records, and their debut Throwing the Game was released in May 2001. From that LP the song "Fred Astaire" caught a wave of radio momentum. The LP Commitment followed in 2003, with the single "Hey Driver" seemingly driving the record to success. The production of a video, as well as features in movies such as Looney Tunes: Back in Action, Without a Paddle, and New York Minute and the video game MVP Baseball 2004 also helped. But it was while promoting Commitment (touring, radio, publicity, etc.) that a couple of twists of fate changed the trajectory for LBC, for better or worse.
"The LBC story is we're the 'almost' band," frontman Stubhy Pandav concludes. "What happened was, [the label] sent "Hey Driver" to a test market for radio and said if this comes in at Top 10 in this station in Denver, they were going to add it to 38 more stations. Well, the song went to #1. But four days later three billionaires bought out Warner Music Group and any band that was at the bottom, who hadn't recouped [profits], were dropped, including Third Eye Blind and a bunch of other bands. If that hadn't have happened, life would be very different right now. When they dropped us, I was like 'fine, you dropped the ball.' It was good riddance. We were moving forward anyway."
And move forward they did. They continued to tour the country for the next few years – recorded and released the EP How to Get Out Alive in 2006 (on their original imprint, Townstyle, but with the help of another indie label, Reincarnate, which was distributed through Sony/BMG) and then Closing Arguments, an LP of B-sides and demos along with one new song. But the road got the best of them.
"We were in Phoenix on our way to a show in San Diego," Pandav recalls, "and we were just drained. We were drained, making no money, [traveling] in a van. It had been a three-month tour and we just stayed out a little bit longer than we needed to." When the band got home it was August and they decided to take a break. "We barely talked to each other," said Pandav. "We decided to meet back up in October. At that meeting, I said, 'I don't think that any song I write under the name LBC is gonna get a fair shot anymore,' and Adam (Krier, guitarist/vocalist) agreed. We just decided we weren't going to write together anymore." Adam went off and started AM Taxi with Jason (Shultejann, bassist), and I started one of my many projects I've been in since then, and I believe Ryan (Fergus, drummer) had a baby on the way."
Since 2006, all the band members went on to various other projects. In the summer of 2010, Pandav formed The Super Happy Fun Club, and their first EP Go Fun Yourself was released. Adam's next band, AM Taxi, was signed to Virgin Records in April 2009 for which they put out one LP, We Don't Stand A Chance. The album was released in June 2010, but by 2011 AM Taxi parted ways with the label.
On May 15, 2012, the band received the shocking and devastating news that LBC guitarist Joe Sell was found dead on the near west side of Chicago. He was 33. The cause of death was believed to be a drug overdose. The band remembers him fondly a decade later. "Joe was hilarious," Pandav recalled. "He was the most unorganized human being but so brilliant – as a lot of brilliant people are. One time we picked him up for a four to six-week tour; he was the last one picked up. He hops into the van with nothing but a backpack. And we were like, 'Is that all you're bringing for a six-week tour?' And he was like, 'Oh!' So he runs back in the house, grabs this ugly suitcase, chucks it in the back of the trailer and we were like, 'Oh good. We figured you should bring something more.' He was like, 'I got some socks in my backpack.' So we asked, 'What's in the suitcase?' And he says, 'Oh, that's all books!' So for the whole tour, he brought socks and books. He ended up going to thrift stores and buying clothes for the tour. He didn't care how he looked."
Right before Sell's passing, Pandav and Krier had been texting each other about getting together to write again. "Then Joe passed away, and I felt like it would have been in poor taste, Pandav admitted. "Then some more time passed and the texts started again, and we were like, 'Why don't we just get together?' So I drove out to where Adam lives, showed him about 30 ideas I had, we worked on two of them, and within two hours we had two songs. And I'm not talking about just ideas; we had it structured out. On my way home, I got a text from Adam with the lyrics to the second verse of "Stormchaser." So, I could just tell he was really excited and I was really excited."
The next step was to share what they'd accomplished with the other two remaining LBC band members. "I said to Adam, 'Why don't we just show this to the other guys and see what they think?' And I was really nervous!" he recalled, because Ryan had children now, Jason had other things going on in his life. And making a record takes time, and a lot of effort, and a lot of sacrifices, and when you have a family you have to explain to them why you want to do this, so I was like, 'The songs are pretty good though'. The other two were equally excited about what Pandav and Krier had come up with. "Jason was already noodling on his bass, and Ryan was kind of like playing around, and we were like, 'Do you guys want to do this?' We decided to work on those two songs and see what happens. Then it got more and more exciting as more and more songs came to be."
The band members agree, as well as their fans: Stormchasers is LBC's best record yet. Even if it did take almost 10 years apart, losing a man, playing with others, and all the other life changes that come with getting older. "Things have changed a lot," said Pandav. "I think back in 1997 we were just kids, and a lot of it was egocentric. I wanted to get my songs out, even if it wasn't the best idea it was mine – I would push it. But on this record, I don't think it was like that for me or Adam. I think it was more about what's the best song, the best way to do this. I think that's the difference: maturity and selflessness.
"[Someone once said], 'You have a whole lifetime to write your first album and a minute to write your next.' Well, since we hadn't written a record in 10 years we had 10 years' worth of material! Sure we were in bands, but we got to cherry-pick the best stuff out of that. When you're writing your sophomore record you're kind of like OK hurry up and write, hopefully, it's as good as the first stuff – so that's the big difference
It was 2014 when they started writing together again, so it took about a year and a half to write the songs on Stormchasers. "I think we had about nine ideas when we started doing the producer hunt. We went and talked to a bunch of different guys, not that they weren't all great, but something wasn't right. So I texted Jason – Jason and I are really close; sometimes I bounce ideas off him before I tell the rest of the guys. I said, 'You know, I have [producer] Johnny K's number in my phone, what do you think about me reaching out to him?' And Jason said, 'The worst that's going to happen is it's going to be a crazy [studio recording] rate that we can't afford, or he's just not interested in working with us.' The last we had heard he was working with some really big bands."
Chicago music aficionados and hard rock fans know Johnny K. He has produced bands in Chicago since the mid-'90s, working with local bands Plain White T's, Kill Hannah, and Disturbed as well as Staind, 3 Doors Down, Mushroomhead, Finger Eleven and many more. He was even nominated for a Grammy for Producer of the Year in 2008. When Pandav got a hold of Johnny K, he told him, "You were the one band that I didn't get to work with at that time [mid-'90s Chicago]. I don't think, on your major label release, you got sonically what you deserved." K showed up at a band practice soon after. "We played a song for him, and immediately he's like, 'Yeah the biggest hook's at the end, I like it, but what's going on in the middle there?' And I just looked at Adam and smiled, because that's exactly what we wanted: somebody to come in and get their hands dirty, in everything from pre-production to saying, 'Stubhy that lyric's stupid!' So – and no disrespect to Joe – but he became the fifth member of the band."
"Everyone agreed we wanted to have somebody else in there with us to kind of call the shots," Krier said. "I think since we'd been working on the songs for a year and a half in the rehearsal room, we were too close to [the songs] to make the right decisions, like does it need the bridge, or other minor arrangements and vision. We all agreed after talking to a bunch of people and it all worked out that Johnny was the right one. He came to a rehearsal and was like, 'This is a punk rock band; let's make a punk rock record!' He didn't change as much as we thought he would; instead, he focused us, which is what a good producer does."
When asked what recording was like without Sell for the first time, Krier said, "Joe wasn't a songwriter, but he'd make an OK song an incredible song. So that was a bit of added responsibility for me to have to take on. I'd play my parts but I'd have to ask, 'What would Joe do in this situation?' "As we got older we naturally became more focused," Krier mused. "I talked to many people who've said, 'I was never a big fan of what you did [in the past], but you nailed it with this record.' This is one of my favorite records, but I think it would have been a better record with Joe on it."
Whether it was the maturing of the LBC band members, the refreshing of the mind or "muse" that can come from a creative break, or the strengthening of character after losing a beloved member, or the addition of a powerhouse producer – the resulting record Stormchasers is arguably LBC's best compilation of songs yet. Out of the gate the first four tracks are a 1-2 punch, from the smarmy punk beat and hooky chorus of the opener "I Slept With The Devil" and "It's After Midnight" to the driving guitars on the title(-ish) track "Stormchaser" and to the radio-ready "Sun In My Eyes." Then there's the infectious headbanger "Insomniac." From lyrics about the past and present to arrangements to the sonic blast brought to you by Johnny K, Stormchasers is a near-perfect 12-song collection start to finish. All this from a band who, in the scheme of the music world, barely made a blip on the map, and hasn't been a band in 10 years.
The LP Stormchasers and single "Stormchaser" have quite a few different important meanings to Pandav and the band. "I'm constantly writing, but something about this song had to be an LBC song or nobody's," Pandav explained. "When I showed it to Adam it was a beautiful moment for me, and I hope for him, too. I never told him what the song was about; he just knew. We didn't talk about it, we just finished the song. It's about Joe. It's the only song on the record about Joe, though there are little lines here and there. I find it a little bit pandering or – you know, everybody knows he passed away, I didn't want to exploit that. But this song wasn't that. It really was from my heart. If you listen to the lyrics it's not nice, I'm not being mean either, I'm just being honest about what it felt like, what it was like for me. I'm really proud that that song ended up being the title track of the record. It was powerful for all of us."
"For me, I just needed to do this," said Pandav. "I needed one more album. I was gonna take a chance on them breaking my heart, but I'm so glad they didn't." Since it has been 20 years, and as Pandav puts it, "a feat that I don't know anyone else locally has done," the band decided it was a big deal, something to celebrate. "We decided to do something different and cool. We love playing House Of Blues and Metro, but let's do something different," said Pandav. So on November 3rd, LBC is going to perform at Joe's Live in Rosemont. "It's a new venue, and everybody raves about the sound and how cool the place is. It's the suburbs, but we're from the suburbs! So we decided to give a little love back to that area.
They plan on playing a long show, spanning their 20-year catalog and maybe some rarities. "We might do a little soundcheck contest," Pandav added, "because we can't play everything, so maybe we can play a couple during soundcheck for fans who win the contest?" They asked a couple of bands from their past, Treaty of Paris and Swizzle Tree, Pandav's brother's band, to get back together and open the show.
"Friends get on each other's nerves, but we're more like family now," Pandav admitted. "I know that sounds so cheesy and everybody says it, but it's true. The way we talk to each other, the way we fight – then 'bro' down – I hate that word, but we're blessed to have that relationship. And who knows? Maybe at 30 years, I'll be saying the same thing!"
-Penelope Biver
Appearing 11/3 at Joe's Live, Rosemont.