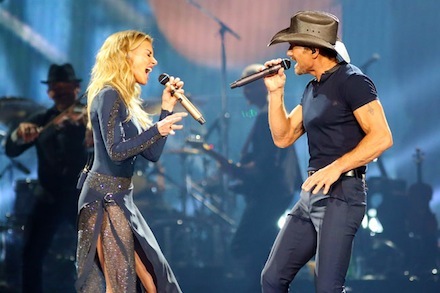 Tim McGraw & Faith Hill
Allstate Arena, Rosemont
Thursday, August 31, 2017
For the first time in exactly ten years, Tim McGraw and Faith Hill are back on tour together, but within moments of stepping onstage at the Allstate Arena on opening night of a double-decker engagement that returns tonight (Friday, September 1), their musical and romantic chemistry picked up exactly where it left off. Dubbed "Soul2Soul," the show found the celebrity super couple sharing several collaborations, followed by each mega-star's own set backed by a seven-piece band, two background singers and a glitzy production filled with video montages, lasers and risers to give the stars an occasional lift.
A southern-fried version of Aretha Franklin and George Michael's "I Knew You Were Waiting (For Me)" kicked off the initial duets portion with the pair volleying between McGraw's "Felt Good On My Lips," Hill's "The Lucky One" and several others. But soon it was everyone's turn to sing a long thanks to playful versions of the former's "I Like It, I Love It" and the latter's "The Way You Love Me."
Considering McGraw travels all the time but Hill rarely does these days, it was especially enjoyable to hear her rock n' roll her way through "Free" and flip towards pop come "This Kiss." In fact, the only evidence she'd been away came when a fan requested a selfie and she literally asked "what is it you're asking me to do?" before blowing him a smooch. Even so, the troop saluting Hill was just as exceptional as a vocalist and guitarist as ever no matter if it was the power ballad "Breathe," the spunky "Wild One," the gospel-leaning "Stronger" or a take-no-prisoners approach to the standard "Piece Of My Heart."
McGraw stuck mostly with the country side of the dial, turning in tunes such as "Angry All The Time," "One Of Those Nights" and "Real Good Man." Flanked by the same backing cast, he also tackled a bit of "When The Green Grass Grows" entirely a capella, then unloaded "Shotgun Rider" and "Humble & Kind," which he dedicated to Hurricane Harvey victims and urged attendees to get involved at whatever level possible. Naturally, the anthem "Live Like You Were Dying" wrapped up his segment with everyone screaming along to its memorable lines about making the absolute most of each day.
No sooner than he ceased, Hill was back at her hubby's side for the brand new "Speak To A Girl" (complete with a lesson in manners for the fellas to treat the ladies) prior to dipping all the way back to the certifiable classic "It's Your Love." From there, the gown-clad co-headliner took a lap around the arena floor during "Mississippi Girl," then within seconds, McGraw and his cowboy hat came down a different concourse to the beats of "Something Like That" and got mobbed all the more.
By comparison, the encore was an extremely understated affair with the pair springing up from below the stage on chairs across from one another to tenderly croon "I Need You" with just a sparse acoustic accompaniment. It was a poignant and beautiful way to end a lengthy but momentum-filled evening that ultimately ended with McGraw and Hill's affectionate embraces and what appeared to be a collective hope that it wouldn't take them this long to hit the road together again.
Tim McGraw & Faith Hill return to the Allstate Arena on Friday, September 1.
-Review and photos by Andy Argyrakis
Category: IE Photo Gallery, Live Reviews