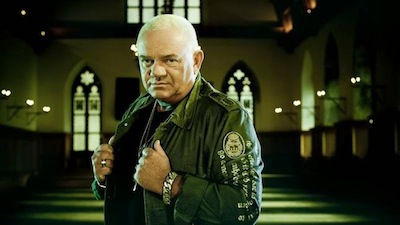 Former Accept and current U.D.O. vocalist Udo Dirkschneider is saying farewell to his former band's material with his Dirkschneider band's live album, LIVE — Back To The Roots Tour. The album features 25 classic Accept tracks performed by his U.D.O. band in their native Deutschland on April 2nd, 2016. The live album and current Farewell To Accept North American Tour is Udo's way of closing the book on the Accept chapter in his career, as his full time band U.D.O. will stop performing Accept songs in his live set as long as the current Accept exists. It's Udo's musical statement to go out in style by giving these songs – in which he had a hand in writing and performing – a proper send-off. The tour makes a stop in Chicago at Concord Music Hall on January 13, will be Dirkschneider's swan song of his days of singing Accept songs.
Mosh: Going by your surname Dirkschneider and playing strictly Accept tunes, are you trying to distinguish between it and your U.D.O. band?
Udo Dirkschneider: Yes, definitely. It can be a little bit of a misunderstanding if you do all the Accept songs under U.D.O. That's why we use the name Dirkschneider, it's the same band but it's different and has nothing to do with U.D.O.
IE: I think no matter which band name go with, fans will always associate you with Accept. But is this new album and upcoming tour is your way of saying goodbye to that era of your life?
Udo Dirkschneider: Yeah, I always say in a way I want to close the book. So Accept is still existing at the moment and are doing quite well, but I'm also a little bit tired of always being compared of [sic] who's better, or who's playing "Metal Heart" better, who's playing "Balls to the Wall" better and on and on. I do it for the last time. Then after this, the U.D.O. set will be without any Accept songs.
IE: The album was recorded in Germany – what was that night like? Why did you pick that venue and did you feel the recording captured the energy of the show?
Udo Dirkschneider: We played in this place very often and we knew that there's a really good audience and a really good atmosphere. That's why we chose this place to do the recording. We knew that they were really into it and they were singing along even when we played there with U.D.O. So we knew that it would be the right place to do it.
IE: I like what Accept has done on its last three albums, but the way you pull off these Accept songs on the new live CD is pretty spot-on. How did you go about picking the setlist?
Udo Dirkschneider: It wasn't so easy to pick the songs for the setlist. In a way, I knew which songs the people like, but I also put some songs on it that I like very much, such as "Neon Nights," "Wrong is Right," "Up to the Limit," Son of a Bitch" and "Flash Rockin' Man." I think there's a good mix, but already there are people asking how come we're not playing this song or this song or this song! There are so many great Accept songs, but we already are playing for over two hours. So it was not easy to pick out all the songs, but I think in the end everybody is satisfied.
IE: The album sounds so crisp and clear, almost flawless. Were there any overdubs or extra mixing in the studio?
Udo Dirkschneider: Believe it or not, there are no overdubs. Nothing. I hate doing overdubs. When we were recording this show, we had already done nearly two months on tour, and it shows that the band is really tight. They play really good and my voice is still going! The guy who did the mixing is also our producer, Martin Pfeifer, and he did a brilliant job.
IE: The band does sound tight, including your son on the drums. Was there extensive rehearsal time before the night of the show? I assume the guys already knew the classic Accept songs as well?
Udo Dirkschneider: Yeah, they knew the songs and we did a very long rehearsal before we started the tour. Also, Stephan Kaufman (former Accept drummer) came to the studio. He was also in U.D.O. as a very brilliant rhythm guitar player, and he was talking to my guitar players about how to play exactly the Accept songs; little tricks here and there.
IE: Your voice sounds in fine form on the record, and I assume you must have been really satisfied by your performance?
Udo Dirkschneider: Yeah, I'm really happy. It was also a good night. My voice is still doing well and there was nothing really special for me to rehearse or warm up. I just go on stage and do it. So I've been really lucky with my voice.
IE: For this North American Farewell to Accept Tour, you've stated that this is your personal way of saying goodbye to the Accept chapter. Does this mean you'll never play an Accept song live again?
Udo Dirkschneider: Under U.D.O. we will never play any Accept songs again, that's why I'm doing this. After the American tour, we start working on the 16th U.D.O. album, so I think we have enough stuff to do a setlist without any Accept songs. Maybe there's just a small door open that maybe if Accept split up, then it may be the time to play some Accept songs again. As long as Accept exists, you will never hear any Accept songs with U.D.O.
IE: How excited are you for the upcoming North American tour? You don't really get over to the States very often with U.D.O.
Udo Dirkschneider: No, the last tour with U.D.O. was in 2013 and it was just 12 shows, and now we're doing 24. I'm really looking forward to this and we'll see how the people react, and I think it will be a good reaction from the audience. It will be the same setlist that we're still doing in Europe and that will be over two hours. So you can expect a long, heavy setlist.
IE: So what's next after the US tour ends in early February, will you be concentrating on U.D.O. and the new album?
Udo Dirkschneider: We just finished with the festival season here in Europe. So at the moment we have a break until the end of October, then we start touring Russia, Ukraine and Scandinavia again for the second time. More shows in Germany, Italy and Austria till the end of the year. After the American tour, the first of March we start recording the new U.D.O. album. So we are quite busy. In March we'll do pre-production, then we'll pick 15-16-17 songs to record. The plan is to be finished in the middle of May with recording and then mixing. We're not that young anymore, so we take our time.
IE: At age 64, you don't seem like you're ready to pack it in just yet.
Udo Dirkschneider: I still love touring and making records. Some people ask me if I know when I'm ready to retire and I say, "No." As long as my voice is still working, as long as I'm healthy to do this and as long as people still come to the concerts… I don't know. But as long as I have fun… this is the most important word, "fun." Maybe I can do this for another 10 years, I have no plan about this!
-Kelley Simms