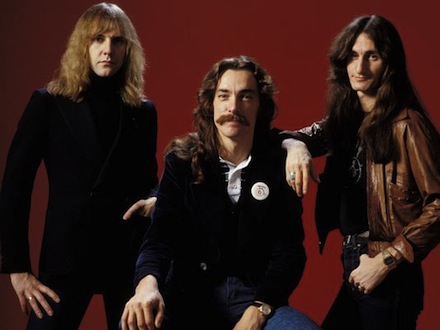 Rush
2112 – 40th Anniversary Edition
(Universal Music Enterprises)
Bassist Geddy Lee has described Rush as "the world's biggest cult band." Among the trio's most devoted followers, you'll find fans claiming any one of the Canadian prog-rock powerhouse's twenty albums as their favorite. To the world at large, however, it all comes down to 1976's 2112 and 1981's Moving Pictures.
The trio's fourth studio album, 2112 found the band's vision realized and won the band its creative independence. The band had been shedding comparisons to influences like Led Zeppelin over previous albums Caress of Steel and Fly By Night, but the combination of hard rock, top-flight musicianship and drummer Neil Peart's thought-provoking concept about totalitarianism and individuality were singularly Rush's own territory. Side one's 20-minute concept suite boasts thrills and chills aplenty, including fascist bad guys, a naïve hero's joyful discovery, tragedy, and a fierce space battle. During 2112's "Overture," guitarist Alex Lifeson quotes Tchaikovsky's "1812 Overture," and naturally, the homage extends to cannon fire.
Side two includes standalone songs like the strident anthem "Something for Nothing," the druggy road-trip fantasy "A Passage to Bangkok," and a tribute to Rod Serling's "The Twilight Zone."
The album's 40th birthday is being celebrated with a fresh remaster from Abbey Road Studios. Differences to previous remasters are subtle, but the results are excellent. Lifeson's guitars are meaty, Lee's bass is deep and strong, and Peart's tom fills will perform chiropractic adjustments if you lie down on your headphones. Expanded packages include heavyweight 200 gram vinyl for ultra-stable spins, and one side features an etched "Starman" logo by longtime Rush artist Hugh Syme. Other extras include a lithograph, buttons, reproduction ticket and tour handbill. Bonus tracks include live audio recorded on the original 2112 tour dates from 1976.
Also featured are tribute tracks from various musical fans. Alice in Chains perform a lush version of ballad "Tears." Steven Wilson of Porcupine Tree sounds right at home in "The Twilight Zone." Foo Fighters' Dave Grohl and Taylor Hawkins join recent Rush producer Nick Raskulinecz for "Overture." The most refreshing and original take is by Canadian indie-pop artist Jacob Moon, who made an internet sensation of his solo-looped cover of 1982 Signals track "Subdivisions." Here, his acoustic approach morphs into a loping, bluesy electric version of "Something for Nothing."
The best bonus is a DVD of live material from 1976, featuring black and white video footage of Rush as a scrappy young band playing songs spanning their first four albums. Here, Lee's keening tenor still possesses the razor edge that fans loved and critics maligned. Lee and Lifeson sport high-heeled boots in fine 70s fashion, but alas, no kimonos.
–      Jeff Elbel
Rating: 8 of 10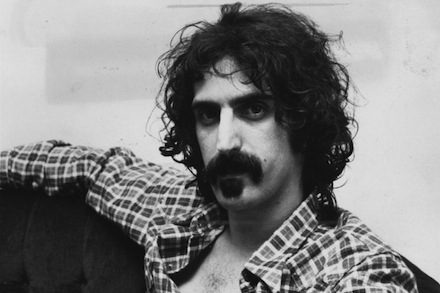 Frank Zappa
Hot Rats vinyl reissue, Chicago '78, Zappatite, Little Dots, Meat Light
(Zappa Records/UMe)
Frank Zappa's repertoire is outsider music with timeless appeal. It's jazz. It's rock and roll. It's classical. It's both highbrow and lowbrow. It's certainly weird, but Zappa's strange creativity was meticulous, masterful and wholly unique. As such, Zappa's catalog remains ready for discovery by new generations of adventurous listeners. UMe and Zappa Records are stoking the embers with a string of reissues and vault excavations.
1969's "movie for your ears" Hot Rats was Zappa's first album following the dissolution of the Mothers of Invention, and earns its status as a jazz fusion standard. The instrumental "Peaches En Regalia" remains among Zappa's best-known songs, featuring creative use of studio technology. Instruments including bass and organ were recorded at half speed and integrated with Ian Underwood's stellar piano and horns, and funky bass by 16-year-old Shuggie Otis. Captain Beefheart contributes a streetwise and grungy vocal to "Willie the Pimp." Underwood duets with violinist Jean-Luc Ponty on "It Must Be a Camel." "The Gumbo Variations" stretches to 13 minutes of funky freak-out.
Chicago '78 documents the second show on the evening of September 29, 1978 at the now-shuttered, but legendary Uptown Theater. Zappa leads an eight-piece group with familiar names including singer Ike Willis and drummer Vinnie Colaiuta. Sound quality is superb, and it's a relatively rare treat to have a full concert from the Zappa vault. The sharp band turns on a dime and digs into favorites including "Dancin' Fool" and "Strictly Genteel."
Zappatite is an 18-track overview of "Zappa's Tastiest Tracks." Although the uncanny breadth of Zappa's career leaves any single-disc collection short of fan-favorite tracks, this is a good introduction to Zappa's extremes. The genius-lunacy of "Peaches En Regalia" is featured alongside the sublime instrumental "Sofa No. 1." Zappa's 1982 pop music apex "Valley Girl" with daughter Moon Unit shows satirical wit. Interpersonal conflict takes an unsavory and unsanitary turn in an Eskimo's cautionary tale "Don't Eat the Yellow Snow." Zappa was also well-versed in lurid sexual provocation. Think twice before sitting down to listen to "Bobby Brown Goes Down" with grandma. If she's into mind-bending fusion, though, you can probably get away with "G-Spot Tornado."
Little Dots features Zappa's "Petit Wazoo" horn-fronted ensemble from 1972. This set picks up where 2006's Imaginary Diseases left off, including the first full release of the "Rollo" suite and a lengthy stage excursion from South Carolina. The bluesy swing of jive-talking "Cosmik Debris" finds Zappa's narrator getting the upper hand on a psychedelic hustler. The version captured here predates the familiar version from Apostrophe (').
As Underwood says in the liner notes for Meat Light, a three-disc set celebrating the Mothers of Invention's swan song Uncle Meat, Zappa's exceptional guitar soloing is the unifying element across all of the recordings – or as Underwood describes it, "the world of Frank's musical heart." The album was notable, according to Zappa's sideman, for the quality of the music and potency of Zappa's social ideas. The set includes the original Uncle Meat, with additional discs presenting Zappa's original sequence (leading with "Dog Breath") and a bevy of vault tracks.
–    Jeff Elbel
Rating: 9 of 10
Category: Spins