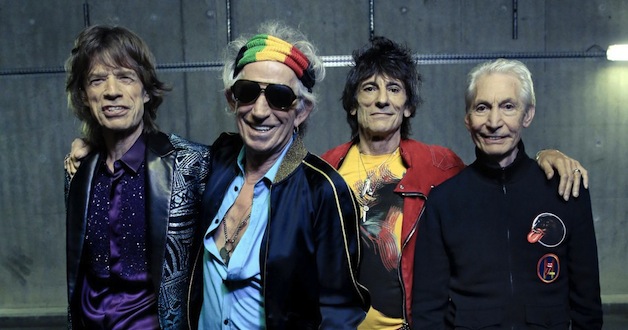 The Rolling Stones
Blue and Lonesome
(Interscope/Polydor)
Put four British geezers who have been disciples of Chicago blues since before most of us were born into a room for three days, supported by a few touring cohorts, and out comes the most essential Rolling Stones album in at least 27 years. Blue and Lonesome presents the famous blues evangelists as the master craftsmen they dreamed of being as hungry youngsters, while soaking up the tutelage of their Chess Records blues heroes and returning those sounds to their point of origin. The band's interplay is sharp, intuitive, and the perfect kind of loose, thanks to steady touring during the past four years.
The core four of Mick, Keef, Charlie and Ronnie are augmented only by longtime sidemen Darryl Jones on bass and Chuck Leavell on piano and organ, plus Steel Wheels veteran Matt Clifford on more keys. It's a shame that the late Bobby Keys wasn't around to add a few greasy saxophone licks a la "Brown Sugar," and Mick Jagger carries the vocal (in knockout form) without aid from Bernard Fowler and Lisa Fischer – so, no spine-tingling female vocals a la "Gimme Shelter." But sticking to the fundamental elements of a rock and roll rhythm section draws comparisons to the Stones' scrappy youth and albums like Out of Our Heads and the group's self-titled debut – 52 stunning years ago.
That first record included songs by blues legends Willie Dixon and Jimmy Reed, and so does Blue and Lonesome. The band throws sparks on Dixon's blues stroll "I Can't Quit You Baby," as Jagger lets rip with a surprisingly youthful howl and trades licks with guest Eric Clapton. Reed's sorrowful "Little Rain" lurches heavily on Charlie Watts' grim, brushed shuffle, and Jagger's lonesome harmonica wails from behind the band. Harp hero Little Walter's "Hate to See You Go" jumps with a cocky guitar lick and the rooster crow of Jagger's harmonica. Leavell adds sparkle with a parlor piano solo on Magic Sam's "All of Your Love."
Jagger growls with indignation through Howlin' Wolf's knife-edged "Commit a Crime" while Watts swings and Wood's guitar ping-pongs with Keith Richards' meaty riffs. Richards clearly has a ball with the jump blues of "Just Like I Treat You." Blue and Lonesome was allegedly recorded as a palette-cleanser when the band hit a wall during sessions for an upcoming album of new material. This set of spirited covers is so satisfyingly shot-through with electricity and urgency, it sets a high bar for anything that follows. Get the vinyl if you can. This gritty romp would go well with just a hint of needle scratch and dust.
– Jeff Elbel
9 out of 10