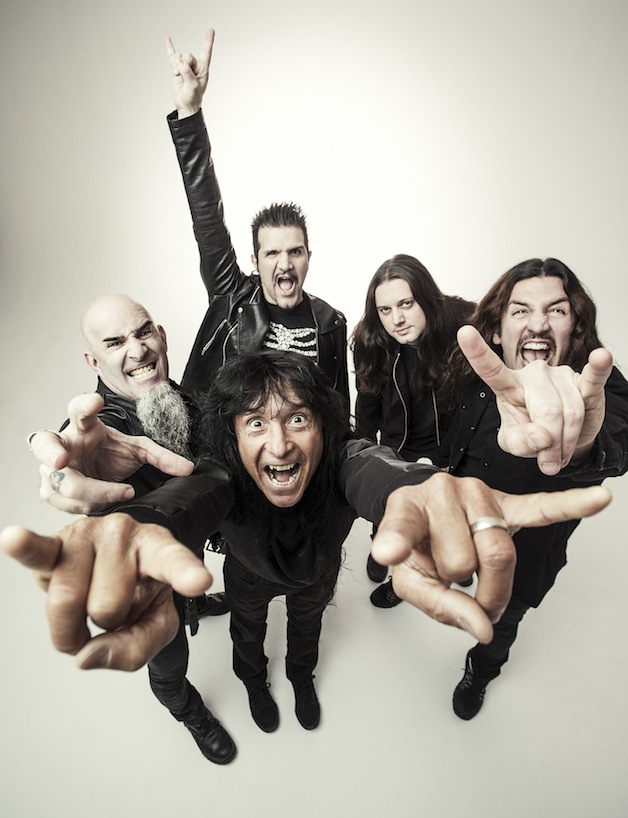 One of the Big Four of thrash bands is returning to Chicago! New York thrashers Anthrax, along with equally influential Death Angel, will be performing select headline shows in between slots on Slayer's Repentless World Tour, which includes a stop at Concord Music Hall on Wednesday, September 21.
And you can expect one wild party, as longtime bassist Frankie Bello explained. "Chicago is our second home," he said. "Not only does our drummer Charlie (Benante) live in Chicago, there's so many good friends there. Chicago has always been great to us. The fans there are insane, and I say that with all due respect. I love the fact that we can go there and they expect a rage… and it will be. We're going to bring it and I fully expect a great show."
While their latest record, For All Kings, was released in February via Megaforce Records, this will be their first proper U.S. tour in support of it. And the band has included four songs from it in the setlist, which get just as big of a crowd response as their classic tracks Bello said. "When we play a song such as "Breathing Lightning" or "Evil Twin," they go over just as well (as our classics),"he said. "After we finish the song and the lights go down, you'll hear a roar, and those are some of the biggest roars of the night. That lends itself to me the vibe that the people are accepting them as a classic."
While the band is celebrating its 35th anniversary, Bello had no clue of the band's longevity when he joined in 1984 as an 18 year old. Nor did he realize where this new scene called thrash would take them.
"We didn't know back then that we'd be going for 35 years," he said. "You have to remember, back then nobody knew what this scene was and all we did was play heavy and they put the name thrash on it. All we wanted to do was to go out there and be on tour, write great songs and record them. Thankfully, and I say this very humbly, we've been very lucky. I think we still continue to pay our dues because we work hard."'
– Kelley Simms
Anthrax appears at Concord Music Hall, 2047 N. Milwaukee Ave. on Wednesday, Sept. 21 with Death Angel and Devil Land. $28, 17 and over.
Oh say can you see…
Vocalist Joey Belladonna will be singing the National Anthem on the night of the show on Wed. 21st at Wrigley Field before the Cubs game against the Cincinnati Reds.
Category: Stage Buzz, Weekly