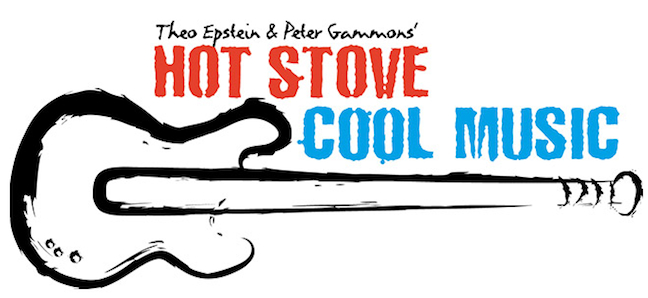 • It's become an annual All Star break tradition – The fifth annual Hot Stove Cool Music Chicago benefit concert will rock the Wrigleyville again at Metro Chicago this Friday June 17 (8pm). Cubs President of Baseball Operations Theo Epstein, Hall of Fame baseball writer Peter Gammons, Cubs broadcaster Len Kasper and the Chicago Hot Stove All-Stars will take the stage for an evening of music and giving back to the Chicago community. Net proceeds benefit the Foundation To Be Named Later. The event was first staged by Epstein and his twin brother Paul. Their foundation raises funds and awareness for nonprofit agencies working on the front lines, serving disadvantaged youth in the greater Boston and Chicago areas.
This year's headliners include Liz Phair, JC Brooks & the Uptown Sound, Peter Gammons and the Boston Hot Stove All Stars, Theo Epstein, Len Kasper & the Chicago Hot Stove All Stars, Band Of Their Own (Freda Love Smith, Kay Hanley,  Jen Tryin, Gail Greenwood), Avid Dancer, and more special guests. Tickets are $75 general admission and $1000 vip (for 2). Doors: 7:30pm, show: 8pm. Visit metrochicago.com for details and tickets.
•The Dead Kennedys mark on the hardcore and American punk movement can only be compared to the UK's Sex Pistols. Both bands changed the face of underground music forever. DK's leader Jello Biafra, lead the band in their '80s heyday – powered by the near-perfect punk rock single "Holiday In Cambodia." Disillusioned with their lack of commercial success – the original incarnation of band called it quits in 1986.
Today's reformed touring Dead Kennedys feature vocalist Skip McSkipster and co- founding members East Bay Ray, Klaus Flouride, and longtime drummer D.H. Peligro. Support includes The Bollweevils, The Usuals, Squared Off.
Appearing Friday at House Of Blues – TICKETS HERE
Category: Stage Buzz, Weekly