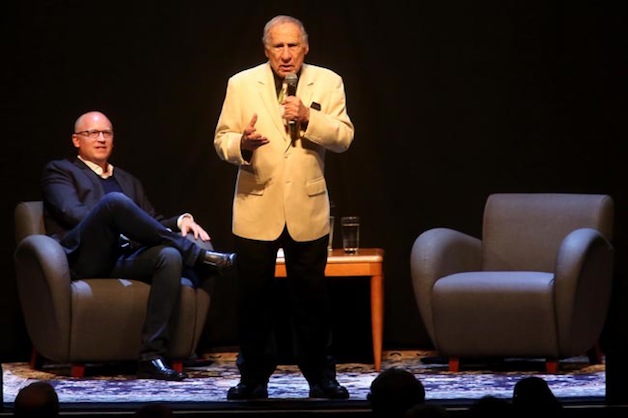 Mel Brooks
Chicago Theatre
Sunday, June 12, 2016
Just two weeks shy of turning 90, Mel Brooks is "Back In The Saddle Again!" visiting a handful of cities for a ridiculously rare touring engagement filled with "a hilarious live conversation." But prior to taking the stage in the flesh at the Chicago Theatre, his classic comedy Blazing Saddles starring Cleavon Little, Gene Wilder, Harvey Korman, Madeline Kahn, Slim Pickens, Dom DeLuise and the headliner hit the big screen, recalling the golden days when the landmark venue showed movies prior to its current incarnation as a live performance venue.
After the sold out audience was done roaring through all the politically incorrect shenanigans, the man behind that 1974 flashback and fellow blockbusters The Producers, Young Frankenstein, Spaceballs, Robin Hood: Men In Tights and so many more emerged with the energy of a firecracker and never sat in his easy chair for more than five seconds.  The first question asked by a moderator (who barely got a word in edge-wise throughout the next 75 minutes) was simply "could this film be made today?," to which Brooks laughed out loud as he screamed "no, and it couldn't have been made in 1974 either!"
Even so, the actor, comedian, filmmaker, composer and songwriter (who's one of just twelve with a competitive Emmy, Grammy, Oscar and Tony to his name) got away with making fun of every demographic under the sun. However, Brooks also suggested some of the credit should go to Richard Pryor for approving the most controversial language throughout this racial satire, during which a black sheriff becomes the unexpected hero in an entirely white town that turns all the "Wild West" clichés completely upside down.
And while the afternoon could've easily been filled with only Blazing Saddles stories, Brooks went all over the personal and professional map, recalling the night he substituted a stand-up set for Pryor ("who was tied up doing who knows what with four blondes"), but rather than using original material, literally copied Pryor's act verbatim (which the fellow superstar thought was beyond hysterical). The spry senior citizen also had the Chicago Theatre bursting at the seams when he stopped the show a few minutes later to sarcastically snap at an attendee: "Where are you going? Do you have to pee? Usually, they don't walk out on me!"
If it hadn't been for the lengthy double feature of sorts, no one would've likely taken a break, and considering Brooks talked and practically walked a mile a minute, there's no telling how much they missed. For instance, the comic sang the theme song to Blazing Saddles, then told an uproarious ancedote about its primary singer Frankie Laine coming out of the recording studio in tears, remarking on its depth and beauty (in spite of its purely farcical intentions).
The theme of urination returned as Brooks recalled a childhood emergency when the family's Brooklyn bathroom was being used, so he aimed out the window only to have the stream land on his mortified mother and several sopping wet neighbors (but managed to get his brother blamed). Then there was the time much later in life when he went to dinner with the inimitable (and full-figured) Alfred Hitchcock, who not only polished off one several course feast at the ritzy Hollywood hot spot Chasen's, but after "feeling a bit peckish," turned right around for an identical order and devoured it all over again. (That Master Of Suspense loved Brooks' High Anxiety parody by the way, but initially walked out of a private screening in awkward silence before sending a case of priceless wine in appreciation the following morning).
Although the moderator held many cards with questions of his own and from fans, he only got to a handful spanning a vast width of subjects and geography, including folks as far away as Champaign, Normal and even Kansas City. The faithful learned some of the legend's first comedic inspirations came from serving in World War II and the fart sounds in Saddles were merely conducted by armpit simulation, followed by a delightful tangent about the time a colleague at Columbia Pictures got fired, and in his defense, Brooks switched the name plates on the doors of every single employee in the building!
Yet the final inquiry wondered about his most embarrassing moment, to which Brooks instantly recalled the time he made fun of Bill Cullen's limp while appearing on a game show, though quickly realized it was a result of having polio. Nonetheless, Cullen cracked up, thanking his guest for having the nerve to make light of a condition he refused to see as crippling, which perhaps inadvertently answered not only the ethos of how Brooks got away with "Blazing Saddles, but why he continues make the masses laugh with the Spaceballs to fearlessly blast down practically every barrier imaginable.
-Review and photos by Andy Argyrakis
Category: Live Reviews, Stage Buzz, Weekly