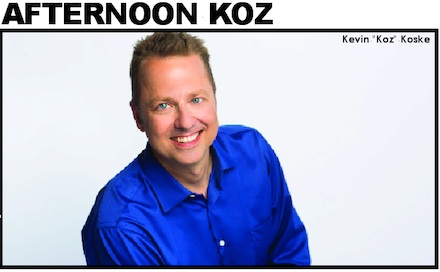 Kevin "Koz" Koske mans the afternoon shift at WTMX-FM and he has one mission during that time.  "My job description is to make sure you're not doing yours."
Koz grew up in the area. Despite having worked in various different markets around the country, this is where he discovered radio, and where he always wanted to work. And now he's been doing it for more than a decade. "It will be twelve years in October. Trust me, I still walk into the station (WTMX, 101.9FM) every day and say, 'wow. It's crazy.' I remember the second radio bit me. It was exactly 33 years ago.  I got the bug for radio when I was sent home from school sick one day, and I turned on Steve and Garry on WLS. I thought, 'God, I'd love to do that. I'd love to work in my hometown doing radio.' And now I do, and I'm working for this great company (Hubbard Broadcasting), working for great people like (Hubbard VP) Greg Solk and (Mix Program Director) Mary Ellen (Kachinske). It's a dream come true."
Twelve years in radio at one music radio station is like a lifetime in the real world. "I've been fortunate that anywhere I've been, I've put together decent runs—a couple of years, which as you mention, in radio is a longtime—but now I've put down roots here. I'm a homeowner. I'm part of a community. To be honest, it's the sort of thing I don't like to talk about. I feel like I should be knocking wood (laughs)."
His days are remarkably normal. Koz lives the lifestyle of his listeners.  He works, he plays, and he does his best to spend as much time with his family as he can. "I have a long commute—about three hours on the train in and out. It allows me to prep and get stuff done on the way in, and decompress on the way home. My son is turning 10 in August, and I see him in the morning, and just before he goes to bed at night. I'm able to catch more father-son time now than I was a few years ago when he was really active with stuff. He's a skater dude and if it's got wheels, he's on it, and we hang out at skate parks together. We make it work."
That typical lifestyle has helped him connect with Mix listeners. "Every radio personality is told to go on the air and be himself or herself, but luckily we are given the freedom at the Mix to actually do that. We're allowed to be lifestyle-oriented. To be able to talk to people as if you're sitting over the kitchen counter and chatting with them—or at the water cooler at work. Or like a bartender taking care of people, serving them drinks. I hardly ever talk about what I've done.
I want to hear what's going on in their lives. Because of that approach, which we have all day at this station, I think The Mix has a unique position of being a radio station, without sounding like a radio station. Eric and Kathy start that first thing in the morning. We still play music, but everyone does—and often the same music. So the difference is what do you do between the records?  We give people a reason to listen and share their stories. The DNA of this radio station is very lifestyle and very Chicago." He also knows that this is often the toughest time of day for his listeners.
"Around 2pm, after you've been productive all morning, gotten your errands done, and gotten your business done, you hit a wall and start staring at the clock. It happens to everybody. I've been there myself. You're just looking for ways to kill some time and make it to the end of the day, and that's how I came up with my feature 'Kill a Half Hour'. In the afternoon show you can do a segment that's a little bit slower pace. From 3:20 to 3:50, it allows us to make a ten minute feature into a 30 minute feature, and it's a good time for people waiting in their cars in line for their kids at school. It's like a brain buster, and it's something to help them get through that time."
If it seems like Koz has a little more freedom than most afternoon music radio personalities, he would disagree with that assessment. "Being a former program director, I have a pretty good internal clock for when something is going a little too long. I always have my 'out' planned before I begin anything. If you don't have your 'out' planned, you can keep going and going and going."
That's good advice for any radio personality, but it's not Kevin Koske's only advice.  "If you love the business and you love connecting to people, the other stuff doesn't matter. It took me forever to realize that, but I do now. Twelve years at one radio station is a lifetime. How long will it last? Who knows? But I'm going to enjoy every minute of it as long as it does." Koz can be heard every afternoon from 2-7pm on WTMX, 101.9 FM.