If there is a single constant in Chicago's modern music scene, it's that there isn't one signature sound. Depending on who you ask, Chicago is the birthplace of house music. Or it was once synonymous with Wax Trax! and the industrial wave of the '80s. Or, maybe Chicago is the home of a disparate list of superstar acts like Smashing Pumpkins, R. Kelly, and Wilco, none of whom sound anything like each other. If you were to ask about Chicago in 2016, you will likely hear names like Chance The Rapper and Vic Mensa, both now widely known talents well on their way to building out their own long-term careers.
Digging deeper, there is always new hometown talent developing, crafting their own version of what Chicago sounds like. What follows is nothing even close to a comprehensive list of all of the noteworthy acts currently emerging from the Windy City. Instead, it's a snapshot of four completely different artists with little in common, other than all claiming Chicago as home and all remaining tirelessly devoted to taking their music to the next level. From the emboldened voice of West Side rapper Saba, to the frenetic grime pop of Celine Neon, and the tropical vibes of Louis The Child, and the emotionally urgent pop-punk of Knuckle Puck, they're all radically disparate, but all undeniably Chicago.
Celine Neon:
On Their Own Terms
Though Celine Neon isn't the first group that singer-songwriters Emily Nejad and Maggie Kubley have performed in together, it's the first one that fully realizes the pair's shared vision.  "We've been best friends and collaborators for over 10 years now and have worked on three other bands together," Nejad explains. "In the past it's always been 'Maggie and Emily and a myriad of dudes in a traditional band setup, which started to feel a little limited to us. We both realized that we didn't really like the music we were making. Our tastes lie more in pop, electro-pop, and hip hop. So we ditched the dudes and started making music that we were passionate about."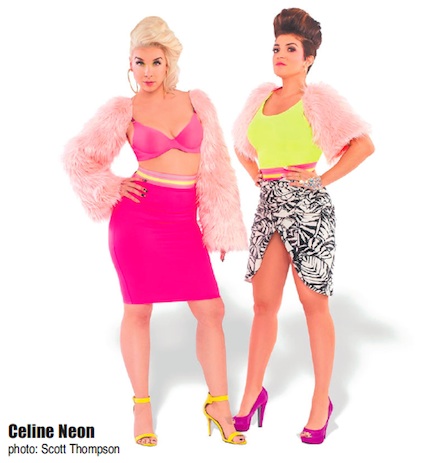 Specializing in hyperactive, dirty pop, Celine Neon is both a Saturday night rager and the Sunday morning comedown. Songs like the punchy title track off the group's recent Kitty EP demonstrate their empowering aesthetic while emphasizing their pop sensibilities."Boy I'll Be" positions Celine Neon at their most ambitious and most irresistibly hook-laden. On their self-titled EP, songs like the robo-funk of "Depresh" and mosh crunch jam "Plz Party" demonstrate the manic energy that the group is becoming known for both live and on record, with the latter finding Kubley and Nejad repeatedly asking "Are we famous yet?!"
As kinetic as their songs are, the group's work ethic is deep, as evidenced by the fact that both their self-titled EP and Kitty were released in 2015. "Producing a constant stream of content requires that you keep a schedule running really tightly and that everyone remains accountable for upholding their end of the deal." Nejad explains. "It's a ton of work, obviously. 'Do everything all the time' pretty accurately sums up our work ethic."
That drive carries over to the group's ambitious visuals and live presence, whether performing in an intimate room like Schubas, or as part of React Presents' Reaction NYE event, where the duo closed out the year on the same bill as Skrillex and Chance The Rapper. "What brings me the most joy is performing," Kubley reveals. "I love being on camera, I love being onstage, I love creating images…I need there to be a visual component to our work in order to truly feel satisfied."
The end result is an experience that's wholly representative of the realization of Kubley and Nejad's creative world. "I think one of the reasons that people are responding so well to Celine Neon is because when we started this band, we were like, "Okay, our official mission statement/mantra is to do whatever we want, all the time," Nejad affirms. "Fuck what other people think is cool, this is what we like."
Saba:
Chi But Not Shy
When Chicago rapper Saba released his ComfortZone mixtape in the summer of 2014, the album brought him to the attention of Chicago industry and audiences alike. A melodic collection, the record ranges from the gospel-tinged R&B of "Burnout," featuring fellow rising Chicago talent Eryn Allen Kane, to the sunny pop jam of "Tell You," to the smooth as its namesake "Butter," with Jamila Woods joining on the track. Now, the artist who calls the Austin neighborhood home, is looking to capture the attention of a larger audience, beyond those already in-the-know in Chicago.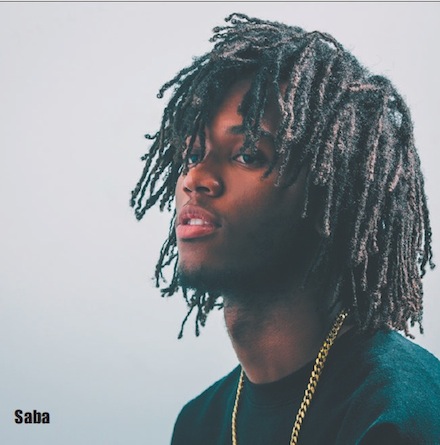 It's a process that's already started, with Saba making his late night television debut this past fall. The artist joined Chance The Rapper on The Late Show with Stephen Colbert for an exuberant performance of the duo's collaborative single, "Angels." And just last month saw the release of a new one-off track from Saba titled "Soap Box," which finds him going harder than he has in some time. "It's a really rappy song," Saba confirms of the track. "I haven't done that in a while."
Beyond "Soap Box," a larger body of work is on the horizon from Saba this year. "It's definitely new, as far as what it sounds like," he revealed of his forthcoming project. "We're getting real creative with it. Kind of just doing what we want to do, at this point. It's not really like we're playing by any rules, creatively." "I think it'll be more of a proper introduction, maybe on a national level," Saba continues, "ComfortZone did get some coverage outside of Chicago. It got a decent amount. But I think it was definitely still in that local project kind of realm. So I think moving forward, it'll basically take that sound and that idea, and broaden it to a different audience, a larger audience."
It's a bolder direction for the artist, who a few short years ago lacked the confidence he needed. "I was really shy going into the creation of ComfortZone," Saba admits. "I was really to myself. I was really within my comfort zone. Just as far as not being really outspoken, and not being the most outgoing person, and ComfortZone was, for me, trying to break that mold and get out of that habit of being so closed minded and stuck within myself."
It's easy to see it worked. As evidenced in interviews and on "Soap Box," Saba in 2016 is coolly confident and fully ready for the national stage. "Everyday I wake up, I don't feel like the same person that I was. I don't feel like I was that shy kid," Saba affirms. "I feel like I conquered that. I beat that. That's somebody else. So it's weird now. Talking about that person feels like I'm talking about somebody different, like somebody who wasn't me."
Louis The Child:
Boys To Men
Chicago is no stranger to rising electronic talent, but that talent is usually of legal drinking age before reaching the heights that Louis The Child are reaching. Though the group – comprised of Robby Hauldren, 19, and Freddy Kennett, 18 – isn't letting their age stand in the way of a serious career making music. "For a while, we had a tough time getting into the places that we were performing," Hauldren admits, "but aside from that, as long as there's quality music, it shouldn't really matter how old you are."
Both members were active in different areas of electronic music before linking up, with Kennett already producing under the title Fatboy, and Hauldren operating under the alias Haul Pass, concentrating more on mashups and DJ'ing. Since joining forces, LTC has been building a buzz around Chicago, with 2016 being a breakout year. The duo is performing two shows at the legendary Coachella Music Festival next month, performing the same weekend as heavyweights LCD Soundsystem, Jack Ü, and M83.
"It's always been about making good music," Kennett confirms about the duo's philosophy. "We decided after our first couple shows to stop seeking them out, and to work on getting our music out to as many people as possible, working five to eight hours a day on producing music. Now, the past 10 shows have been sold out. Working on music first has been the decision that really brought us here."
Out of LTC's growing catalogue, "It's Strange" has served as their breakthrough single. A Hype Machine hit, the track contains more than 20 remixes in its official release formats. It's a light and groovy song that features vocals from fellow Chicagoan K.Flay, who also anchors the track's video. The song even garnered a surprise endorsement from Taylor Swift, who selected "It's Strange" among her list of New Songs That Will Make Your Life Awesome. "It's really cool to know that our song got into her hands and that she wanted to share it with the world," Hauldren shares.
Aside from Coachella, 2016 holds additional festival dates for the duo, and the release of a new EP, currently in the mixing and mastering stage.
Knuckle Puck:
Life Imitating Art
Bleeding-heart-on-your-sleeve pop-punk is nothing less than a tradition in Chicago, and south suburban outfit Knuckle Puck may just be the next heirs to the purple velvet throne, delivering heartfelt songs of heartbreak and redemption. The band – vocalist Joe Taylor, guitarists Kevin Maida and Nick Casasanto, bassist Ryan Rumchaks and drummer John Siorek – have released a steady stream of EP's since 2011, including 2013's The Weight That You Buried and 2014's While I Stay Secluded. In the summer of 2015, Knuckle Puck released their debut full length, Copacetic, a record that's upfront and unabashed particularly on the brash "Poison Pen Letter," while moments like "Ponder" offers a more vulnerable and wounded perspective.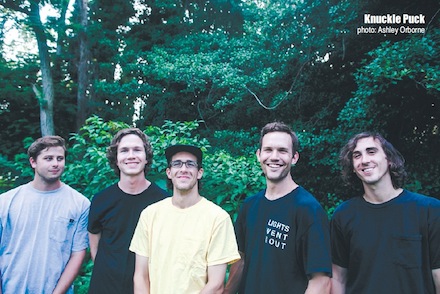 Attend a Knuckle Puck show and you'll witness a room full of fans feverishly emoting along to every word of Copacetic's epic closer, "Untitled." Summer 2015 also saw another landmark event for the group – Knuckle Puck was a part of the Warped Tour. It's a trek Maida looks back on as a memorable, if not surreal, experience. "I remember (the Massachusetts show) was insane," Maida recalls. "None of us really had any real concrete expectations for Warped Tour. But days like that, and in Tinley Park, and a handful of  other dates where we actually had a pretty sizable crowd just watching us, is just like, 'Whoa, this is kind of weird.' It almost looks like you're looking at a painting, and it's not real. You're just looking at something that was made up, but it's like reality, in front of your face." Anytime people just watched us, I was like, 'Wow. They didn't have to do this, and they are,'" Maida adds. "That's wild to me."
Even with a successful run on the Warped Tour and a debut album under their belt, and upcoming dates both in the States, the UK and Australia – it still feels like it did in the beginning for the band. "Every time we practice for a tour or writing, it still feels like day one to us," the guitarist admits. "It still feels like nothing really has changed with our band. We're still doing this for fun, but then we also get to do it full time. And it's kind of cool. We don't really remember that until we leave for tour again. But it's just crazy. I think for all of us, we still feel the same way about our band that we have for the past four years."
– Jaime "Black" de'Medici