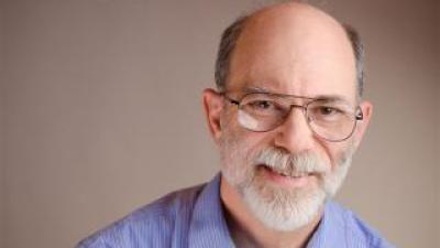 You may know Roger Badesch as a news anchor. That's what he is every weekend on WGN Radio (720AM). You can hear him on Friday nights (overnight), Saturday nights (overnight) and Sunday nights (6-Midnight), and he also fills in occasionally during the week. But Roger has taken an incredibly unique route to that anchor chair; one that saw him work as a teacher, a public relations executive, a press agent, and more. He hadn't really thought about the interconnectedness of those various jobs until he was asked about them, but he admits there are some similarities.
"All of them are about connecting with people. That's what I love. Connecting with the listeners, and being able to inform them what is going on, that draws me to the news. I found my second calling in education years later, which I did for twenty years, and there is an even more direct connection there. You can see people grow right in front of you. When I did public relations for the mayor's press office ('81-'85, for Jane Byrne and Harold Washington), the part of the job I enjoyed the most was helping the public get to know about the good projects – the serious work that was being done to help people. I guess it is all interconnected. I enjoy educating. I don't think about it while I'm doing it, but I guess now that you mention it, they are all similar."
But despite loving all of those jobs, radio is special to Badesch. "I love it from the second I walk in the door until the moment I leave. I'm a child of radio. I grew up in Chicago with the transistor radio under the pillow, listening to rock radio on WLS and WCFL. I still have vivid images of my dad listening to the Cubs games in the garage, listening to the Bears games with Jack Brickhouse and Irv Kupcinet. It must be in my blood. My persona changes when I walk in the door at WGN – because it feels like I'm in heaven."
His career has now come full circle. Radio was also his first job, many years ago. "I don't even want to say how many years ago," he jokes. "I started in high school in the late '60s, and then in college too. After I graduated from SIU, I worked in Las Vegas for 3 years and that was a blast. Vegas was and is a star-studded town. I interviewed Jerry Lewis. Covered the big sporting events. The heavyweight championship bouts. The tennis tournaments. That was so much fun, and it was a great education. I got to make my mistakes there."
That Vegas gig led to his big break in his hometown. "In the late '70s I worked at Q-101, and we had a pretty big newsroom for an FM station. We had a 15-minute newscast at noon every day. My beat was City Hall. I had a desk in the radio room there. I sat next to all the big radio reporters like Bob Crawford, Bill Cameron, and Jim Johnson. It was an exciting time – Jane Byrne had just been elected."
It was also the last radio gig he held for a while. The radio business had begun to change, and news departments were reduced everywhere – especially at FM stations. After the Q-101 newsroom was reduced, Roger worked for the Mayor's office, and at Edelman PR, before going into his teaching career. Little did he know that teaching would eventually lead him back into the broadcast booth.
"It was really sort of a fluke. I was teaching at Chicago Vocational High School, and I was teaching broadcasting. After a couple of years I saw an ad for a newsperson at WGN. I thought – my students don't really know me, and it would help my credibility with them, which would help me become a better teacher, if they could hear me on the radio. I was afraid I was too old, or had been out of the business too long, or that they had probably already filled the position, but I got lucky. Some people at WGN actually remembered my name from Q-101, and they asked me to come in to do an audition. They liked how I sounded, so I got the job. It was just a right time – right place sort of thing."
His unique career journey isn't the only thing that has given Badesch perspective on life. A few years ago he was diagnosed with cancer. "I always tried to live in the moment – to pack as much into every day as I could. It's even more so since my surgery and chemo treatments, and because my wife has gone through it too. My resolve is to get the most out of every day. I'm not throwing flowers in the air, bouncing up and down the street, because life's not like that, but if you can drive yourself to see things positively and know that things will be OK no matter what you have to go through, before you know it, you realize that life has got to be LIVED. Since the surgery a few of my body parts may be missing, but I'm cancer free now, and I'm still taking my dog Rufus for his constitutional every morning, playing golf, playing softball in the summer, and still working. And I love every minute of it."
When Roger Badesch says it, you get the feeling he really means it.
-Rick Kaempfer