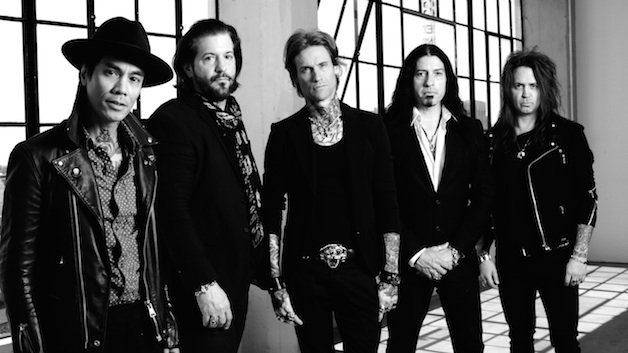 While the radio airwaves are swirling in a sea of robotic pop so sweet it makes one want to hurl, Buckcherry continues to give it loud, fast, and hard to fans who want to thrash their heads, shake their booties and their fists… To just let out some f-ing cathartic steam.
After the thematic 2013 LP Confessions and last year's purely-for-fun Fuck EP, their newest LP Rock N Roll, according to front man Josh Todd (and the title), is a return to what they do best. "Confessions was quite an emotional effort that we took a long time to write and record," Todd said. "So we just wanted to make a fun rock record and not overthink it." True, it's a return to loud, chugging, swaggering guitars and sexy bass lines, but with added touches like the horns on "Tight Pants," the multilayered harmonies on "Wood," and the countrified twang on the ballad "The Feeling Never Dies," Buckcherry proves they continue to grow and be inventive within their hard-rock niche.
Taking it on the road has always been a priority for Buckcherry. "We like playing live and it's what we built our reputation on," says Todd. "But the music business has changed drastically since we started, so the place to make a living in this business is on stage." Buckcherry may be doing it to pay the bills, but making fans happy is an equal priority. One of the things Todd says he enjoys most about being on the road is experiencing other cultures and people. One of the most rewarding of those trips was when they played for the troops in Qatar on New Year's Eve a few years ago. "Music unites everybody; it's this language that can go anywhere in the world and it speaks to people. It's cool when you're in a band in a dirty rehearsal room in your hometown, creating songs from nothing, and then all of a sudden you wind up in Qatar or Japan and Australia and Europe… It's really neat. That's what I really look forward to."
What can Chicago fans look forward to at Concord Music Hall next week? "I make up the sets based on how I'm feeling in the morning," says Todd. "There are seven records and around 160 songs, so it gets tough," Todd admits. "Then you have what I call the 'usual suspects' that everyone wants to hear, so those have to be on the set list… We rotate about six or seven songs a night to keep it interesting." Overall, Todd says expect a great rock and roll show…a lot of fun… "A typical Buckcherry show."
Buckcherry Returns to Chicago Dec. 2 Playing Concord Music Hall. Ticket information HERE.
Saving Abel opens, with Bobaflex and Full Devil Jacket.
-Penelope Biver
Category: Featured, Stage Buzz, Weekly