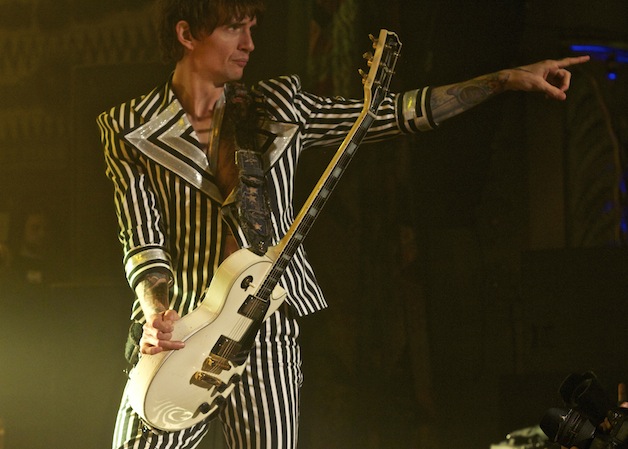 The Darkness
Blast of Our Kind Tour
House of Blues, Chicago, IL
October 20, 2015
Frontman Justin Hawkins was clearly among his people and having a magnificent time at House of Blues. "Gimme a 'D!'" he shouted early in the set, followed dutifully by a joyous bellow from the crowd. "Gimme an 'arkness!'"
The return of the Darkness to full power with their new album Last of Our Kind is a welcome shot in the arm for rock and roll. The band is the perfect marriage of the glam rock bombast of Queen, AC/DC-styled hard rock, and cheeky Spinal Tap spirit.
The comparison to Queen is particularly important. Make no mistake about it, The Darkness are one of the most formidable live rock acts currently working any stage. A hot Darkness show is as close to Queen's talent and prowess as this generation of rock fans is likely to witness. Led by Justin Hawkins and younger brother Dan, the pair make a hard-hitting double threat on lead and rhythm guitars.
The set opened with the massive riff of new single "Barbarian," delivering a tale of Norse destruction with meticulous precision and campy earnestness. More upheaval followed as Dan Hawkins anchored "Black Shuck" with a punishing riff, rooted to the stage and rocking in front of his amplifiers like Malcom Young. Justin Hawkins sang impossibly high vocals, spinning the legend of a demon dog that left a trail of death and destruction in the English countryside. Justin Hawkins wore a flamboyant black-and-white striped suit with mirrored lapels that would have made Freddie Mercury very proud, indeed. Hawkins' spirited performance inspired arena sports cheers of "Let's Go, Justin" from the crowd.
Rock-steady bassist Frankie Poullain received a special introduction preceding "One Way Ticket to Hell and Back," as he proceeded to beat the living daylights out of a cowbell with such fierce determination that no reasonable person could bring up the Christopher Walken gag asking for more.
"This song is dedicated to anyone who ever done anyfing," said Hawkins as he sat at a Fender Rhodes electric piano for the nostalgic "Friday Night" from 2003 debut album Permission to Land. Following the siren vocals and British pop bounce of "English Country Garden," he took an album from a fan up front and passed it around the stage for a full collection of autographs.
The dedications kept coming.
"This song is dedicated to anyone who ever had a dream of any sort. Ambition, life goal, anything like that," said Hawkins as he launched into the NSFW declaration of rock and roll ambition "Every Inch of You" from 2012's Hot Cakes album.
"The next song we're going to play is so new, it's been gestated and born but it ain't never been recorded," said Hawkins. "It's f***ing new. Like a newborn wobbly deer, wiping the placenta from its eyes, making its way through the forest. So be gentle." The ensuing slab of ribald and pounding glitter-rock was appropriately named "Rack of Glam."
During an extended run through the frenetic "Get Your Hands Off of My Woman," Hawkins mounted the drum riser in an impressive handstand and clapped his feet to the beat. He then led the audience in call-and-response, pausing to admonish any flagging enthusiasm.
"Let me just show you where these microphones are," he said, noting that the set was being filmed and webcast. "These are to prove that the Darkness are a viable proposition in this day and age. So when I encourage you to sing back to me, make some f***ing noise!"
The crowd responded with a deafening roar. "Okay, we're going to get along just fine," said Hawkins. After blazing through "I Believe in a Thing Called Love" with Thin Lizzy-styled guitar leads from the brothers, the band left the stage. They returned minutes later, with Justin Hawkins garbed in Chicago Cubs regalia from head to foot. It was night three of the National League Championship Series, with the hometown heroes facing the New York Mets at Wrigley Field. Stage lights blasted the words "GO-CUBS."
Unfortunately, anyone with a cell phone already knew that the Cubs had lost 5-2. After a cover of "Street Spirit" as recorded on Hot Cakes that sounded closer to Iron Maiden's "Run to the Hills" than Radiohead's original song, Hawkins delivered the bad news to those not in the know. "But here's the good news," he said. "Four wins in a row, and sports achievement can be yours."
"This one's for all the Cubs enthusiasts in the world, of whom there are many," Hawkins announced, playing "Love on the Rocks with No Ice." A burly, grinning gentleman carried Hawkins on his shoulders through the crowd, as the guitarist soloed behind his head and bumped fists with fans. Afterward, he dove from the speaker stacks into waiting arms below.
Once back onstage, Hawkins marveled at slo-mo cell phone footage a fan had just caught of the daring dive. Hawkins was able to project it on screen for the entire room to view, thanks to the Yahoo! and Live Nation cameras capturing the set.
While leading an impossibly difficult call-and-response scat, Hawkins paused. "I apologize to everyone in the front row," he said in his earnest British accent while indicating his orthodontic work. "I'm having my teeth corrected, and every time I sing something especially high, much more spittle comes out than normal."
It was a final note of camp (and gross-out) humor that accompanied the band's stratospheric musicianship.
– Photos and review by Jeff Elbel
Category: Featured, IE Photo Gallery, Stage Buzz, Weekly