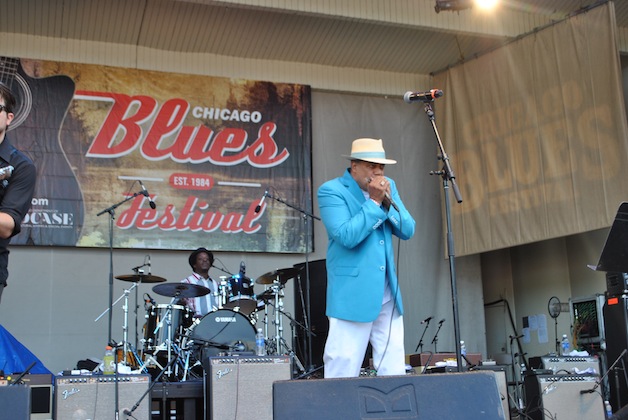 Grant Park
June 12, 13, 14
The 32nd Annual Chicago Blues Fest showcased a revelatory line-up of masters and newcomers that could not be stopped by cold, rain or lightening. The weather may have dampened clothes but the spirit of the blues refused to be drowned out. Headliners Shemekia Copeland, Toronzo Cannon and Buddy Guy delivered high impact sets and newcomers Jarekus Singleton, Marquis Knox and Jamaiah Rogers announced the arrival of a new generation of blues musicians.
With an imposing portrait of B.B. King looking down from the stage, Buddy Guy quietly took his place as the elder statesman of the blues. Eschewing typical bluesman finery, he wore a jumpsuit and baseball hat, humbly offering up his artistry. Opening with his signature "Damn Right I Got The Blues", he presented his expected guitar pyrotechnics but the highlight was a pure tribute to the King of the Blues, with a heartfelt take of "Sweet Sixteen." He played through a heavy downpour but an umbrella equipped crowd didn't seem to notice as they witnessed an unofficial passing of the blues torch.
Shemekia Copeland graciously stepped in for Taj Majal, making Saturday's headliners an all Chicago treat. Blasting out her evocative mid-temp groove "Dirty Water," she instantly commanded the stage. Switching to the gritty blues ballad, "Married To The Blues," she unleashed her vocal range, inspiring screams from the crowd. Shemekia dived into rock-tinged blues for "Somebody Else's Jesus" and the funky groove of "Never Going Back To Memphis" but the showstopper required no groove at all. Honoring her father Johnny Copeland, she launched into his powerful ballad, '"Ghetto Child." Although the song is 50 years old, the chorus still rings true and she belted a capella, with the rain falling and the crowd rapt, 'I'm just a ghetto child/ in this so called free land." Promising to stop the rain for Buddy Guy, she poured her heart into the tune and did just that.
Declaring that "Chicago blues is still alive" throughout his energetic show, Toronzo Cannon demonstrated just that with an impressive performance of original tunes like 'Walk It Off" and "Cold World" that showed off his guitar skills and engaging storytelling. Jumping into the audience and playing his guitar through the crowd, he ended with his trademark (Jimi Hendrix influenced) playing strings with his teeth and high jumps.
Young Mississippi bluesman Jarekus Singleton convincingly staked his claim for the one to watch with an incendiary performance of original tunes from his critically acclaimed Refuse To Lose CD on Saturday. Decked out in a free-form fro, red tank and unlaced, gray Tims, he showed new school attitude with old school skills. Moaning and pleading with the conviction of a much older man on "Suspicion," he turned up the funk for "Gonna Let It Go" and covered every chord with emotion for 'Crime Scene" and "Keep Pushin'".
St. Louis upstart Marquise Knox displayed a deep blues feeling that belied his 24 years. Belting out tunes with fervor while dancing a two-step, he explained "the only time I rock my blues is when I lean from side to side." Topping his strong set with his "Can A Young Man Play The Blues?", he belted, "everybody wants to know/can this young man play the blues/I tell them not only can I play them/if you listen/I can sing them too."
Chicago's own Jamiah Rogers and The Red Machine reflected the growth that the 19t-year-old has developed after years on the blues scene. Combining hot licks with smooth showmanship, his star quality can't be denied.
Sunday's headliners were all about Chicago blues heritage, celebrating Willie Dixon and Muddy Water's centennial tributes.
Mud Morganfield kicked things off by accepting a Blues Foundation award for his heartfelt CD, For Pops: A Tribute To Muddy Waters, and dedicating his award "to mom, dad and B.B.King." The Dixon Family featuring Bobby Dixon on piano, Freddie Dixon on bass and Keisha and Tomiko Dixon wailing away, captured the essence of Willie Dixon's far-reaching repertoire. A highlight was a recovering Eddie C. Campbell, assisted by Barbara Mason in a touching rendition of "Spoonful." Sugar Blue's soulful take of "Little Red Rooster" was another standout.
Billy Branch started show in honor of his mentor, Dixon, with a hot offering of tunes from his critically acclaimed Blues Shock CD. The highlight came when Billy was joined by Eddie Clearwater (sans indian head dress) and Ronnie Baker Brooks for a blues blowout of "Came Up The Hard Way."
– Review and photos (June 13 & 14): Rosalind Cummings-Yeates
Category: Featured, Live Reviews