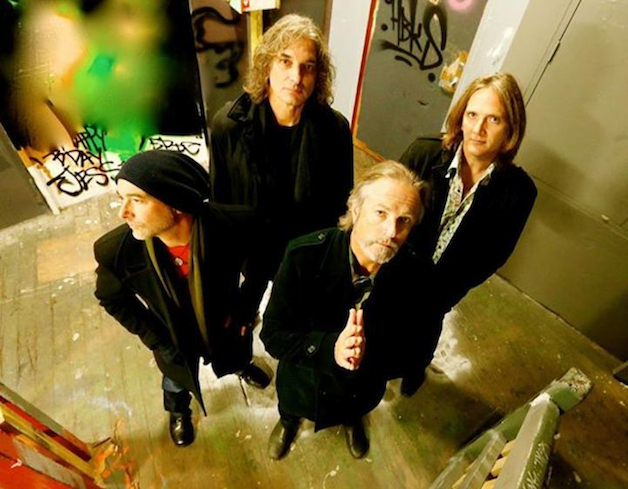 Tim Powles, veteran 20-year drummer for Australia's psych-rockers The Church, made hay with their 1988 college rock (and WXRT) hit "Under The Milkyway," but their deep catalog goes back to the "new wave" era in 1981 when U2, Echo & The Bunnymen and The Cure were making baby steps developing early alt-rock.
Arguably, Powles might have saved the band with his calming personality, steady drum skills and most importantly – his background as recording engineer/mad scientist and studio boffin. Making his mark in 1994 as a guest player offering drum loops and early DAW recording prowess on the band's last major label (Arista) album Sometime Anywhere, Powles provided the band with a ray of light as leader Steve Kilbey battled heroin addiction and guitarist and co-founder Peter Koppes took a sabbatical, leaving the Church's future in doubt.
By 1995 Powles became a permanent member of the band and they rolled thru their prime indie years on the dreamy psychedelic rock of Hologram of Baal, the steely dreamscapes of Uninvited Like The Clouds and the psych-jazzy jams of Untitled #23.
IE talked to Tim Powles as he fought off a predictable and severe case of jet-lag following a sixteen hour flight from Sydney to LA. The Church is currently supporting their musically dense album, Further/Deeper. The latest chapter of band turmoil has returned with guitarist Marty Willson-Piper going AWOL (replaced by Powderfinger axe-man Ian Haug) just when the boys gathered the energy and funds to make their newest record. Through the haze of sleep deprivation, and a two-day crash course of set-list bingo, and backline equipment test-runs, Powles gave us a measured look at the band's run-up to their current North American tour which hits Chicago at the Double Door on March 6th and SXSW in mid-March.
IE: Hey, Tim how are you? A little jetlagged?
Tim Powles: A little disoriented but I'm…I just don't where I am (laughs), we were just in one of the biggest shopping malls in America [in Sacramento] and I guess I'm just trying to find a Starbucks. It's just been that way because we flew in from Sydney to L.A. on Tuesday and we did one of those 24-hour turnarounds. You have to be up basically be up by 6AM. By the time you get geared to the captains and the crew, then you take off and you effectively arrive at the beginning of that same day again at that [LAX] the airport. So it's really weird. We met the support crew, I think we had a one hour down time, and we were rehearsing. It was like fly, rehearse, sleep a little, massive rehearsal day, get acquainted with our gear, and we're not sure if are we asleep or are awake (laughs).
IE: Well, you are just getting going then.
Tim: We drive to Portland tonight, because we are not doing a show today, so we're just walking around like zombies. We're in downtown Sacramento and it has got a lot of [franchise] stores. I guess American stores that are common around the world, but they're on steroids. The bizarre thing that really struck me and a couple other guys this morning was 'look at all the shopping.' It's just this whole globalization and the brands are just the same brands everywhere – and its very odd.
IE: There's not much of that in the music business yet, thankfully. You're playing the Double Door which is unique, with so much history.
Tim: That's great – we've switched [booking] agencies. So, I think because it's a bit of a gap between tours. So you think the Double Door is a good match?
IE: Yes. The Church could have played a larger venue like you did the last tour (Park West). But this is a real treat. It's so intimate for the fans, and a great Chicago neighborhood (Wicker Park).
Tim: It's been 3 years [since touring] and there's been some changes for us. Personally and musically.
IE: Well this tour you're playing the new record (Further/Deeper) and you're mixing in some of the old Church stuff as well. So, that's a different vibe than the last tour. You played three classic albums (Starfish, Priest = Aura, Untitled #23), which brings a different kind of fan who knows you from Starfish and "Under The Milkyway. "
Tim: What's your take on that? Because we've been actually really pleased with the [album] sales from the tour and we're kind of a little bit surprised, because if we're gone too long and we don't get back over here, we feel like it gets harder every time. We've got a manager in the States., and we haven't had a specific manager on the ground in America, well it's actually been 20 years, maybe.
IE: That was one of my questions – you were self-managed for a while.
Tim: Well, we had to change some things going forward about how we're going to operate and how we are going to make sure that we do the right thing. There's just some big questions from the last year and a half and one of them was, how we were going to make a good record.
IE: And you did.
Tim: Well, we did. It was funny because we all kind of agreed that we had to – but that doesn't mean it's going to happen. Untitled #23 really turned some things around [commercially] for us, it really helped things up because we've been making good records, but not records that could have, should have…been 100% water tight. Generally, we self-produce and sometimes, you miss the the producer, where somebody just puts a stamp on it when it's done. The band says that might not be very fucking good for you. A classic example is Starfish which is really well known for us. If you speak to the band members were they were not fond of making that record…
IE: It sounded like it was a very difficult record to make and then it came out, and it was huge.
Tim: But that record (Starfish) was a record the band had to make because without that record we wouldn't have the platform to be able to do what we do now.
IE: Exactly.
Tim: Steve (Kilbey) and I both mutually agreed that if Further/Deeper was average then it shouldn't be released, we should just hang up our boots because what a great way to close the page in the history books with a great ending, great career, the curtain goes down.
IE: You have a new guitarist in the band, Ian Haug. He has a much different background from Marty (Willson-Piper), his former band (Powderfinger) was huge in Australia.
Tim: Yes, very popular, more mainstream, massive in Australia They were financially very successful. A lot of people in America and Europe weren't realizing how big how that band was. They were together about 10 years, just massive at home. When they finally called it quits a few years ago, they sold out a week of shows in Brisbane in these 7,000-8,000 seat arenas. Really impressive stuff.
IE: He wouldn't have been an obvious choice to replace Marty.
Tim: It was a weird thing because to me, I wasn't particularly intrigued either way by Ian as a choice at first. Steve had a vision that he would be a good choice and he was right, he's been great for the Church. Some people have said 'Powderfinger is kind of the antithesis of the Church,' but it's worked. All that really matters is now Ian fits in as a guitar player with the Church
IE: What has been the fan reaction?
Tim: Some people have said…I'll say it's fifty-fifty, some people say, 'Yeah, that's great, that's perfect and some would go really?!' But people's opinions don't matter now, because we're way beyond that.
IE: That brings us to a sensitive subject. Marty was unavailable for this record and tour. He's been with the Church since the beginning. Was there hesitation in carrying on or was there always a plan to go without him?
Tim: It didn't happen that way because there was a plan to go on. Maybe some hesitation yes. It's really hard to explain. For part of me it's sad. I get sad about it. We sure did a lot of shit together and bands aren't designed to do certain things (long term) but we've all been in this for a long time, well…I mean I have put over just now, over twenty years in it. And Marty and Steve and Peter have been doing it for 35 years.
IE: I think a lot of fans feel that way.
Tim: Well, my other point is this when someone says to me 'you can't be in The Church anymore' because one has chosen to not be in it, I kind of go 'hang on a minute.' I appreciate your sense of your indulging your commitment, and your love for the band, and maybe for your love for certain people in the band. But we're artists and we all make our choices and no one was pushed out. No one was pushed out, no one has been sucked out or manipulated at all. It made me realize with Marty leaving, that deep down I was committed to The Church.
IE: Let's get back to happier things. Back to Ian, how has he fit in so far?
Tim: Really well. We've only played a handful of shows before this tour, but really well. In the studio he came in and he was comfortable. I don't think I 'm misrepresenting him by saying this, but he was kind of jamming along watching or just responding to what we were doing at first, but in his head he was thinking 'I will just go with these guys and jam and then I will do my real thing later.' I'd say 75% of his playing was just right, and that we never did the real thing later because what came out was the melodic transcription for a lot of the music on the record. Ian was coming as a fan of the band, and we went thru the songs, and as we finished the first sessions we told him 'oh yeah, that's good and yeah, we just made it and that's it (laughs)!' Ian brought space to this record, which gave us a bit more room to maneuver.
IE: What was the recording process like?
Tim: We finished the band tracking on the record around March or February and then Steve and I worked on vocals and stuff like that and then we did mixing, which was fairly slow. However, we made that actual bounds of the record really quickly and that's why we were just so elated with it. That early tracking was pretty cool. We booked a five day block and a three day block, at a bigger studio than mine. We had to change the physical and emotional head space we were in because of all the things that have gone down between us all over the last two years.
Working in my studio (Spacejunk III) like we had for the last few records would not have worked We wanted a fresh thing, so we used the same engineer Ted Howard, that we had used for the last two acoustic records (Uninvited, Like the Clouds, El Momento Descuidado) that we made. He one of the best engineers in Australia, certainly the best I've ever worked with. He's worked with everyone from Black Sabbath to the Black Eyed Peas). The studio (Rancom) is owned by Garth Porter, a really fantastic guy and a member of this legendary ('70s) Australian pop band called Sherbert. Any way, this studio had a great vibe, kind of an Abbey Road vibe to it. In those first five days we wrote eighteen tracks actually but actually, we didn't finish them all and we blew them out in the next three days we actually thought we could get five or three since we were common, but we ended up with twenty six songs.
IE: Right, So you can make another album now if you need it (laughs)?
Tim: Ahhh, No.
IE: I'm kidding (laughs)?
Tim: (Laughs) I know. It's okay. I'm not biting on that on it because people have kept saying 'give us some outtakes!' And I'm like 'naw, the stuff is not good enough.' We do have an extra track coming on a vinyl compilation though, so that's something to look out for. I'm supposed to be mixing that for Anton Newcombe of Brian Jones Massacre who has his own boutique vinyl label.
IE: So how will the live show break out? Will you be mixing up new songs from the album with the old Church stuff?
Tim: Yea, we'll be actually playing two sets. I think we have to play two sets – because we are intense live and we do like to play long songs and what we've found is that if we take a break we can stay energized.
IE: Did Ian get to pick a few songs from the catalog? I'd imagine he can pick out a few gems.
Tim: It's funny you mention that. Yeah, Ian did pick some songs, interestingly that's a laugh because he's such a fan, when he just first came in with his song choices it was just about sixty songs long, and it was just about every song that we've never heard of you know (laughs) yeah, it was great but some of them were just too obscure to play on this tour. We're lucky with our fan base, there' such a great connection. We don't really feel pressure to do anything conventional, so what's comes out is – there is nothing premeditated about our music. And the whole musical world is just full of premeditated contrivance these days, it's just rolling right now. And that's not us, fortunately.
The Church perform at Double Door, Friday, March 6 – Sold Out
– John Vernon
Category: Featured, Stage Buzz