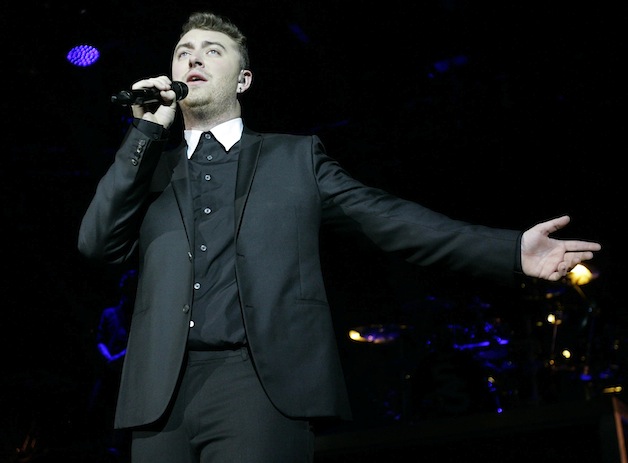 UIC Pavilion, Chicago
Friday, January 23, 2015
In just a few short years, Sam Smith's ascent has been nothing short of meteoric, further validated by an inaugural arena tour that includes stops at New York's Madison Square Garden and two nights at L.A.'s The Forum just a single album into his budding career. And locally speaking, even after packing the Vic Theatre, Riviera Theatre and Chicago Theatre within the past ten months, the English singer/songwriter sold out the UIC Pavilion as fast as a finger snap, bolstered no doubt by the unrelenting chart action of his platinum-plus debut In The Lonely Hour (Capitol Records) and six Grammy nominations.
No wonder why the previously shy 22-year-old was grinning from ear to ear as he took the stage to the soulful beats of "Life Support," augmented by a five piece band and trio of background singers (who occasionally doubled as dancers). What the relative newcomer lacked in superstar-level experience, he more than made up for with hauntingly beautiful vocals that had the mostly teen and twenty-something audience swooning and screaming for 75 minutes (split between his freshman tales of unrequited love, plus a few more cheerful covers).
Granted, the somewhat subdued nature of the falsetto-packed "Leave Your Lover" and the sauntering ballad "I'm Not The Only One" would've been ideal in an intimate environment, but Smith's pitch perfect execution effortlessly reached the furthest rafter. Acoustic treatments of "Good Thing" (in spite of a baby grand piano malfunction) and "Lay Me Down" further emphasized he's more comfortable as a singer than a showman, while the standard "My Funny Valentine" demonstrated additional depth in his unbelievably pure range.
Although Smith turned the tides towards electronic pop during "Money On My Mind" (mashed with CeCe Peniston's freestyle throwback "Finally"), he sounded just as spectacular, even if he isn't much of a dancer. The sparser solo version of "Latch" (originally a collaboration with Disclosure) calmly replaced the beat-driven edition, though the gospel-charged closer "Stay With Me" best displayed Smith's ultimate asset: a heavenly voice in the soulful pop revivalist tradition of Adele and Amy Winehouse, who if the cards continue falling correctly, could very well define his generation.
-Review and photos by Andy Argyrakis
Category: Featured, IE Photo Gallery, Live Reviews, Stage Buzz