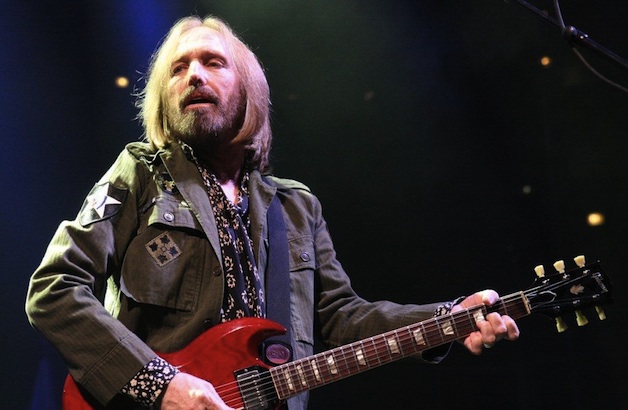 Tom Petty and the Heartbreakers
United Center
Chicago, IL
Saturday, August 23, 2014
With a catalog of thirteen albums by the Heartbreakers, three solo albums, and other projects including the Traveling Wilburys to Tom Petty's credit, no two-hour set list could have covered every fan's favorite song. It's a testament to the quality of Petty's catalog that the band could perform such a crowd-pleasing show at the United Center while skipping hits like "Breakdown," "Listen to Her Heart," "Don't Do Me Like That," and "The Waiting."
Rest assured, the audience was not short-changed. "We're gonna give you the full-length concert tonight," Tom Petty said early during the concert. "So call the babysitter. Tell her you're gonna be late." Amid the resulting cheers, Petty quipped, "You know she's got some teenage boy up in your house right now."
The band then played "I Won't Back Down," supported by a deafening choir of voices on the song's "hey, baby" chorus.
Guitarist Mike Campbell appeared to get his biggest thrills with the spark-spitting licks of Delta bluesman Big Joe Williams' "Baby Please Don't Go." Petty had fun with the song, too, spinning the tall tale of a woman who loaned away his car and ran up $130,000 of charges to the Home Shopping Network for necessities like gold lame boots and scuba gear. Petty made the next purchase himself at the train station. "Honey, I got you a one-way ticket to a place called Somewhere Else," he said. The Heartbreakers amplified the shaggy dog story with musical fills and sound effects.
Later, Petty announced that the set list was traveling all the way back to 1991. When the crowd roared approval, Petty laughed. "I'm really glad that was a good year for you guys," he said. "This song is absolutely all I remember of 1991." After mentioning that the band hadn't performed it in many years, Mike Campbell launched the cinematic lead of "Into the Great Wide Open."
New material from Hypnotic Eye was well received. The heavy crunch and siren blast of "U Get Me High" should join the rollicking "Forgotten Man" in Petty's set lists for years to come. "Fault Lines" was a notable omission. The rocking showcase for Campbell's snake-charming guitar was performed on the three-week old tour's second night in Boise, Idaho, but has been absent from the set since then.
"Shadow People" was dark and moody, and its low-slung blues provided the backdrop for a string of characters trying to find their way in a troubled world. On an otherwise celebratory evening, it was Petty's closest thing to a political statement. "I ain't on the left, and I aint' on the right," he sang. "I ain't even sure I got a dog in this fight."
The start-and-stop blues of "I Should Have Known It" from 2010's Mojo raged like a snarling, lost Led Zeppelin track. Campbell unleashed a greasy slide guitar solo punctuated by Tench's organ and drummer Steve Ferrone's powerful fills, while Petty paced the stage with a pair of maracas.
Several songs from the Southern Accents album have seen rotation into the current tour. The United Center audience thrilled to "Rebels," with an understated arrangement led by Petty on acoustic guitar and Benmont Tench's church-hall organ. The song was first performed in Chicago at Poplar Creek on a 1985 bill with the Georgia Satellites and the Del Fuegos. Both were promising bands that the Heartbreakers have now outlasted.
Rocking into their mid-60s, the Heartbreakers have reached another peak with Hypnotic Eye. Departing the United Center following the show, there was no sense that this was the last dance with Mary Jane.
Opening act and Rock and Roll Hall of Fame Member Steve Winwood played a tight set culled primarily from the earlier years of his nearly five-decade career. He stood in for old "Blind Faith" bandmate Eric Clapton with an elegant acoustic guitar solo during "Can't Find My Way Home." Most of Winwood's time, however, was spent raising goosebumps at his Hammond B3 organ on songs like Buddy Miles' "Them Changes."
Winwood nodded to his '80s pop peak with his 1986 number one smash "Higher Love," but skipped "The Finer Things" and 1988's rowdier number one "Roll With It." Other popular fare including "Valerie" and the sublime "While You See a Chance" from 1980's album Arc of a Diver were bypassed in favor of heavier blues-based rock. Even with his early set, Winwood had no trouble getting the crowd to its feet for Traffic's "Dear Mr. Fantasty."
– Jeff Elbel
Jeff Elbel is a local free-lance writer. Email: elbel.jeff@gmail.com
Tom Petty set list:
So You Want To Be A Rock 'n Roll Star
Mary Jane's Last Dance
Baby Please Don't Go
American Dream Plan B
Into The Great Wide Open
Forgotten Man
I Won't Back Down
Free Fallin'
A Woman in Love (It's Not Me)
U Get Me High
Rebels
Angel Dream
Yer So Bad
Learning to Fly
Shadow People
I Should Have Known It
Refugee
Runnin' Down A Dream
Encore:
You Wreck Me
(I'm Not Your) Steppin' Stone
American Girl
– Photos by Curt Baran
Category: Featured, IE Photo Gallery, Stage Buzz, Weekly