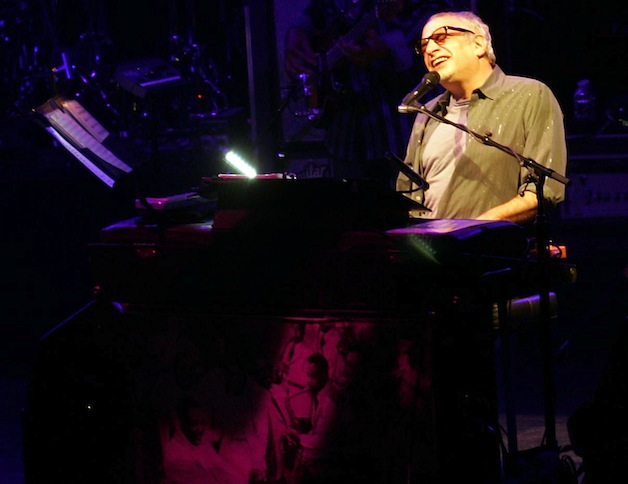 The Venue At Horseshoe Casino, Hammond
Sunday, August 17, 2014
Normally prone to playing arenas and amphitheatres, Steely Dan was quite a score for the up-close-and-personal in comparison The Venue at Horseshoe Casino, which may have contributed to the band's spontaneity on this particular "Jamalot Ever After" tour date. Although it might not be supporting any particular project (the group's last was 2003's Everything Must Go), the duo comprised of singer/piano player Donald Fagen and guitarist Walter Becker manages to avoid the staleness of the nostalgia circuit by shuffling up its set list every single evening, intermingling most of their mega-hits with some long dormant album cuts.
However, it really didn't matter what the pair played as they delivered two hours of painstaking perfectionism, accompanied by eight stellar backing musicians and a trio of soulful supporting singers who were so musically sumptuous they made up for the main pair's reserved personalities. From the get go, the trip through 40-plus years was greeted with the robust grooves of "Cubano Chant," a periodic introduction that hasn't officially appeared on an album, but fits snuggly within the context of the group's sophisticated, post-millennial comeback.
From there, the front half was constructed around the more familiar, such as the joyfully marinating jazz of "Black Cow" and "Hey Nineteen," through more classic rock-oriented cuts like "Black Friday" and "Show Biz Kids." Indeed, Steely Dan will always land somewhere in between the two styles, resulting in a fairly diverse fan base that continues selling out most every show, though its soulful side is gaining considerable prominence within the current framework.
After loosening up the audience, the 40 million album sellers steered towards deeper corners, including the newer yet surprisingly vital "Two Against Nature" and "Godwhacker," plus the often overlooked oldie "Everyone's Gone To The Movies." The ladies also volleyed vocals during an enrapturing "Dirty Work," while even Becker took a rare lead (albeit with limited ranged) during the cheeky "Daddy Don't Live In That New York City No More." A solo-filled cover of Joe Tex's "I Want To (Do Everything For You)" further demonstrated everyone's instrumental wizardry and also allowed the background sirens another chance to shine with sweet southern soul.
The closing portion returned towards a more commercial mindset, but with the standard arrangements once again coming to life with updated improvisation. "Peg" proved to be the standout out of the several from 1977's blockbuster Aja, while "My Old School" and "Reelin' In The Years" both rocked especially hard. An encore of the Kanye West-sampled "Kid Charlemagne" perhaps best illustrated Steely Dan's staying power and unmatched musical aptitude that only seems to sharpen with every unpredictable excursion.
-Review and Photos by Andy Argyrakis
Category: Featured, IE Photo Gallery, Live Reviews, Stage Buzz