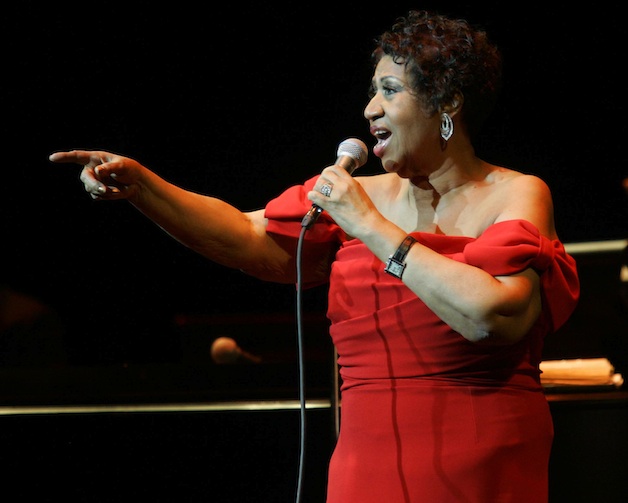 Chicago Theatre, Chicago
May 3, 2014
The last few years have found Aretha Franklin making more headlines for her undisclosed health condition than her monumental music, but during 90 charismatic minutes, the 72-year-old superstar assured a packed Chicago Theatre she's healed from the inside out. As the living legend opened with complete ownership of Jackie Wilson's "(Your Love Keeps Lifting Me) Higher and Higher," the undisputed "Queen of Soul" sported a noticeable slimmer and healthier figure as she sashayed in a flashy red gown, while her treasured voice remained mighty and durable.
She kept the groove going with a diverse, six-decade spanning repertoire that included the Luther Vandross-sculpted post-disco reinvention "Jump To It," the Jerry Leiber/Phil Spector-penned oldie "Spanish Harlem" and her first heyday hit "Ain't No Way" all in fine form. All the while, Franklin was backed by a massive entourage that included a mini-orchestra, full band, fleet of background singers and a trio of female dancers, who got particularly sultry as Franklin seduced with her Curtis Mayfield composed Sparkle soundtrack smash "Something He Can Feel."
The backing cast also had their chance to shine as the headliner went backstage to change, cranking out a funky version of Pharrell Williams' "Happy" with many members taking a solo. When the Queen re-emerged wearing a mink stole and sequined taupe dress, she was saluted with not one but two awards from the Chicago City Council and the Illinois Senate, both highly deserved proclamations, but ones that admittedly derailed a bit of the show's momentum.
Even so, those sentimental recognitions perhaps helped shift the minister's daughter's mindset to her earliest church roots, reflected in an improvisational treatment of "Old Landmark," which brought the Sunday morning spirit to Saturday night. The veteran also parlayed the praises as a chance to thank dedicated fans for their prayers and the currently clean bill of health they helped her achieve. As she took a seat behind the piano, Franklin also gave a special shout out to the present Reverend Jesse Jackson for his extra support, splitting a dedication of "I Will Always Love You" between the activist and the late great Whitney Houston (a periodic collaborator and her honorary niece).
Auntie Ree continued weaving in and out of the secular and sacred before culminating with her signature "Respect" that definitely socked it to faithful, but the night flashed by all too quickly and was best summarized by spontaneity rather than a carefully considered set list. While royalty certainly have the right to do whatever they please and Franklin could've made a mere reading of the phone book sound spectacular, it must be noted some of her most enduring anthems- like "Chain of Fools," "(You Make Me Feel Like) A Natural Woman," "Think" and "Freeway Of Love"- were all together absent. Nevertheless, at least Franklin's fully recovered and was able to display a whole lot of talent alongside an inspirational faith, which paired with her rich past of any stripe, reaffirmed she's still seated sveltely atop the throne.
– Review and Photos by Andy Argyrakis
Category: Featured, Stage Buzz, Weekly