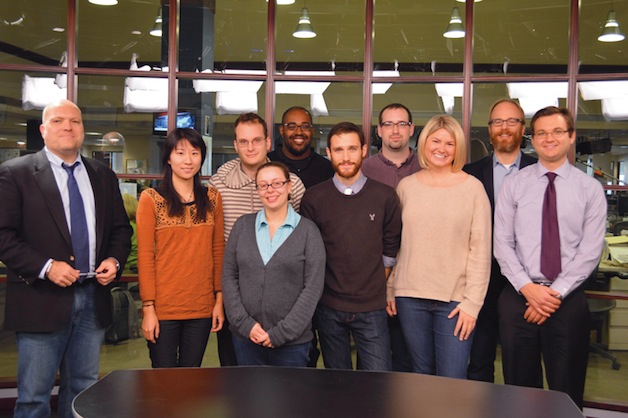 Left to Right: 
Jim Wiser
, Junru Huang, Jonathan Vogel, Mary Horan, Kes Akalaonu, Tim Desrochers, Brian Ernst, and Katie Teuber,
Clark Bender
, and Thomas Owen.
Stop The Presses
If you follow the stories about newspapers in this country, you've probably come to the inescapable conclusion that the end is near. Yet, right here under our nose in Chicago, one of those old "dinosaurs" is actually expanding one division of its newsroom – and it could very well be the wave of the future.
Clark Bender is the Director of Digital Video for the Chicago Tribune, and former radio and television producer Jim Wiser is the Executive Producer of Digital Programming. The two men are overseeing what they envision to be the newspaper newsroom of the future; a newsroom that has a very active and engaged video department. The Tribune has really taken a chance, and it appears to be paying off.
Two years ago the department consisted of two people. A year ago it was a half dozen. There are now 16 people on staff producing and creating video for the Tribune's website, and in ways that had never been done before.
"We've been granted an opportunity to extend the already fantastic work our reporters and columnists are doing and advance it," Bender says, "but also to find new areas that we can branch out into that can help establish a new identity for the Chicago Tribune.
We'd like to think that we won the trust of everyone here, and we won't do anything stupid or misuse the brand we've been granted, but we also want to see if there's anything new we can do to branch out – to engage with the audience in new and exciting ways."
They've developed a number of regular livecasting shows for chicagotribune.com, featuring Chicago Tribune veterans like movie critic Michael Phillips ("Reel Thursdays"), theater critic Chris Jones ("Culture Lunch"), beat reporters ("Metrodesk"), and sports reporters (the Bears show "Three & Out").
Having an old radio and television producer like Jim Wiser on hand has been invaluable in creating these shows. "It's a lot like producing radio or television," Wiser explains. "To me it's always come down to content. Do we produce great exclusive content that you have to come to us to see? That's what it's all about."
The breakthrough for the department occurred just over a year ago. Election night was a watershed moment. "We were on for six hours," Wiser explains, "and brought on television anchors and reporters we have here. Once the newsroom saw what we were able to do and what we could contribute creatively, that really helped. That gave us some wind behind our sails."
"That's true," Bender concurs. "I think there was skepticism at first. That's why the election was such a big night for us. We went from zero to a hundred miles an hour overnight. To create a six hour livecast like that at the drop of a hat, right in the middle of the newsroom, with a dozen or more participants behind the scenes and in front of the camera, that was a real game changer, internally and externally. It added an electricity to the newsroom."
And while they used the tricks of other classic media like radio and television to launch this venture, their continued growth relies heavily on another secret weapon: their youth.
"A lot of these young people in the department bring a wealth of production experience to the table that really boosts our capabilities here," Bender explains. "They may be young but they are digital natives and have been for most of their lives. It's second nature to them. They've been editing for ten years. That's one of the reasons we wanted to bring them in because they do provide an extra creative spark – not just for us, but everyone in our newsroom. They have a great respect for the Tribune, and have a real can-do attitude, and that has gone over very well with the more old school newsmen."
Both Bender and Wiser are convinced they are riding the wave of the future. "The possibilities are endless," Bender says, explaining his vision. "I don't know what the timeline is like, but in a few years when people's televisions start to look more like their smart phones—when you turn them on and get a series of icons to click on – I want to make sure that for people living in Chicago, one of those icons is the Chicago Tribune. I want them to expect to see video when they click on it. I don't know whether it will be live video, or some algorithmically cured stream of video, or whether it will be editor's picks of what video to watch—but I just want us to be there. It really feels like we're actively taking control of our destiny. We're creating the newspaper newsroom of the future here."
It's not often that you'll find a sentence that contains both the words "newspaper" and "future."  For those of us who love the business, that's encouraging news indeed.
– Rick Kaempfer