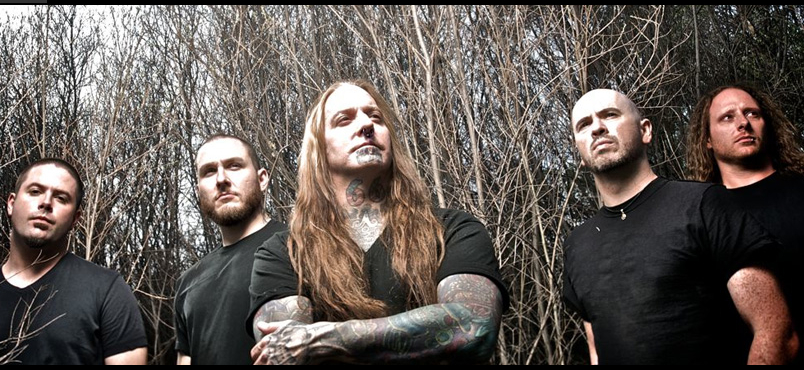 Devil Driver 2013, Dez Fafara (center)
Laser-like Focus
What is it? – Caught in a Mosh!" That solitary lyric delivered by Anthrax vocalist Joey Belladonna from 1987's Among The Living album still has a soft spot in my "Metal Heart."
Commencing with this month's Mosh column, I'll be bringing you various metal updates and happenings highlighting local and national acts recording and performing in Chicagoland. Metal enthusiasts found a bevy of breaking news on various metal websites about a confrontation between Chicago death metal ensemble Broken Hope and their tour partners, Deicide. The former was suddenly kicked off the final two dates of the No Salvation tour at the end of October over a spat between BH and Deicide bassist/vocalist Benton over shared music equipment. Following the argument, Broken Hope guitarist Jeremy Wagner posted an email against Benton that was reported on various metal-based web outlets. However, days later, Wagner and Benton agreed to call a truce and both bands agreed to take the high-road. "We kissed and made up, and we're all friends again," Wagner said with a deadpan sense of humor in a recent phone interview. "That whole thing was just a misunderstanding. We had a disagreement about some of the backline gear and a couple of guys lost their temper and it turned into a bunch of drama that didn't really have to happen."
Despite the altercation, Wagner said it was a great tour and that Benton is one of the easiest guys in the business to deal with. "We've been friends with Glen since 1995 when we toured with Deicide back when our third album (Repulsive Conception) came out. We went into this tour as friends and we've never really had a problem with Deicide before or with Glen personally." Benton's version of events will appear in Mosh's January '14 edition.
Broken Hope's DVD documentary, 25 Years of Sickness: The Broken Hope Story, included in the digipak version of its "comeback" slab of gore, Omen of Disease, is must-see TV for both Broken Hope and death metal fans. The DVD also offers crossover appeal to any music fan who can appreciate an honest, raw and compelling story about a band's perseverance. "It's a documentary made by filmmaker Frankie Nasso," Wagner said. "There's so much footage of the band from when I formed it as a teenager up till now. It's really in-depth and takes the viewer through the whole history of Broken Hope; the successes, the tragedies. Like Joe's (Ptacek) death and then the return of this band under miraculous circumstances – to come back bigger and stronger than ever."
Several Mosh-worthy shows have passed through the Windy City recently, and there's plenty more to come as winter progresses. California's groove-metal machine DevilDriver has just released its maturing, yet bludgeoning sixth album Winter Kills (Napalm Records), and appears at House of Blues on Sunday, Dec. 8. I spoke with frontman Bradley Dez Fafara (who also fronts Coal Chamber) on the band's tour bus before a show at Wooly's in downtown Des Moines, Iowa on its current co-headlining tour with Trivium.
Mosh: Performing in as many cities as you do, what's one of your favorite things to do while in Chicago?
Dez Fafara: If we can get out and go get food, that's always a good thing in Chicago. I have a lot of friends there that come out, too. Any time you can get out of the bus and just take a moment and be human is a good thing. It's a very rare thing that we have any time to go to (any sporting events or tourist attractions). I don't really party after the show so I kind of just shut it down. When I'm done, I'm done.
Mosh: You seem very focused (musically) on Winter Kills. Was there a particular (personal) event or reason that contributed to this?
Dez: I think personal life. The last two records before Winter Kills, I was having to move my family through the wild fires (in California), it was twice during the making of the record, I had to leave to go find another house to move my family and it put me in a crazy headspace. This record is just really focused. Winter Kills has some great grooves. We really honed in on what we do best and put our best foot forward.
Mosh: One thing most people might not know about you is that your father (Lucas "Tiger" Fafara) was a child actor who appeared on the iconic '60s TV show, Leave It To Beaver (as Tooey Brown). The roles are somewhat reversed now with your own kids growing up with a famous dad.
Dez: My father was an actor. I never really grew up with him. We didn't really get to know each other until later on in life. Even now we're kind of reconnecting. I knew what he did (acted) but we just weren't close. I was in strange positions my whole life with stepfathers that didn't really treat me too well. With my kids, I don't think they see it any different than me being any other father, although I come and go, that would be the only thing. But I'm in their life daily. We talk and I try to be a guiding moral force as much as I possibly can. Kids that grow up with famous parents, or parents in an industry like mine, sometimes it changes them. If they're living in Hollywood, they can get into some bad things. But I live in a small town. I don't think it's changed my kids one bit. I think they're proud of what I do.
Mosh: As long as they don't bring home any Miley Cyrus CDs.
Dez: (Laughing) They listen to a lot of different music, man. Everything from rap to Excision and Skrillex. I hear tons of bands. But they love metal as well, so it's a good thing.
Mosh: On Winter Kills, you recorded your vocals at home in a make-shift vocal booth while the rest of the band recorded in the studio in Florida. What were the benefits and the advantage of recording separately?
Dez: I just realized that we had been gone so much already, that now putting me out of my place another two months would get me to a point where I'd be like, 'Ok, I'm on song seven and I have four more songs before I can go home.' I don't want to cheat myself or cheat the listener. I want to be fully into it. I don't want to be focused on that when I can go home. We had an extra room downstairs and we gutted it; black carpet, black ceiling, black walls, all-orange accouterments. I called vocalbooth.com and they went through different dimensions with me. It just added so much focus to this record. The record really came together quick because I was so focused.
Mosh: The last song of the album, "Sail," is a cover song from the electronic/pop band Awolnation. On paper, it's an odd choice of a song for a metal band to cover, but you pull it off quite well.
Dez: I heard the song coming from my kid's bedroom one time. Later, I heard it again with the whole family in the car and I thought it was incredible. First, it says, 'Blame it on my ADD, baby.' I've suffered from ADD my whole life. My parents had me on Ritalin for 11 years and I still suffer from ADHD. Doing obscure stuff outside of the metal genre is what we really wanted to do. We put our own spin on it. Live, the people who know the original are singing along, but they're doing it with their mouths open (in awe) because it's metal – It's not like they're used to hearing it. And the people who have never heard it before think it's our original.
Mosh: With Winter Kills being your sixth release, to have that consistent formula for this many albums is something rare.
Dez: It's really rare that on a sixth record you A.) debut higher and B.) sell more. And the fans are even coming and saying that we have more heart. There's just something magical going on with this band and with this record, Winter Kills. In the future, we're not going to let them down, either. We have a signature sound but we always change it up. So if you listen to our first record to our sixth record, they're very different from each other. Beast, our last record is so different from this record. Pray For Villains the one before Beast is so different from Beast. I think that's what's important. We're never just going to stay the same, but then again we're not going to change so hard that we made a left turn and you leave us because we became a pop act or something.
MOSH-WORTHY… LIVE: DevilDriver (House of Blues, 12/8), Red Fang (Logan Square Auditorium, 12/16), Macabre (Reggies, 12/26).
MOSH-WORTHY: Noctum Final Sacrifice (Metal Blade), Deicide In The Minds Of Evil (Century Media), Legion Of The Damned Ravenous Plague (Napalm), Soulfly Savages (Nuclear Blast).
– Kelley Simms
Category: Caught In A Mosh, Columns, Monthly