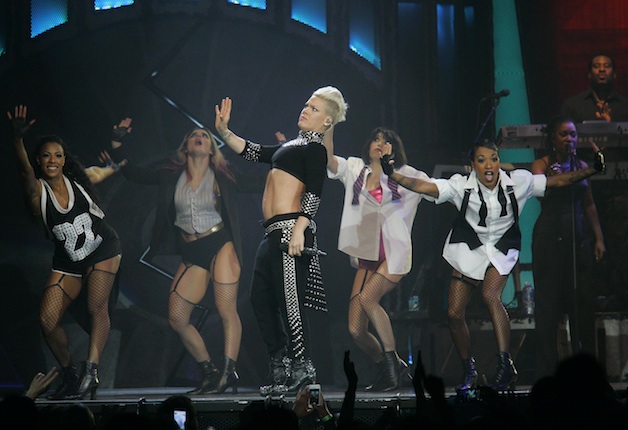 Pink, Allstate Arena, Rosemont
Wednesday, November 20, 2013
Selling out a concert three times in the same city in under a year is a rarely rivaled feat these days, but after seeing Pink's tour supporting The Truth About Love, she could probably swing through at least one more time with the same results. That's because her latest Chicago area appearance at the Allstate Arena didn't just highlight high octane hits from the blockbuster album of the same name, alongside her past synthesis of pop, rock and all around empowerment, but it also stands amongst the most dazzling concert productions to ever hit the road.
Though Pink's forceful voice more than spoke for itself and easily pummeled inferior chart competitors like Rihanna or Miley Cyrus, a mountain of special effects enhanced her talents all the more. Opening with "Raise Your Glass" signified the performer was ready to party, though before popping the cork on ground level, she showed off some impressive acrobatics by singing (sometimes even upside down) while bungee jumping from the second story of the stage flanked by a trio of buff aerialists.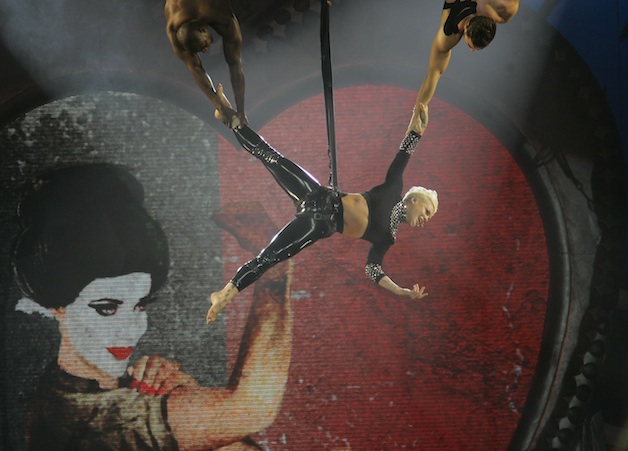 When she resumed to upright position on the floor, a massive video wall kicked into full gear to accompany the cheeky "Walk Of Shame," though she quickly turned into a no frills rocker with the older attitude of "Just Like A Pill." It turns out that trend of weaving in and out of genres, personalities and positions would continue throughout 100 unrelenting minutes, which despite their differences, were all united by her unwavering confidence and singing strength.
She flexed her chops in a jazzy direction on a cover of Chris Isaak's "Wicked Game," offered up the textbook modern day power ballad "Just Give Me A Reason" and absolutely killed it during a frill free acoustic set of "Who Knew" and the expletive edited "F**kin' Perfect." After all, Pink's now a 34-year-old mother who's cutting back on naughty words, although she didn't completely abandon her days of being a wild child with the potent but far from child appropriate "Slut Like You."
Though Pink trimmed a few songs from her set list compared to an appearance at the United Center this spring, no one seemed to notice, even if the initial finale "Blow Me (One Last Kiss)" seemed to come much too quickly. The performer returned to officially say goodbye with the defiant "So What," but not before flying over the audience (with a little help from a pulley) and saluting the balcony at eye level. Throw it all together, and Pink didn't just triumph with her most monumental concert concept to date, but incontestably served up this year's top tour that may be bound for the history books.
-Review and photo by Andy Argyrakis