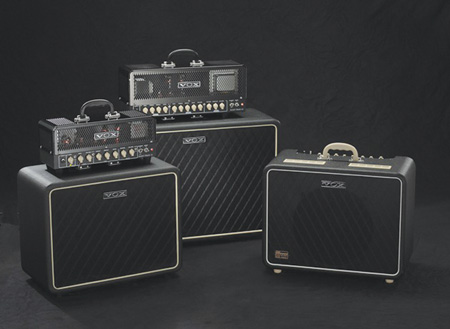 All Aboard: The Night Train
VOX Night Train G2 Series Amplifiers
Vox Amplification, the British born (but Asian-made) company has unveiled its new second generation, all-tube Night Train G2 series of amplifiers. First released in 2009, the first generation of the series made an impact with its "metally" exterior design, but the new update combines a Beatles-era classic AC30 design (and tone) a with an art-deco -era compact case.
The new "Train" includes the 15 Watt NT15H-G2 amp head, a 50 Watt NT50H-2G head, and the new entry level 15 Watt NT15C1-G2 combo amp. Optional matching cabinets are also available for the amp heads. After 4 years Vox says it has upgraded the Night Train sound with a "full, robust tube tone in a class AB design."
The pre-amp is driven by three 12AX7 tubes; the power amp boasts two EL84 tubes on the NT15H-G2/NT15C1-G2 and two EL34 tubes on the NT50H-G2 model.
The Night Train G2's two-channel design recreates Vox's jangle and crunch sounds made famous by The Edge (U2) and Patrick Stump (Fall Out Boy) , but also modern edgier tones as well. The Girth channel (nice name) has a "powerful, modern high-gain sound that's ideal for the guitarist who seeks an even heavier sound," according to the company.
The Train's Bright channel provides Vox's aforementioned clean/crunch sounds and also features a Thick mode that bypasses the tone control circuit and boosts the gain to obtain a thicker tone, for more sonic character.
Vox's optional VFS2A foot switch can be used to toggle between the two channels during live performances. A new digital reverb designed in-house for this series has been added to all models for studio-quality reverb sounds. For the guitarist who wishes to integrate pedals and outboard effects, the Night Train G2 amps provide an FX loop, and a DI output that can be connected to a mixer or PA system. The optional, dedicated speaker cabinets are available for the amplifier heads, both visually and sonically.
The V212NT-G2 contains two G12H anniversary model speakers that were specially made to commemorate the 70th anniversary of Celestion speakers, and whose voicing complements the NT50H-G2. The V112NT-G2 contains one classic Celestion G12M greenback speaker. The Night Train G2 Series pricing starts at $249.00 Visit www.voxamps.com
KORG KR Mini Rhythm Machine
With a design that looks like a funky '60s Hi-Fi radio, complete with pastel buttons and knobs and post-war (WWII) Japanese curves, Korg has released the KR Mini Rhythm Machine. Designed for guitarists, bassists, or any musician looking for easy rhythm accompaniment that goes back to basic drum machine chassis of the early '80s, the KR features a simple design focused on easy, push-button control. Like deja vu all over again.
The KR offers a total of 60 rhythm patterns in a range of genres including 8-beat, 16-beat, rock/pop, with six patterns for each genre. As an option, users can tap in their own beats via a simple record function. There are also eight song patterns containing drum parts that are several measures in length. Plus, a chain function allows users to arrange favorite rhythm patterns and fill-ins to create complete songs.
An optional pedal switch allows commands like start/stop and for triggering fill-ins. For added power, the KR mini contains a headphone/speaker output, so it can be connected to a PA system or used with a guitar amp to create a simple setup for live performances.
EASTWOOD GUITARS Marksman 5
Eastwood Guitars, longtime maker of retro re-creations of classic '50s and '60s guitars – has introduced the Marksman 5, a "tribute replica" to the super-collectable (but kinda ugly) 1957 Magnatone Mark V designed in the Eisenhower-era by famed luthier Paul Bigsby. The Marksman 5 replicates the vintage original in almost every detail, but with some modern improvements. The guitar features a comfortable, lightweight tone chambered mahogany body in a vintage Sunburst finish. This 24″ scale guitar has a 22 fret set mahogany neck, rosewood finger board, and measures 1 5/8" at the nut. Vintage tone is delivered through a pair of custom designed EW Alnico SCP90s with a 3-way switch, one volume and one tone control. The sound of Marksman is bright and '50s clean, but also responds well with distortion, making it guitar useable in a bevy of settings. Eastman says "a major upgrade over the original Bigsby (the orginal Bigsby had problems staying in tune). Magnatone has a modern adjustable roller bridge to vastly improve the setup and intonation.
"The '57 Magnatone is one of my personal favorites in today's vintage market, but it's unaffordable to most" said Mike Robinson, President and founder of Eastwood Guitars, "therefore I wanted to make a replica that did it justice and the Marksman 5 nails it." List price for the Marksman is $1249.00, a savings of roughly $5000 over an original vintage model. For details – visit www.eastwoodguitars.com
HARMAN DIGITECH DOD Preamp Overdrive 250 and Phasor 201
Is this the biggest news in guitar effects in decades? Longtime guitar and bass effects maker Digitech thinks so and it's just announced the rebirth of DOD, one of the world's most legendary guitar pedal lines that became famous in the '70s.
DOD is returning with a vengeance, reintroducing two of the most revered pedals of the glam and punk eras: the DOD Overdrive Preamp 250 and Phasor 201. Both models retain "the sonic magic of the originals while incorporating improvements like true bypass, 9V power adapter jack and other refinements," says Digitech.
"Legions of musicians worldwide still treasure their DOD pedals and still use them regularly. Now, guitar players everywhere will be able to enjoy DOD pedals once again and hear why some players won't part with their DOD pedals for any reason," said Scott Klimt, Marketing Manager, Digitech."These pedals are not strict re-issues," Klimt continued. "We're redefining what each pedal should be, and building those pedals. The paint jobs, graphics, functionality and naturally the sounds pay homage to the vintage pieces but with improvements that better accommodate the needs of today's players."
NEWS & NOTES
Tobias Music in Downers Grove is hosting its annual version of the Taylor Guitar Roadshow and sale on Friday, October 24th at 4pm and 7pm. This year's version of the Roadshow will be hosted at their newly expanded showroom at 5013 Fairview Avenue. "It's a chance for the family to bring the event back home after holding it at the Tivoli Theater for the past 5 years," Owners Paul and Ken Tobias told IE. Guitarist Marc Seal and Taylor Midwest factory expert Mike Venezia will show Taylor's newest batch of models and answer questions. Tobias will follow up the Roadshow with a "Find Your Fit" event on October 25th and a special Sunday Sale on the 26th.
– David Gedge