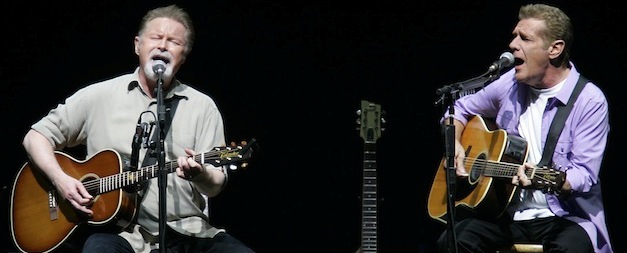 United Center, Chicago
Friday, September 20, 2013
The second half of the Eagles' career may not be as prolific at the first, but the legendary country-infused rock n' rollers are still interjecting plenty of variety into its concerts. The subject of a sold out United Center (and upcoming area return to the Allstate Arena on Saturday, October 19) mirrors the recently released DVD/Blu-ray documentary History of the Eagles, which besides blazing through the most obvious hits, looks quite carefully at overlooked crevices only a true album owning fan would know.
The most noticeable evidence that this wasn't a typical Eagles tour was the fact that members arrived to the stage one by one roughly in the chronological order that they joined the band. That meant longtime principle members Don Henley (vocals/drums/guitar) and Glenn Frey (vocals/guitar/keys) settled into the groove as simply an acoustic duo to deliver "Saturday Night" before inviting fellow co-founder/semi-retired tour guest Bernie Leadon to add his southern harmonies and acoustic strums to fellow early cut "Train Leaves Here This Morning."
That glorious wall of voices continued building in volume when bassist/vocalist Timothy B. Schmit accompanied the laidback gathering of "Peaceful Easy Feeling," followed by Joe Walsh, who added his distinctive guitar licks to the slightly more forceful "Witchy Woman." From there, the five primary players and a few longtime backing musicians brought many other oldies of varying degrees of familiarity to life, including the dust-kicker "Doolin-Dalton," the folk-flavored rocker "Already Gone" and the sky high ballad "Take It To the Limit."
After an intermission, the core four (sans Leadon) returned to explore more of its ultra-smooth balladry, alongside several revved up cuts from its classic rock cannon. Walsh turned in a heart-wrenching "Pretty Maids All In a Row," Frey softly serenaded with "New Kid In Town," while Schmidt added his tender soulful flourishes to "I Can't Tell You Why" and "Love Will Keep Us Alive." However, it was down and dirty rockers like "Heartache Tonight," "Those Shoes" and "In The City" that truly got everyone to their feet, simultaneously illustrating the Eagles' aggressive evolution that further expanded its already vast audience throughout the late '70s.
Those hoping for a sampling of Henley or Frey's individual smashes never got their wish fulfilled as they would've on previous tours (perhaps because of their extra air time together at the beginning of the set), which meant Walsh had exclusive rights to the solo spotlight (presumably to balance out his early absence). He kept the party going with the psychedelically-charged "Life's Been Good" and "Funk #49" (from his James Gang days), both of which built the momentum towards the full group finale "Life in the Fast Lane."
No evening could've been complete without "Hotel California" (delivered with note for note perfection during the first encore), though an additional surprise popped up in the second encore as Leadon returned to assist with the harmony heavy "Take It Easy," which was trailed by Walsh's endearingly weird "Rocky Mountain Way" and Henley's chilling take on the group's frequent closer "Desperado." Put it all together, and it made for a nearly three hour down memory lane that attested time and time again the hits are just as enduring as more than four decades of history.
Eagles return to Allstate Arena on Saturday, October 19.
For additional details, visit www.ticketmaster.com or www.livenation.com.
-Andy Argyrakis
Category: Featured, Live Reviews, Weekly