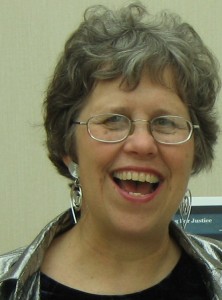 Blues lyrics often invoke themes of pain, injustice, and violence. After all, it was the suffering and inhumanity of slavery and "Jim Crow" laws that helped create the blues as a form of creative expression. So it's fitting the genre would be used to address the violence and anger currently affecting the Chicago area. Musician and blues crusader Bonni McKeown joined with community groups and the Larry Taylor Blues & Soul Band to hold events on the West and South Sides to showcase the music's healing nature.
"The basic function of the blues is the healing of the community, its survival," McKeown insists. "One person can't solve these problems, but the music is uplifting, it builds morale."
Over the last several months, McKeown, who also goes by her stage name Barrelhouse Bonni, delivered her punchy talents to community events that are working to strengthen neighborhoods and build support systems to highlight the cultural heritage and power of the music. "The whole idea is respect, honor, and reconnection," she says. "We're trying to reintroduce the music to generations that might not have connected with it before."
A native of West Virginia and avid blues lover, McKeown decided to move to Chicago to study and learn the art form after losing her job in 2003. Enthralled by the history and richness of the city's blues scene, she started playing blues piano and, as of two years ago, performing with blues vocalist Gloria Shannon as the Barrelhouse Ladies. However, it was in 2002 when she discovered another aspect of her calling and became a blues activist. "I went to the International Blues Challenge," she recalls. "Nellie 'Tiger' Travis and this brilliant young blues guitarist lost to a Canadian restaurant owner's band, playing rock tunes. It was a disgrace and it was repeated again and again over the years. I saw how heritage blues musicians were being edged out, and it really woke me up."
With her motto of "pray for peace; work for justice; boogie for survival," which borrows from her Quaker background, McKeown has tackled the disparity that she witnesses in the blues industry by producing educational blues workshops in community schools. "If I want to be a blues musician, I can't sit there and let blues heritage musicians be pushed aside," she says.
It's these musicians that McKeown believes can provide hope for communities experiencing violence and desolation. Last month, the Larry Taylor Blues & Soul Band, fronted by Eddie Taylor's accomplished stepson Larry, played two West Side community events aimed at stopping the rising wave of violence.
"The people were receptive; they were actually listening," the band's guitarist, Jon McDonald, says of the events. "We played Tyrone Davis, Albert King, and a James Brown funk tune. I think that the blues can help with healing when musicians are telling a story that people can relate to. I grew up on Jackson and Pulaski, and I was amazed at some of the changes. The parks are looking better. I see more community-minded people. It may not be perfect, but people's perception of the West Side is different because it's from people who've never lived there."
As a former guitarist for the late, great Magic Slim who traveled the world and had been living in California until recently, McDonald's perception of what is happening in the Chicago blues community, and the city in general, brings the benefit of time and distance.
"What really amazes me is that after traveling with one of the greatest blues musicians, Magic Slim, I come back and there's still a demarcation in this town between black and white. If it wasn't for the music, none of us would be under the same roof. There's a lack of opportunity here that's not afforded to everybody. I'm lucky, I had 12 and a half years with Magic Slim, but I see what's going on."
McDonald acknowledges the inequality seen in the blues industry mirrors the country's political and economic imbalance, which in turn feeds the violence and anger that community organizations are trying to address.
"I'd rather have a guitar in my hand than a gun. I made that choice at a very young age," McDonald reveals. "You make choices in life, but people need to understand that with what's going on, a lot of kids don't have a choice because it was taken away from them. I'm looking forward to doing more of these programs. It's not just about the music, musicians need to be more socially responsible. The Chicago blues community en masse needs to recognize that there's a problem here folks."
McKeown and McDonald (with the Larry Taylor Blues & Soul Band) will participate in Freedom Fest, a commemorative event marking the 50th anniversary of Martin Luther King Jr.'s March on Washington, held at the community-based Washington Park Freedom School House (6026 S. Vernon in Chicago) from 3 to 6 p.m. on Aug. 28.
"A lot of people outside of the community think that the community is demanding help and not doing anything to help themselves," McKeown explains. "But these events bring attention to the efforts made by community organizations to address the problems.
"People outside of the community can help by sponsoring music to help stop the violence. If they have a safe place to express their feelings, it's amazing what that does. Gangs are just a reaction to poverty and systematic racism. The blues is one tool that can bring people together, reconnect generations, and give them historical perspective."
— Rosalind Cummings-Yeates
Category: Columns, Monthly, Sweet Home