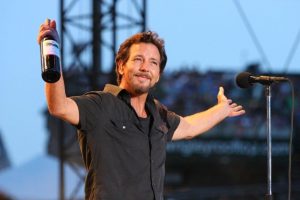 There would be no joy in Wrigleyville.
In actuality, there was no way Eddie Vedder was going to let that happen. At one point during Pearl Jam's inaugural show at Wrigley Field, he joked about the unattainable dream of playing center field in the historic ballpark. As early as last summer, one could all but see the gears turning in his head when he joined Bruce Springsteen onstage, out in that unimaginable middle spot underneath the giant green scoreboard. But now he'd finally made it happen.
And just like being six outs away from a World Series appearance, it was suddenly all slipping away. About 40 minutes into the Seattle quartet's history-making concert, the word came down. Just after 9 p.m. concertgoers were being asked to evacuate the field in advance of some severe weather (and breathtaking lightning) headed straight for the ballpark. Bjork, headlining the Pitchfork Music Festival across town, had her set cut short due to weather concerns. Phish lost the second set of their show at the pavilion on the lakefront. Some two and a half hours later, the delay would be lifted and the band and their flock would reemerge from the bowels of The Friendly Confines.
"Ernie Banks liked to say 'Let's play two,'" Vedder remarked upon retaking the stage around midnight. "I say, 'Let's play until two.'" And just like that, it was go time. He then produced Mr. Cub himself who helped out on the chorus to the Vedder penned Cub's anthem "All The Way," which he played alone, center stage with an acoustic guitar. Suddenly the script was writing itself.
His bandmates emerged from the wings and quickly ripped into the fortuitous "All Night," one of a handful of rarities the band would remove from the moth balls for this revered occasion. Vedder was in fine voice, tearing through throat shredders like "Do The Evolution," "State Of Love And Trust," and "Corduroy," as the band met his intensity with every cymbal crash and six-string pounding.
A few days prior to the show, the band's website announced additional North American tour dates as well as a forthcoming new record, Lightning Bolt (insert weather joke here) and the band used the occasion to debut some of that material. "Mind Your Manners," the record's first single, was anything but subtle. Its over-caffeinated guitars and breakneck lyrics are immediately reminiscent of hardcore pioneers Black Flag or, at the very least, an unapologetic Ramones homage. "Future Days" sauntered into ballad territory, fueled by Vedder's supple baritone and glacial pacing and the title track was met with enthusiasm usually reserved for more seasoned compositions.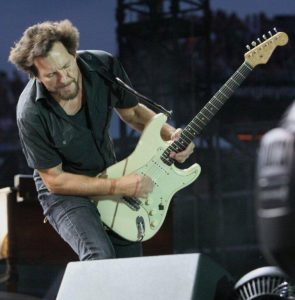 The die-hards fans, of course, love to dissect what might pop up on a set list. Arguably, the collection was a bit light on surprises. But when they did show, they left a lasting impact. The band breathed new life into Pink Floyd's "Mother," with Vedder's vocals rising and falling with guitarist Stone Gossard's phrasing. The classic rock dinosaur had its freshness date firmly renewed.
As the clock on the center field score board slowly crept past 2 a.m., the band delivered a raucous version of Neil Young's "Rockin' In The Free World." With the house lights up, a quick scan of the surroundings revealed a remarkable sight. Even after an epic delay, it sure didn't look like many of the faithful had lost hope. Finding a seat without a body in it was a pretty neat trick.
Alas, there was indeed joy in Wrigleyville.
— Curt Baran
Category: Featured, Live Reviews, Weekly