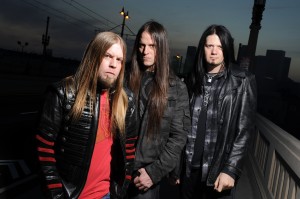 Death tends to be permanent, in metal as in life. Once you're "Festering In The Crypt," only body snatchers – or frightening white-robed angels, according to one strange tale (Luke 24:1-8) – will set you free. Death metal lives happily under the stone. Roll that stone and the worm wiggles before becoming a thing less remarkable, though more meaningful to the larger world: Soil, for example.
Soil grew out of Chicago death metal in 1997, its bloody roots in the technical malevolence of Oppressor (bassist/vocalist Tim King, guitarist Adam Zadel, and drummer Tom Schofield) and the bursting midsection of Broken Hope (bassist Shaun Glass, guitarist in Soil until 2007). Once a rough-hewn post-grunge side-project (think steam-blowing riffs, not Nickelback) that recorded with noise rock's Steve Albini (The Jesus Lizard, Nirvana), Soil would partner with producer/hitmaker Johnny K (Disturbed, Staind) and land on a major label (Clive Davis' J) in time for nu metal's commercial reign. After bailing on death metal (temporarily for Glass, who rejoined a rebooted Broken Hope last year) and adopting the era's rap-informed thump, Soil can be seen literally walking on walls in the music video for "Halo" (off 9/11's Scars), while onlooking ravers jump around and chug water. The guilty pleasure is a testament to metal's ability to draw the masses – reprised on last year's live CD/DVD Re-Live-Ing The Scars – and serves as an apology of sorts to Oppressor's disquieting Solstice Of Oppression (1994), which sounds determined to harm the masses. Is "Halo" worth remembering? A new album, Whole (due out Aug. 20 on Pavement Entertainment), argues a resounding yes, thanks in large part to the return of Soil's original lead singer, Ryan McCombs, who spent six years fronting Drowning Pool.
Calling from the 847 area code, founding bassist King spoke unashamedly about his brush with nu metal success and with nostalgia about his formative extreme metal days. He holds Will Hunt (Skrape and Evanescence's drummer who plays on Whole but is touring in Device) and Damageplan in similar regard to Macabre, Bludgeon, Fleshold, Sarcophagus, and Fleshgrind. It's a balancing act, but King's confidence is matched by the 11-song Whole, which does most of the talking for him. The engine that carried Soil into living rooms and out of big-box stores has been rebuilt (sans Glass and Schofield), and people are indeed jumping around in the new music video for "Shine On." Whether the masses do the same when Soil performs at WIIL Rock Fest on Aug. 24 at Shadow Hill Ranch in Twin Lakes, Wis., with Volbeat and H.I.M. is uncertain. A crystal ball could not be reached for comment.
Mosh: When Ryan McCombs temporarily left the band in 2004, Soil was forced to cancel performances with Damageplan. Were you supposed to play in Ohio the night Dimebag Darrell was shot?
Tim King: Ryan actually left the band a few months before Dime died. We were in the middle of the Redefine campaign, and things were getting pretty heated and falling apart. We were having some trouble. So we canceled some U.S. dates and a plan to go to the U.K. to do a tour. Ryan needed time to be with his family and was just kind of burned out on the whole music thing for the time being. A few months later, we started auditioning new vocalists. We got a guy [A.J. Cavalier] and our first show with the new singer was supposed to be at House of Blues in Chicago with Damageplan. It was going to be Saliva, Damageplan, Soil, and a couple other bands. We wanted to have a warm-up show. We didn't want the first show with the new singer to be at House of Blues for a sold-out show, so what we did was we played a little incognito show at Penny Road Pub the night before. And right when we got onstage, people were saying to me, "Dimebag's been shot" and this and that. We kind of took it with a grain of salt because Dimebag was always playing jokes and goofing around, so we thought it might have been some sort of joke, like he faked his own death or something. We didn't know. So we went and played the show. It was packed, and we were feeling real good about the new singer and playing with him the next day. We hopped off the stage, and all of a sudden, a buddy of ours walked up to us with tears in his eyes. He's like, "It's true," and our jaws just dropped. We found out that Dime had been shot and killed, and we weren't able to see him one last time and play with him [again]. It was just heartbreaking all around. I still get chills when I think that. We actually ended up playing that show with Saliva and we did a tribute to Dime, playing some Pantera songs and a Damageplan song. We actually did that song "Save Me" from Damageplan. We kind of paid a little homage. But man, it was hard to get up onstage that day, for sure.
M: Did Soil ever actually go on hiatus?
TK: No. We probably should have [laughs]. No, no, we always kept pushing through and persevering. It got really, really bad in 2010, when the new singer and our drummer [Tom Schofield] quit, and it was just me and Adam [Zadel], our guitar player, left standing. Again, we had tons of dates booked and we didn't know what to do. We didn't want to let anybody down, and we didn't want to cancel out these shows. A lot of them were radio festivals that you're invited to, and if you don't play them, it's kind of a slap in the face, so we wanted to make it happen. We got some substitute guys in and we continued and fulfilled the tour dates . . . and then kind of regrouped the band, and that's when we started talking to Ryan. We got together with Ryan in 2011 and put basically three-fifths of the original lineup back together – with me, Adam, and Ryan – and then went on a sold-out U.K. tour to commemorate the 10th anniversary of our album Scars, which is the album that really did it for us and broke us into the mainstream. We just had such a good time doing it, and the chemistry was flowing so well that we decided to keep on going.
M: Most of you guys were in death metal bands when Soil formed in 1997, and the lineup then included Shaun Glass from Broken Hope (and, previously, Sindrome and Terminal Death). You, Zadel, and Schofield were in Oppressor. What made you start a project headed in a distinctly different direction than the underground?
TK: We were just getting kind of burned out by the scene. We love death metal, and the scene was just so oversaturated, it got to the point to where it was just: How heavy can you get? How fast can you go? How evil can you be? Black metal was rising above and they were wearing all that makeup and satanic [symbols], and that was just stuff that we weren't into. The scene was just getting a little stale for us. So . . . we started writing some Black Sabbath, Corrosion Of Conformity-type riffs, and we were just having a great time doing it. We weren't thinking about what we were doing. We were just jamming out and having a good time with it. And we were like, "Hey, why don't we form a side project and get back to even our roots before death metal – like Sabbath, Metallica, and Corrosion Of Conformity?" We just kept popping off songs and things like that, [but] we didn't have a singer. I had actually gotten from our death metal days a compilation from this little magazine called The Wild Rag! out in California and it [included] a CD called Rock N' Roll Myths, and it was all black and death metal. And all of a sudden, I heard this kind of groove . . . and then the vocals [were] just amazing. I was just like, "Oh my God, who is this, what is this?" I looked, and it was a band called D.E.M. [of Indiana], and the singer was Ryan. This was before email and stuff, so I actually wrote him a handwritten letter and mailed it to him [and included] some of the riffs we had been working on. He came out [to Illinois], and we really liked what he was doing. We recorded, and Soil just kind of superseded the death metal bands and kept getting bigger and bigger and bigger.
M: Did Broken Hope and Oppressor share the same practice space?
TK: No, we actually had different practice spaces, but me, Adam, and Tom from Soil were in Oppressor, and Shaun used to live right up the street from us. So he'd come and we'd go out to lunch and hang out and stuff, and that's kind of how it all came about. The three of us were practicing and things like that. He would come by and grab a guitar. It just happened real organically and naturally.
M: Now some of the attention is back on death metal. Broken Hope has reformed with a new album due out in October on Century Media. Any hope for more shows with Oppressor?
TK: Probably not. I'd love to do some death metal stuff at some time. You know, I was the vocalist and the bass player in Oppressor. I just play bass and do some backing vocals here and there in Soil . . . I still have that burn to let out some lyrics and some vocals. I'd love to do another death metal project somewhere down the line, but I just don't think it would happen with Oppressor. The original guitar player, Jim Stopper, is living, I think, in Oregon now. Me and Adam are doing the Soil thing, and we don't talk to our previous drummer [Schofield], just due to some differences we've had, so I wouldn't say so. But Broken Hope's sailing the flag with things [black]. I have a lot of respect for Jeremy Wagner from Broken Hope because he kept that band alive for so long and formed that band. It was his project. I always loved those guys. I'm happy for them. I can't wait to hear the new record, actually.
M: I'm hearing a matured Scars vibe on the stream I have of Whole – heaviness with hooks and a sheen. What are you hoping to accomplish with Soil's sixth studio album?
TK: First of all, we made a new Soil record. We made a new Soil record with Ryan McCombs back on vocals. Basically what we're trying to accomplish with this is just to get back out there and give a taste of what the original plan of Soil was. We have the original vocalist back. Me and Adam have weathered the storm with this whole band. I think it's kind of a testament. From the first album, Throttle Junkies, to Scars to Redefine – those were the definitive Soil records. Then we got a new vocalist, had some lineup changes, and recorded two more records. Now we're back with the original formula. We'd just like to get out there, play it for people, meet some new fans, reconnect with some old ones, and give the ones who have stayed with us from start to finish something to really sink their teeth into.
M: Disturbed is telling me its fans need a break. What would you say to people who say this style of music is last decade's music?
TK: Actually, it's kind of funny, but I've been hearing a lot of people say that this type of music is making somewhat of a resurgence in some ways. I for one, I get pretty tired of just hearing the same old Nickelback, Theory Of A Deadman wannabe-type bands. The party-type lyrics, the thin-sounding guitars – that's pretty much what has dominated the airwaves for the last few years. As a heavy rock band and something that has some girth and some balls to it, I think it's time for a little bit heavier of music to come in and step up. We'll see what happens. I don't have a crystal ball. We're just going to do what we do and be Soil, and hopefully it'll work. It has so far.
MONO NUCLEUS: Legend has it that when a promoter catering to Eastern Illinois University students asked Steve Albini to perform in rural Charleston, the recording engineer known for his sarcasm as much as his noise rock said he'd only do it if he could play in a barn. Shellac later came down – I was a front-row banger, er, chinstroker – and performed in the same brick shithouse that everyone did in the mid-'90s, but not before Charleston had gotten quite comfortable with its reputation as a backwater town, where fine dining meant driving to the airport in Mattoon for pork tenderloin sandwiches.
When Charleston exported its central Illinois exploitation to Chicago, it did so first with Didjits (technically from Sullivan, next to Mattoon), whose lowbrow cow-punk still festers in the area's DNA like a waste lagoon. Next up was Spankwagon, a townie three-piece that added rockabilly bass and sizzling Rapeman-aped dissonance to the mix. After recording a frenzied 7-inch with Brad Wood at Idful Studios in Chicago ("Sick" b/w "Reach"), the trio landed a coveted Saturday night set at Metro. Spankwagon took the stage as if Metro were some mythical Coles County barn, and its dreadlocked ringleader vomited profusely while attempting to sing and play guitar simultaneously. "Pardon me for my bad manners," said Tommy Rue to the crowd, adopting a fake Southern accent.
"A touch of the booze flu," Rue self-diagnoses with a shady laugh nearly two decades after his legendary offering. The 46-year-old still lives in Charleston but now fronts the slightly more refined power trio Malt Liquor (no more dreadlocks). He switches from one rickety landline phone to another at the analog Charleston recording studio/label Cavetone, where he and drummer Jake Pope are approving the final mix of "Gargle Boogie" off Malt Liquor's split mono 7-inch with The Ex-Bombers (due out by October). The singer/guitarist comments, "Those were adrenaline days, I would say, to say the least."
Engineer Scott Walus (one-half of The Ex-Bombers) grabs one of the phones and plays "Gargle Boogie" for me off the master reel. It's a world premiere. I hear the origins of rock 'n' roll on some lost EIU weekend. We're going too fast, but I can see the city's drive-thru liquor store, the campus trash-pickers, and the always-laughing waitress who pronounces my first name ME-kah-moo. It's a homecoming for Rue as well, who draws parallels to the vinyl his parents would spin on the family record player. "You could hear Chuck Berry or Howlin' Wolf or Little Richard and Jerry Lee Lewis. It's always going to be derivative of that. Nobody is reinventing the wheel," he says, later adding, "It just sticks with you . . . the basis, the nucleus." The alma mater.
MOSH-WORTHY . . . LIVE: Ceremony (Beat Kitchen, 8/7); Wintersun, Starkill (House of Blues, 8/15); Black Sabbath (FMBA, 8/16); Obeisance, Terminate (Ultra Lounge, 8/17); Fight Or Flight (Mojoes, 8/24).
MOSH-WORTHY: Raspberry Bulbs Deformed Worship (Blackest Ever Black); Watain The Wild Hunt (Century Media); All Pigs Must Die Nothing Violates This Nature (Southern Lord); Dio Magica reissue (Niji); The Guilt Of . . . Isolation Room (Last Hurrah).
— Mike Meyer
Category: Caught In A Mosh, Columns, Monthly