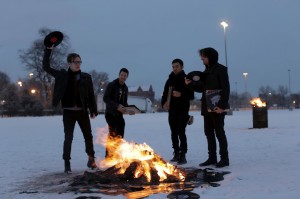 It's not entirely accurate to call Fall Out Boy's set on May 16 at the Riviera the group's first contact with their hometown since returning to active duty earlier this year. After all, the group did play Subterranean the day they announced their reunion back in February, and they also performed a brief set in front of a hometown crowd at JBTV on May 15 (more on that later). But both of those events – especially at JBTV –only put the group in front of a small, select audience. Thus, in terms of a large scale, proper homecoming in front of a sold-out house of die-hards, Thursday night was Fall Out Boy's housewarming party in Chicago.
Though the band dipped into their recently released Save Rock And Roll full-length for selections like "Where Did The Party Go" and "Death Valley," the night largely specialized in fan service to a nostalgia-hungry crowd, focusing on selections from the group's well loved classic albums. Especially evident examples were brat pop offering "Tell That Mick He Just Made My List Of Things To Do Today" and hometown callback anthem "Chicago Is So Two Years Ago," both from the group's 2003 breakthrough effort, Take This To Your Grave. Elsewhere, radio staples like "Dance, Dance" and "Sugar, We're Goin' Down" both brought the house down with hyperkinetic energy. And "Grand Theft Autumn/Where Is Your Boy" was even prefaced with a callback to the band's Metro and Fireside Bowl days, seemingly a lifetime ago from now.
Yet while the evening's playlist went heavy on throwbacks, the band's infectious and supercharged energy was all too present. Though the band's obvious focal points, especially live, have always been Pete Wentz's onstage persona and Patrick Stump's powerhouse vocals, it was guitarist Joe Trohman and drummer Andy Hurley who came through as the night's MVPs. Across the evening, Trohman brought his more metal sensibilities out, shredding during moments like "Alone Together" and the more soulful "What A Catch, Donnie." Hurley, meanwhile, shone brightest on offerings like the ending of set highlight "Young Volcanoes" and the breakdown of Infinity On High's hooky "Hum Hallelujah."
One day prior to the group's Riv set, Fall Out Boy visited Chicago's long-running music television program, JBTV, for an in-studio performance. (Full disclosure: This writer is also a part-time host and contributor to JBTV.) There, the foursome knocked out a tight and bright three-song set, focused entirely on prominent cuts off Save Rock And Roll. While "My Songs Know What You Did in the Dark (Light Em Up)" and "The Phoenix" were bombastic and full throttle, it was the undeniably catchy and more pop-laden "Young Volcanoes" that, as with the Riviera performance, served as the highlight of the set.
For more on Fall Out Boy and Save Rock and Roll, check out the May issue of Illinois Entertainer, on stands now, or read the feature online here.
— Jaime "Black" de'Medici
Category: Featured, Live Reviews, Weekly