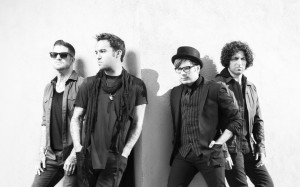 It's a sunny Friday afternoon in Austin, Texas two days before St. Patrick's Day. While most attendees of the South by Southwest Music Conference are wandering from one venue to another, checking out an endless supply of hype-fueled showcases, a handful of music fans are waiting outside Vice Bar – a 6th Street club that will be filled to capacity in just a few hours – to gain entry into a Crush Management event.
"I don't think anyone knows what this is," I state while passing the line, referring to the fact that recently reunited Fall Out Boy – vocalist and guitarist Patrick Stump, guitarist Joe Trohman, bassist and lyricist Pete Wentz, and drummer Andy Hurley – will play a largely unannounced headlining set there later that night. "Good," one of the die-hards replies. "They don't need to."
Fast forward to long after sunset. SXSW wanderers eventually got the message and packed the club to see Fall Out Boy crush its own showcase following sets by Butch Walker and the hyperkinetic New Politics. It's been a little over a month since the band first returned to active duty, and for many in the room, it's their first time getting to see the group perform since the hiatus went into effect in 2009. For many more, it's their first time seeing the band perform live ever. Fall Out Boy blasts through a crowd-pleasing set of both hits ("Dance, Dance") and fan favorites ("What A Catch, Donnie"). One thing becomes abundantly clear throughout the performance, as the band never stops running across the stage, switching places, and swirling around under the venue's blue and violet lights: This isn't a victory lap for Fall Out Boy or a way to cash in on its already established track record. There's an unmistakable urgency at work here. The band that's performing at Vice is hungry and isn't taking any of the room's rabid goodwill for granted.
That wasn't the case about three years ago. While it's undeniable that Fall Out Boy was a juggernaut on the rock and pop scene for the mid-to-late 2000s, the group's absolute ubiquity also started to work against it. The tabloid coverage of Wentz's marriage to pop singer Ashlee Simpson proved equally distracting. It became hard to connect the group in this state to the pop-punk underdogs who emerged from Wilmette early in the millennium.
"I feel like sometimes when it gets into other areas of your life, it can kind of spiral and you lose the focus and, it can get negative," Wentz says of the paparazzi attention when we connect on the phone a few weeks out from SXSW. "Having it be where the music's central has been really important for us. And really cool! That's how the band started, and it's good for it to get back to that."
A relentless and seemingly endless cycle of recording, releasing, and touring behind full-length albums that stretched across the better part of the last decade also worked against the group.
"I think that everybody was pretty burnt," Wentz admits when looking back on the group's final days before the break. "It's hard to really think and you're so jet lagged, but it was like this kind of permanent jet lag. It was just – a lot. I think that we'd done so much but we'd compacted it into so few years that it took its toll. And I think it was good that a couple people, like, pointed out that we should probably take a break. Because, otherwise, it would've just ended very messily, I think.
"[When] we started out, we were outsiders and we were counterculture," the bassist continues, "and then eventually, when you win enough, then all of a sudden you're like the hometown team and you're part of it. And you're the status quo. And then all of a sudden you can't be counterculture, because you are the status quo. And I think that taking the break and the time off – nobody expects Fall Out Boy to be a certain thing. And the world doesn't owe us anything. If anything, this is us trying to kick the door in and trying to come in from the outside again."
Fall Out Boy announced its reformation on the morning of Feb. 4, but rumors had been building well before that. Most notably on pop-punk blog PropertyOfZack, which loudly boasted in a late January posting that the band was set to reunite. By the time the group made a formal announcement on Chicago's Q87.7 (WKQX-FM) on that cold February morning, the cat was already halfway out of the bag. But surprises were still in store. The band was returning fully locked and loaded, with a brand new album titled Save Rock And Roll already completed and ready to drop on April 16.
"We thought about how we would want it as fans," Wentz explains. "And to me, when I thought of The Smiths, I would want them to come back, have a song right away, have a record actually finished. I don't think anybody even believed us when we were like, 'It's done.' I can't imagine what it's like to come back after a big break, and then write a record, after you've, like, announced it. Just the amount of pressure's insane. We definitely wouldn't have come out with this album, I don't think, under that kind of pressure."
While Save Rock And Roll is undeniably a Fall Out Boy record, it's not the Fall Out Boy record fans may have been expecting. Gone is the suburban pop punk of the group's 2003 milestone and fan bible, Take This To Your Grave. Same goes for the sardonic scene focus of 2005 commercial powerhouse, From Under The Cork Tree. If anything, Save Rock And Roll continues the growth and experimentation prominently displayed on the act's underrated 2008 full-length, Folie à Deux, which turned off many fans who only wanted more of the same from the band.
"We haven't ever even tried to be hard to pin down, but I think we change on every album. We take a lot from hip-hop, we take a lot from heavy rock – all these different things," Wentz says of the band's sonic evolution. "I think even putting out Save Rock And Roll, [there are] a lot of people who're like, 'Oh, man, I really love "Miss Missing You" and I love "Just One Yesterday."' And then there's other people who're like, 'I just love "Rat A Tat" and "Phoenix."' And for us, it's great, because we've been a band that's always kind of put out these things that push the envelope a little bit, and I think that the world's a little bit more welcoming to it, especially in America now."
Save Rock And Roll succeeds in being both disparate and increasingly accessible with each new listen. The band's immediate comeback single, "My Songs Know What You Did In The Dark (Light Em Up)," is boisterous and massively arena-ready, while "Young Volcanoes" sees the band embracing a breezy pop aesthetic for one of the album's most melodic offerings. The infectious "Miss Missing You" goes unabashedly big and ends soft and sweet, while "Rat A Tat" opens with Courtney Love snarling, "It's Courtney, bitch," for the album's most assaultive selection. The effort's closing title track features none other than Sir Elton John.
"I just thought that if you're going to put out something that's so ambitious as Save Rock And Roll, you need to have, like, a female rock 'n' roll voice on there, and Courtney literally is the perfect example of that," the songwriter explains of the album's unexpected guest appearances. Meanwhile, Elton John's inclusion came from the band's involvement with an anniversary project for the legacy artist. "We heard he was a fan and we asked him . . . That was crazy that happened," Wentz exclaims. As for Big Sean, who shows up on "The Mighty Fall," the rapper came to collaborate with the group after they "just ran into him." And with Foxes, who can be heard on "Just One Yesterday," the bassist admits, "I just, like, fell in love with her voice over the past year and knew that I kind of wanted her to duet with Patrick at some point, and Patrick loved the idea of it, too."
At least part of the album's disparity can be attributed to the band making the album in secret, before fans knew they were once again active, a situation that Wentz describes as "really freeing."
"I think that we haven't been able to do anything under the radar in a long time," he admits, "and I think that it allowed us to make the album that we wanted to make, and make the changes that we wanted to make, and build it the way we wanted to do it. Doing art on your own terms is one of the best ways to do it, and I think you don't often get a chance to. If you have success with it once, you don't often have the chance to do that."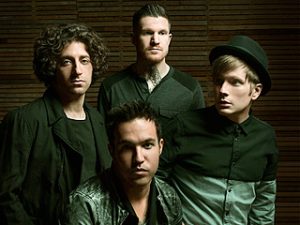 The members of Fall Out Boy did get to exercise a sense of sonic freedom in the band's downtime, with the group all pursuing individual solo ventures. Most visible from that time was Stump's solo work, which in 2011 saw him drop both the Truant Wave EP and Soul Punk full-length. Wentz, meanwhile, explored more electronic elements with his Black Cards project. And both Trohman and Hurley dug into their heavier tendencies with The Damned Things, which also featured Anthrax's Rob Caggiano and Scott Ian, as well as Josh Newton and Keith Buckley, formerly and presently of Every Time I Die, respectfully. Despite the name recognition involved with all the above projects, none of them ever approached anywhere near the level of success of the foursome's work together as Fall Out Boy. Given the projects' failure to launch, it's not surprising that "a series of conversations" between Stump and Wentz took place throughout the hiatus.
"Me and Patrick had constant dialogue about it," Wentz reveals of the discussions to reactivate Fall Out Boy. "I think throughout the course of the break there was different times when, towards the beginning, where I was like, 'Let's do this, let's try to do it,' and we wrote some songs and they just didn't seem right. And then, there was a period where Patrick was like, 'Let's try to do this,' and that was like the last time, and the songs seemed pretty cool and pretty interesting and more like Fall Out Boy, and it was definitely compelling."
The band enlisted producer extraordinaire Butch Walker to sit behind the board for the record. Aside from his role as producer, Walker also impacted the tone of the album, even helping do away with a hallmark of past Fall Out Boy records: overly long wordplay song titles, such as "Champagne For My Real Friends, Real Pain For My Sham Friends."
"I was writing lyrics for Patrick and we were going over the stuff, and Butch was like, 'Hey, that means you can't just be piling words on top of words just to make it complex or make it feel like it's complicated. Like, that's not poetry, that's not lyrics. Like, it's gotta come from the heart and it's gotta be a projection of where you are right now,'" Wentz recalls. "And I think where I am and where the band is, is vastly different than where we were in 2006. I think that we're bolder, older, maybe a little bit more fearless, and I think that that was an important tone in making the album. Like, it's not supposed to be bitter, it's not supposed to be angsty. It's supposed to be where we are right now, and it's supposed to give the message of rock 'n' roll."
Of course, it wouldn't be a Fall Out Boy record without a little bit of self-awareness. Lest you think the Save Rock And Roll album title is a straight-faced mission statement, Wentz is quick to clarify.
"I think it's not to be taken in a literal sense, necessarily," he affirms when asked about the album's name, "but at the same time, like during the break, I would drive around and I'd listen to the radio, and it's just like a lot of this stuff sounds really similar on the radio. And, to me, it was exciting when I heard Gotye, and it was exciting when I heard bands that were pushing the edges a little bit, and that's what is rock 'n' roll to me. To me, rock 'n' roll is an idea, it's a lifestyle or a culture or a counterculture, and it needs to be different and it needs to be strange. And that doesn't mean, like, we're ever going to be a Pitchfork band. We don't think that we are. We're not trying to be the coolest kids on the block, we're just trying to say that it's O.K. to be a little different.
"For me, when I listened to Green Day and I listened to Dookie, I was like, 'Oh, this is weird. This is cool.' 'Cause like, I'm a weird kid, and this makes me feel O.K. to be weird," he continues. "And I think if it wasn't for Dookie, I don't get into Screeching Weasel and the Descendents and Lifetime and therefore start playing in a band myself. So to me, like, Save Rock And Roll is about that next generation of kids. Hopefully we can inspire or, like, unlock something inside them to want to play in a band too."
Which is where the band was once upon a time, back in their suburban Chicago days, give or take a decade ago. What's unique about Fall Out Boy's return is that, for the length of their run in the public eye, it's been the core four together: Stump, Hurley, Trohman, and Wentz. Generally, when popular acts step down and return, it's rarely with the same lineup. Which might be why the group's comeback blasted forward right out of the gate. The members have been in this together for over ten years. This isn't starting over as much as it's moving ahead together.
"We kind of all realized that we did this because we were having fun and because we were friends originally," Wentz says, reflecting on his partners-in-arms. "And it's crazy that we got to play at [Obama's] Inauguration, and it's cool that we've gotten to do all the things that we've gotten to do. But at the end of the day, if we're not friends, it doesn't really matter."
Reunited, and it feels so good.
Appearing: 5/16 at Riviera Theatre (4746 N. Racine) Chicago.
— Jaime "Black" de'Medici