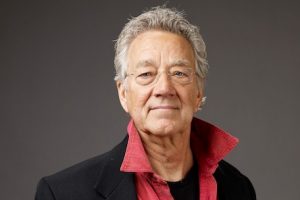 When Ray Manzarek died on May 20, the Internet was awash with tributes to the late keyboard player and co-founder of the Doors.
Most of the attention focused on his instrumental contributions to the band, from the hypnotic organ that opens "Light My Fire" to the ethereal keyboard riffs of "Riders On The Storm" that melt into the sound of thunder and rainfall. Equally important, though, was the work Manzarek did in preserving the legacy of the Doors following the death of singer Jim Morrison in 1971.
I recognized this when I interviewed Manzarek in Chicago 15 years ago while he was promoting the book Light My Fire: My Life With The Doors. It was clear that he wanted to make sure that everyone understood the meaning behind the music.
"We haven't gotten past Jim Morrison's pants," Manzarek said, referring to the night in Miami in 1969 when the singer allegedly exposed himself. "I've been doing a bunch of interviews about the book. 'Did he pull it out?' That's what they want to know. They don't want to know about spiritual matters because it's a sensationalistic time."
Chicago roots
The music of the Doors will forever be synonymous with Los Angeles, but Chicago made a significant contribution as well. Manzarek grew up on the South Side, attending St. Rita High School and then majoring in economics at DePaul University. The family name was Manczarek back then and he appears under that spelling in the 1959 DePaul yearbook as secretary of the Sigma Lamda fraternity. While economics did not leave much of an impression on him—he was an average student and admitted, "The only A I got was in a course on philosophy"—the local theaters and museums did.
"I saw Tennessee Williams' 'Sweet Bird Of Youth' with Geraldine Page and Rip Torn. What an amazing theatrical experience," Manzarek recalled. "Then I saw the touring company out of New York—first stop Chicago—'West Side Story,' America's greatest musical hands down. This is all walking out the door from DePaul University. That was my artistic education."
Growing up in a Polish American household, Manzarek heard his share of organ playing at church. He also took piano lessons, which would come in handy when he moved to California. He enrolled in law school at UCLA, but quickly realized it was not for him.
"I went to law school and lasted two weeks," he said. Someone then fatefully suggested that Manzarek transfer to the film school. "The light bulb went on," he recalled. "Started in February and my life was never the same."
As most fans of the Doors already know, Morrison was Manzarek's classmate. They had a chance encounter at Venice Beach in 1965 and from there formed the Doors. Morrison quickly became Adonis incarnate onstage while Manzarek, guitarist Robby Krieger, and drummer John Densmore played supporting roles. While Morrison was notoriously promiscuous, Manzarek did not abandon his values. He remained married to his wife Dorothy from 1967 until his death. "We share an intellectual relationship," he said. "That's what you do first."
The doors of perception
For Manzarek, the music the Doors created was part of a spiritual journey. Although he never abandoned Christianity, Buddhism and other Eastern philosophies influenced him heavily. The writings of the beats, psychologist Carl Jung, mythologist Joseph Campbell, and poet William Blake were also relevant. It was a line from Blake's poem "The Marriage Of Heaven And Hell" that inspired the name of the band.
Setting the record straight
It was the sensationalism of Oliver Stone's 1991 biopic The Doors that prompted Manzarek to write Light My Fire. Despite spending extensive time with the director, Manzarek did not like the emphasis placed on Morrison's lifestyle. "I gave him the gospel according to the Doors and he just didn't understand the message," Manzarek said.
When Morrison died, the rest of the band was in its musical prime. Instead of finding a new frontman, Manzarek and Krieger split the vocal duties on Other Voices (1971) and Full Circle (1972). As Manzarek admitted, there was no replacing Morrison. The surviving members eventually went their own ways until Manzarek and Krieger reunited in 2002, recruiting singers such as Ian Astbury of the Cult and Brett Scallions of Fuel, among others. They continued to play until Manzarek's battle with cancer worsened.
Until the very end, Manzarek wanted fans to understand the true meaning behind Morrison's performances.
"He wanted love and he wanted happiness and peace and joy and madness and wildness and sex and rock 'n' roll to prevail in America and change America from that oppressive society that it was and still is today," he said.
— Mike Duffin