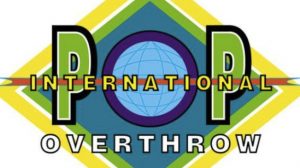 When International Pop Overthrow kicks off Thursday at Red Line Tap, the music festival will in many ways be the same as it was on its first visit here in 2001. Running through April 27, IPO Chicago will present a six-band showcase each night with additional afternoon showcases this weekend (April 20-21) and next Saturday (April 27). As in the past, most of the billed acts are homegrown, with a few out-of-state exceptions.
Still, International Pop Overthrow, which originated in Los Angeles in 1998 and travels to 14 other North American cities, as well as Liverpool and London, has been evolving. Once devoted exclusively to power pop, IPO now embraces indie rock, folk rock, and singer-songwriters. There is one thing all participants still have in common, according to founder/CEO David Bash.
"No matter which sub-genre of pop a band proffers, the main thing is always that they have a sense of melodic integrity," he writes via email. "I've turned down some very talented bands because their songs don't emphasize melody. Over the years we've expanded our parameters, we've never abandoned our ethos, which is to showcase melody-driven artists."
Scott Niekelski, whose hard-edged power pop band Go Time! has now logged four IPO-Chicago festivals, concurs. "David Bash is really good about booking many different shades of pop. I think that we line up [well] with the talent playing IPO."
The festival has been able to establish a strong identity here because of bands like Go Time!, The Abbeys, 92 Degrees, The Webstirs, and The Valley Downs, who've become regulars. Ralph Covert is one of the bigger names lined up for this year.
"Ralph has been kind enough to play with his legendary band The Bad Examples a few times at IPO-Chicago," Bash notes. "I can't wait to hear what he's going to play!"
"I first played the IPO years ago," Covert recalls. "I think it was near the end of the Bad Ex's hiatus from performing, and our IPO show that year was our first concert coming back." In addition to The Bad Examples, Covert has been highly successful recording children's music as Ralph's World. "I'll probably do almost all newer or unreleased songs, maybe one or two off one of my solo records. Maybe a Bad Ex tune."
Phil Angotti performed with his band The Idea at the first IPO in Los Angeles. "I've played the Chicago IPO every year (except I missed one a few years ago)," Angotti emails. In 2011, he joined bassist Ted Ansani and drummer Mike Zelenko from Material Issue and performed as Material Re-Issue at IPO. This year, he has another special project.
"Rather than play all my own songs as usual, I thought it'd be cool to do a set featuring some of the pop legends from the Chicagoland area, and I asked Ellis Clark to join me."
Clark was a member of Epicycle, Social Act, and more recently, The Handcuffs. "I'd heard about [IPO] before it first came to Chicago," he explains. "And since that time I've performed every year. And I'm excited to join forces with Phil Angotti."
Jimmy Rane, singer/guitarist for The Viaducts, caught Material Re-Issue's IPO gig in 2011. "I spoke with David after the show and told him The Viaducts would like to play next year," Rane recalls. "Last year was our first time, and we're pleased to be invited back this year." Rane sees IPO as a good match for The Viaducts, who play energetic power pop.
Pamela Richardson, who performs with The Pralines, feels her band's folk-oriented rock is welcome at the festival. "I first heard of IPO when I was in a band with Chicago singer-songwriter Larry O. Dean," Richardson explains. "Larry got us a slot at the L.A. IPO. I think I've played [IPO-Chicago] almost every year since that L.A. gig. We bring out our most up-tempo rock/pop numbers, which fit in just fine."
IPO, especially in Chicago, is a great place to be discovered," admits Paul Wall, singer/guitarist with the Milwaukee-based power pop band Trolley. "Just last year, we had a few new, rabid fans come out because they had heard us played on Little Steven's *Underground Garage.
Bash definitely takes note when one of his regulars starts racking up airplay. "I develop a fatherly affection for all the bands who play any IPO festival," he says. "Even if the band members are my age. As I don't have any children of my own, in many ways the festival is my progeny . . . and I always take some measure of pride in any IPO artist's accomplishments."
For the full 2013 International Pop Overthrow schedule, click HERE.
— Terrence Flamm
Category: Featured, Stage Buzz, Weekly